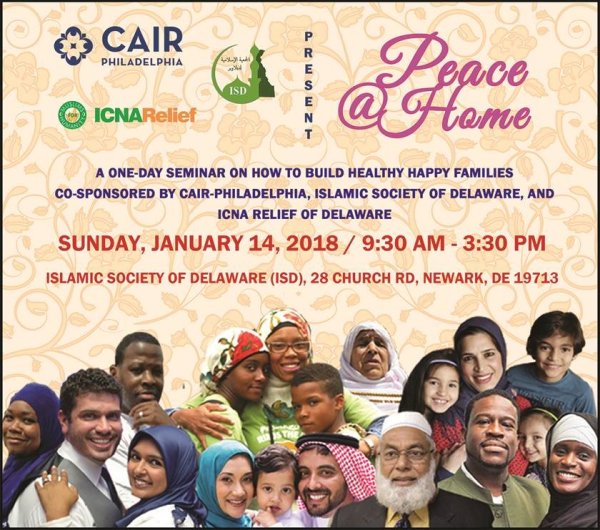 CAIR-Philadelphia, together with Islamic Society of Delaware (ISD) and ICNA Relief Delaware, invites you to the Peace at Home symposium. This FREE event will take place on Sunday, January 14th from 9:30 am to 3:30 pm.
The meeting is graciously hosted by ISD at 28 Salem Church Road, Newark, DE. Please circulate widely in your community and networks.
The program schedule, speaker bios, and other information can be accessed at http://dvmcf.net/meetings/peace-at-home-de/
---
PEACE AT HOME – A ONE DAY SYMPOSIUM
Brought to you by: CAIR-Philadelphia, Islamic Society of Delaware (ISD), and ICNA Relief-Delaware
What does it take to create a happy family when modern life threatens to overwhelm us?
This symposium brings together experts who will present ideas that can easily be put to use in your own home to bring families closer together and build stress-free, strong, healthier, happier relationships where everyone flourishes and even the teenager treasures family time.
The aim of the presentations and workshops is to:
Build a spousal relationship foundation
Become a better parent
Manage family members' behavioral issues
Enhance child-parent connection
Learn more at http://dvmcf.net/meetings/peace-at-home-de/