Ramadan Mubarak from CAIR-Philadelphia
In a world of extremes, and extremism, Islam's message of the importance of being balanced, moderate and just reverberates with us in this blessed month of Ramadan.
"Allah loves moderation and hates extravagance and excess." – Umar ibn Al-Khattab

"We have made you into a just (moderate/middle) community so you may bear witness [to the truth] before others…" – Qur'an 2:143
Moderation is an act of balance, finding our equilibrium along a narrow ridge with bottomless crevices on either side. Islam infuses this balancing act into every facet of our lives, from our food to the act of forgiveness, from our professions to sexual relations, from our clothes to the creations of artistic culture.
When this balance is distorted, when extremism raises its ugly head, we are called upon to heal the world to restore its natural path of balance and moderation through good deeds and the giving of sadaqah. This is especially true during Ramadan, the sacred month of forgiveness and charity.
As people of faith, we are forever awed by the essential goodness of the world, its transcendent beauty and magnificence – a gift from the Creator and proof of God's love. We oppose human hatred and greed because it violates the God's law to value life and care for the Earth.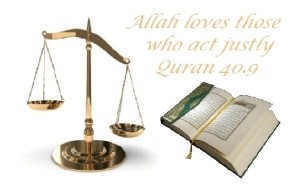 As Islamic tradition aims for balance in all aspects of the Muslim individual, so CAIR seeks to make its influence felt in all issues facing the Muslim community. CAIR is the leader and innovator of numerous programs and projects that serve thousands across the Greater Delaware Valley. In 2017 alone, CAIR-Philadelphia staff and activists…
Engaged in 115 legal activities, including legal intakes, hearings and trials;
Presented 68 khutbahs (Friday afternoon religious sermons at the mosque);
Appeared in 35 interviews on radio, TV, print, and internet media;
Organized 35 interfaith events;
Organized 37 anti-Islamophobia events;
Taught 26 "Islam 101" courses;
Led 15 "Know Your Rights" workshops;
Participated in 14 meetings with high government officials during Muslim Capitol Day (photo below);
Facilitated 10 anti-bullying workshops;
Presented 5 screenings of "Out of Cordoba," Jacob Bender's documentary film on medieval Muslim Spain and contemporary Jewish/Christian/Muslims relations;
Led 3 workshops on "American Muslim History";
Organized 1 symposium on "Peace at Home";
Presented 1 seminar on "Engaging the Media"; and
Organized 1 workshop on "Gender and Family in Islam"

We need to raise $175,000 through the end of 2018 to meet staff salaries, office expenses and projected expenditures for our many projects and programs that we described above.
The highlight of this Ramadan was our Interfaith Iftar at Masjidullah on May 20th, hosted by CAIR-Philadelphia together with Masjidullah and Philadelphia Masjid. The Iftar brought together close to 500 attendees from the region's Muslim, Christian and Jewish communities. (See photo below.)

Before Muslims attendees broke their fast at sunset, the attendees conversed on issues of concern to them in regards to civil rights, economic equity, and religious freedoms.
The Iftar was hosted by CAIR-Philadelphia Executive Director Jacob Bender (below at podium) with presentations by, right to left: Imam Mikal Shabazz, Imam Kenneth Nuriddin, Imam Salaam Muhsin, Rabbi Linda Holtzman, and Pastor Melanie De Bouse, with additional talks by US Congressman Dwight Evans, Philadelphia Councilwoman Cherelle Parker, and Rev. Mark Tyler. The Iftar fortuitously coincided with both the Jewish festival of Shavu'ot and the Christian festival of Pentecost and speakers addressed the spirit of the auspicious night from their respective faith traditions.

Each attendee was asked to bring three cans of food to the event, which will be distributed to the region's soup kitchens.
The interfaith iftar was graciously sponsored by a number of Philadelphia area mosques and businesses. We are grateful to each sponsor and attendee.
Very little of the programs described above could have been accomplished without the financial support and encouragement of individuals and institutions throughout the Muslim community of the Greater Delaware Valley.
And so we turn to you again. If anything, after more than a year of living under the Trump Administration, the situation for American Muslims is even more precarious than it was last Ramadan.
Now is not the time for silence or lethargy, but of activism and commitment. Let CAIR be your voice, from the public arena to the courthouse, from the pulpit to the halls of power.
So please help CAIR help you. This Ramadan, give generously to CAIR-Philadelphia; your donations are tax-deductible and zakah-eligible. You will be making an investment in the future of the Philadelphia Muslim community and the healing of our nation.
Sincerely,


Osama Al-Qasem
President of the Executive Committee
Council on American Islamic Relations Philadelphia Chapter