CAIR-Philadelphia provides opportunities and programs for young Muslims to dispel myths about their faith, participate in community events and address critical civil rights related issues that they are facing. Staff participated in the annual Philadelphia Interfaith Children and Youth Festival on Saturday, a 2-day outdoor event that educates youth about different faith traditions. CAIR-Philadelphia will also conduct a major anti-bullying workshop at a Pittsburgh community center in two weeks to coincide with national bullying prevention awareness initiatives in the month of October. 
INTERFAITH: 2012 Philadelphia Interfaith Children & Youth Festival a Success!
Outreach & Communications Director Rugiatu Conteh,
Director of Germantown Deaf Ministries Fellowship Rosaline Mckelvey
and festival goers gesture love in Sign Language
View more festival pictures
A host of youth and their families came together last weekend to celebrate religious diversity and multiculturalism at the Philadelphia Interfaith Children and Youth Festival. Community groups and religious institutions set up tents filled with activities and games to educate on different faith traditions. Outreach and Communications Director, Rugiatu Conteh, who is also a member of the festival's advisory committee, answered questions relating to Islamic traditions and cleared up misconceptions about Muslims. The festival also included a staged program where youth displayed their talents.
For more information on the festival, visit http://www.interfaithchildrensfestival.com/
MUSLIM YOUTH LEADERSHIP PROGRAM (MYLP): Anti-Bullying Workshop in Pittsburgh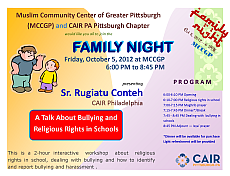 Outreach and Communications Director Rugiatu Conteh will conduct a major anti-bullying workshop on October 5th at the Muslim Community Center of Greater Pittsburgh (MCCGP). This workshop is organized by CAIR-Pittsburgh and MCCGP. It will focus on teaching youth and parents about religious rights in school, and how to identify and report school bullying and harassment.