Public Officials, Civic Leaders, and Clergy Condemn Anti-Muslim Bigotry at Town Hall Meetings
CAIR-Philadelphia, together with its interfaith and social justice partners, organized two town hall meetings on Islamophobia in the last two weeks. CAIR staff members helped organize and served as a speaker and moderator in these town halls.
Town Hall Meeting on Islamophobia in Devon, PA
The first town hall, held on June 13, was co-sponsored by the offices of Rep. Joe Webster and Rep. Melissa Shusterman and was hosted by the Islamic Society of Greater Valley Forge (ISGVF) together with CAIR-Philadelphia and Emgage Pennsylvania.
The town hall was spearheaded by Rep. Webster's office in the aftermath of Christchurch mosque shootings in New Zealand in April 2019. Timothy Welbeck, Esq., CAIR-Philadelphia Civil Rights Attorney (below), joined a panel that included Rep. Webster, Rep. Shusterman, Rep. Movita Johnson-Harrell, Dr. Marwan Kreidie from West Chester University, and Hon. Robert Reed, Deputy Attorney General for Public Engagement. Scores of Muslim and interfaith community members attended the event in the lecture hall of ISGVF.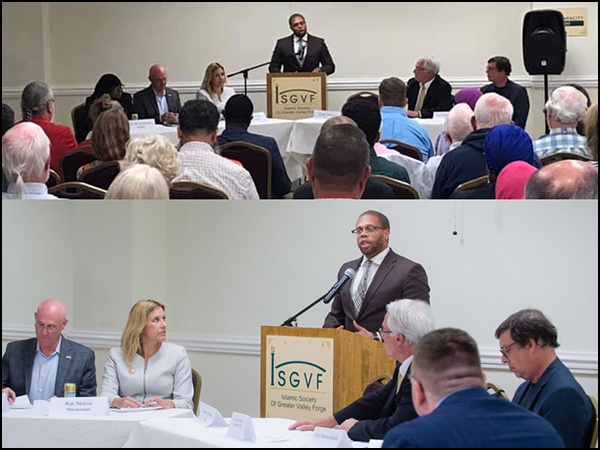 CAIR-Philadelphia Advisory Board Member Joins Meeting with AG Josh Shapiro, Moderates Town Hall with Sen. Casey
On Thursday, June 13, CAIR-Philadelphia Advisory Board member attended a roundtable discussion with Attorney General Josh Shapiro, hosted by YWCA, on discrimination and hate crimes and possible legislation to mitigate hate crimes. Also on June 6, she was invited to moderate a town hall organized by Pennsylvania's senior United States Senator Bob Casey at Dickinson College.
​Town Hall Meeting on Islamophobia in Carlisle, PA
CAIR-Philadelphia helped organize a second town hall meeting on Islamophobia on Wednesday, June 19, in Carlisle, PA. The event was held in the eve of postponement of an Islamophobic lecture at US Army War College (USAWC) after CAIR-Philadelphia led a campaign to urge the USAWC to not host anti-Muslim activist Raymond Ibrahim.
More than 70 community members and interfaith allies attended the town hall to highlight their concerns around racism, Islamophobia, and its consequences for Muslim Americans. Rep. Movita Johnson-Harrell (below) recounted her encounter with Islamophobia on the day she swore in for office and urged the audience to be confident in their identity. Corbett Anderson (bottom) from the Attorney General's office encouraged the audience to report hate incidents to their office.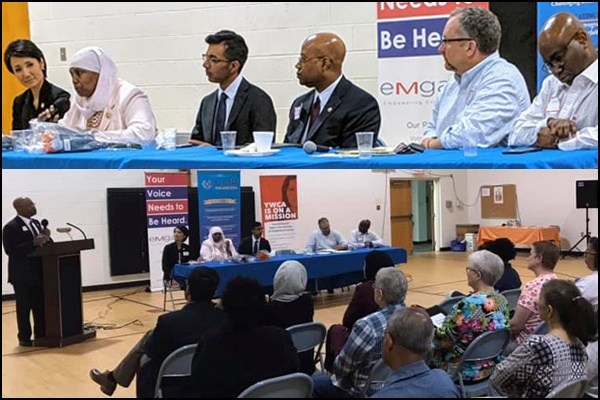 Organized in partnership with Emgage Pennsylvania, YWCA Carlisle, and Community Responders Network, the town hall meeting opened with a welcome note by Noaman Hasan from Emgage Pennsylvania and was moderated by Dr. Ahmet Selim Tekelioglu, CAIR-Philadelphia Education and Outreach Director.
Other speakers included:
Rep. Movita Johnson-Harrell, 190th Legislative District, Philadelphia County
Rep. Patty Kim, 103th Legislative District, Dauphin County
Corbett Anderson, Chief Deputy Attorney General – Civil Rights Enforcement Section, PA Office of Attorney General
Mohammed Zubairu, CAIR-Philadelphia Executive Committee Member
Rev. Dr. Jeff Gibelius, 2nd Presbyterian Church, Carlisle
Mohan Seshadri, Executive Director of Gov. Wolf's Advisory Commission on Asian Pacific American Affairs
The following community members served on the organizing committee for the town hall: Adila Hasan, Azra Syed, Atika Syed, Ann Van Dyke, and Samia Malik who also offered closing remarks at the event.
CAIR-Philadelphia Sponsored Rally to Protest Chinese Repression of Uyghur Muslims
On June 15, CAIR-Philadelphia joined Muslims from the area (below) in a protest spearheaded by community activist Matt Tucker in Philadelphia to draw attention to the plight of Uyghur Muslims whose religious freedoms have been violated by the Chinese government.