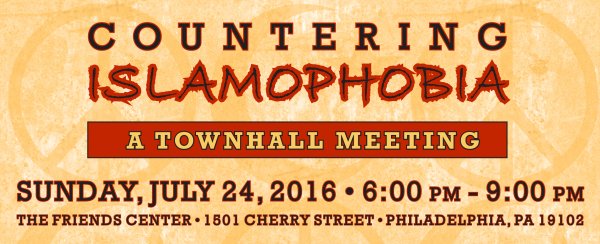 SPEAKERS
REP. KEITH ELLISON
Rep. Ellison was the first Muslim to be elected to the U.S. Congress and the first African American elected to the House from Minnesota. In 2006, he used the English translation of the Qur'an owned by Thomas Jefferson for his swearing-in ceremony. Ellison's election and service are inspirational to American Muslims and he encourages civic empowerment through participation in the political process.
LINDA SARSOUR
Linda is a working woman and a racial justice and civil rights activist. Ambitious, outspoken, and independent, Linda shatters stereotypes of Muslim women while also treasuring her religious and ethnic heritage. She is the Executive Director of the Arab American Association of New York and co-founder of the first Muslim online organizing platform, MPOWER Change.
NIHAD AWAD
Nihad, Executive Director and co-founder of CAIR, has testified before both houses of the U.S. Congress, most recently at a Senate Judiciary Committee hearing on matters involving Muslims in America. He is frequently interviewed on national and international media and is one of the signatories of "A Common Word Between Us and You," an open letter by Islamic scholars to Christian leaders, calling for peace and understanding.
KAMEELAH RASHAD
Kameelah is the founder of Muslim Wellness Foundation. She serves as the Interfaith Fellow & Muslim Chaplain at the University of Pennsylvania, where she acts as a counselor and advisor to the Muslim students on campus and facilitates discussions on religious identity development and challenges faced by American Muslim youth.
RAED JARRAR
Raed serves as AFSC's Government Relations Manager at the Office of Public Policy and Advocacy in Washington, D.C. Since his immigration to the U.S. in 2005, he has worked on political and cultural issues pertaining to U.S. engagement in the Arab and Muslim worlds.
DONNA NEVEL
Donna is a community psychologist and educator, coordinator of Participatory Action Research Center and its Institute for Community Leadership and Fieldwork. She is involved with efforts for justice in Palestine/Israel and against Islamophobia and anti-Arab racism.
REV. DAVID GRAFTON
David is Associate Professor of Islamic Studies and Christian-Muslim Relations at The Lutheran Theological Seminary at Philadelphia. His academic interests focus on Christian-Muslim relationships in the Middle East. He has provided courses, lectures, and seminars on Islam and Christian-Muslim Relations around the world.
—
ADDITIONAL COMMUNITY EVENTS AROUND THE CONVENTION
Friday, July 22, 2016
What: Muslim American Friday (Jummah) Prayer Service
Time: 1:00 pm – 2:00 pm
Where: Independence Park, 5th & Market Street, Philadelphia, PA 19106
Host: Islamic Cultural Preservation & Information Council (ICPIC). Free and open to the public.
Saturday, July 23, 2016
What: 24th Annual Islamic Heritage Festival & Parade
Time 1:00 pm – 8:00 pm
Where: Penn's Landing, Columbus Blvd & Chestnut Street, Philadelphia, PA 19106
Host: Islamic Cultural Preservation & Information Council (ICPIC). Free and open to the public.
Monday, July 25, 2016 @ 10 AM
What: Press Conference
With Nihad Awad (CAIR National), Jacob Bender (CAIR-Philly), and other Muslim community leadership
Time: 10:00 AM
Location: Friends Center, Lucretia Mott Room (1501 Cherry St Philadelphia)
Monday, July 25, 2016
What: Muslim American Delegates Welcome Lunch:  "Muslims, Social Justice, and Political Engagement." (PDF Flyer)
Time: 12:00 noon – 2:00 pm
Where: Loews Philadelphia Hotel, 1200 Market St., Philadelphia, PA 19106
Host: Muslim American Host Committee for the DNCC 2016
Tickets: $40.00
Tuesday, July 26, 2016
What: Lunch Reception & Book Signing with Dr. Denise Spellberg (PDF Flyer)
Time: 11:00 am – 2:00 pm
Where: City Council Caucus Room, City Hall-Room 401,  Philadelphia, PA
Hosts: City Councilman Curtis Jones, Jr., UMBA
Tickets: $65.00
Thursday, July 28, 2016
What: Muslim American Delegates Luncheon 
Time: 12:00 pm – 3:00 pm
Where: Pennsylvania Convention Center, 1101 Arch St, Philadelphia, PA 19104
Host:   Emerge PAC
Tickets: $125 – $10,000
Prayer/Meditation space available daily at
Wells Fargo Center and Convention Center
For further information, please email: muslimdemocratichostcommitee@gmail.com