If you can donate to our work, please go to https://pa.cair.com/donate/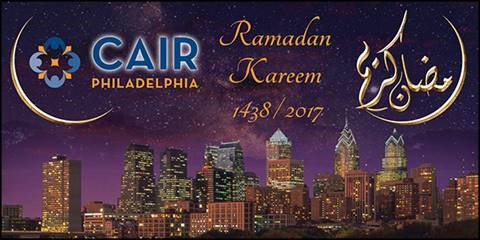 Dear Friends and Supporters of CAIR-Philadelphia,
Assalamu Alaikum. Once again, the nights and days are filled with an aura of sacredness and spirituality. We welcome both the challenge of the fast and the joy of the nightly iftar (the meal that breaks the daytime fast) with awe and wonder.
Observing Ramadan is a journey of the spirit, and fasting is the map that brings us ever closer to the presence of the Divine in our lives, as well as focusing our consciousness on our relationship and responsibility to our fellow human being. Fasting reminds us, teaches us, empowers us with the knowledge that as we are indeed able to control the physical desires and temptations within ourselves, so should all of humanity be capable of renouncing gluttony, greed, and injustice in the entire world. "Oh you who believe! Fasting is prescribed to you as it was prescribed to those before you, that you many learn piety and righteousness." [2:183]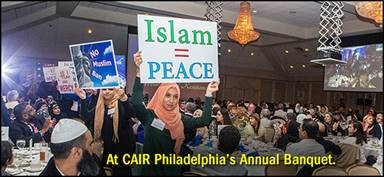 Seen in this light, Ramadan can be understood as a sacred time when we bring the virtues of mercy, compassion, and love to the world at large, especially needed in tempestuous times. "Righteous are those who… give zakat, cheerfully to the relatives, the orphans, the needy, the traveling alien, and the beggars… and keep their word whenever they make a promise, and steadfastly persevere in the face of persecution, hardship, and war." [2:177]
These are times of persecution, hardship, and war, and it is our religious obligation, ethical responsibility, and constitutional right to respond to the unprecedented national crisis now unfolding before our eyes.
This is no ordinary time for our beloved country. An axis of populist white nationalists, Christian fundamentalists, anti-Muslim bigots, climate and science deniers, and anti-regulatory billionaires have taken power in Washington and in state houses around the country, with a hardly-hidden agenda to gut and destroy every progressive program and piece of legislation since the dawn of FDR's New Deal during the Great Depression of the 1930s.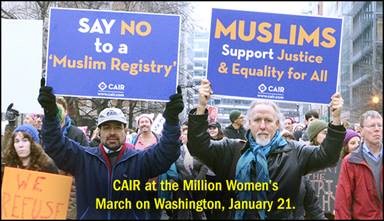 How does this all relate, you might ask, to the Muslim community? More than just relate, for at this moment we believe American Muslims are the proverbial canary in the coal mine. Given all that we have witnessed since the beginning of this past U.S. presidential campaign, and especially since the inauguration on January 20 — the open racism, the slew of Islamophobic advisors in the White House, the attempt by Executive Order to make "Muslim Ban 1.0" and "Muslim Ban 2.0" the law of the land — how the American Muslim community if fairing is a sign how American democracy is fairing.
Never did the American Muslim community need a more sophisticated and dedicated voice to speak for it than at this precarious moment. That voice is the Council on American-Islamic Relations, America's leading Muslim civil rights and advocacy organization. The following are just some of the events that CAIR-Philadelphia either organized or participated in since January 1, 2017:
Jan. 15: Jacob Bender, CAIR-Philadelphia Executive Director, spoke on "Interfaith Relations during the Trump Regime" at Overbrook Presbyterian Church.
Jan. 21: On the day after the inauguration, CAIR-Philadelphia marched with hundreds of thousands of other outraged Americans through the streets of Washington DC in the largest political demonstration in American history.
Jan. 21: Salima Suswell, CAIR-Philadelphia Executive Committee Member, spoke at Women's March in Philadelphia.
Jan. 26: Jacob testified at the Philadelphia City Council in favor of a resolution to affirm Philadelphia's support and protection of Muslim communities
Jan. 30: CAIR-Philadelphia joins thousands of other outraged Americans at the Philadelphia Airport to protest the openly racist "Muslim Travel Ban."
In January and February, CAIR-Philadelphia helped organize and sponsor several Town Hall Meetings — at Masjidullah, Villanova Masjid, Masjid Al-Madinah, and Muslim Association of Lehigh Valley — on the theme of "The Trump Administration and What It Means to You."
Feb. 4: Jacob spoke at Masjid Al-Hidaya together with Mayor Kenney of Philadelphia.
Feb. 11: CAIR-Philadelphia President Osama Al-Qasem met with Congressman Brian Fitzpatrick.
Feb.-Apr.: CAIR-Philadelphia presents a 10-part course on "Introduction to Islam and Muslims Through History and Scripture" in West Chester.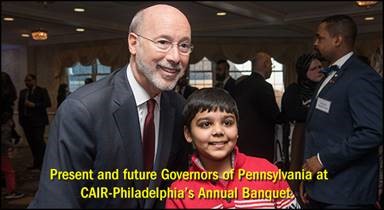 Mar. 11: With Governor Tom Wolf in attendance, and Linda Sarsour delivering the keynote address, CAIR-Philadelphia's 11th Annual Banquet is a sold-out success.
Apr. 29: CAIR-Philadelphia joined with over 200,000 other Americans at the People's Climate March in Washington to sound the alarm about the danger of human-caused climate change to the Planet.
May 1-3: CAIR-Philadelphia staff joins with hundreds of other American Muslim in "Muslim Advocacy Days on Capitol Hill," lobbying U.S. senators and representatives about the issues of concern to the American Muslim community.
June 10: A CAIR-Philadelphia Advisory Board Member helps to organize an Interfaith Unity Rally Against Hate in Harrisburg.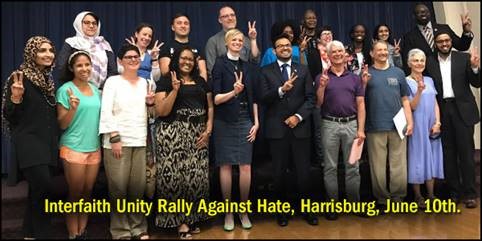 And during the same period, CAIR-Philadelphia staff were interviewed in the following media outlets: BillyPenn.com, CBS3 News, KYW Radio, NewsWorks, Philadelphia Metro, Ryan on PMCM-TV, The Philadelphia Citizen, The Philadelphia Inquirer, The Philadelphia Tribune, and WURD Radio, thus helping to counter the rampant misconceptions and outright distortions of Islam that spread in the media. Download a copy of our 2016 Annual Report (PDF) for more information.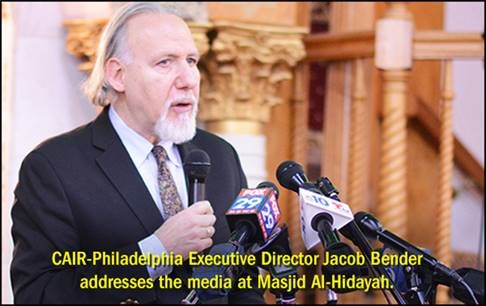 Our annual budget is $290,000, of which we raised $170,000 at our Annual Banquet. We therefore need to raise an additional $120,000 to keep serving the Muslim community in these difficult days.
If you can donate to our work, please go to https://pa.cair.com/donate/


With God's Guidance, and your support, we will surely overcome the voices of hatred now heard in our land.
Wishing you a Ramadan Kareem,

Osama Al-Qasem / President

Jacob Bender / Executive Director