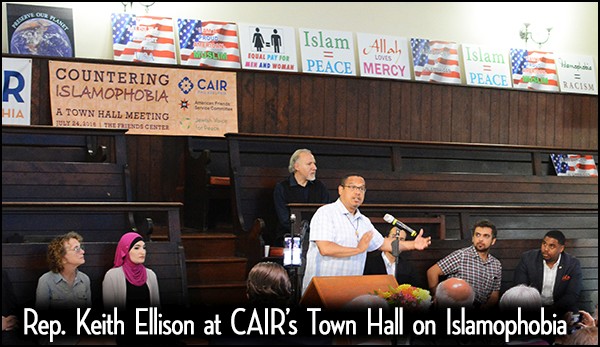 This past Sunday evening, CAIR-Philadelphia, American Friends Service Committee, and Jewish Voice for Peace hosted a town hall meeting on "Countering Islamophobia" at the Friends Center in Philadelphia. In attendance were more than 200 community members, local leaders, and Democratic delegates from around the country.
Speakers at the event included Jacob Bender (CAIR-Philadelphia Executive Director); Keith Harvey (Regional Director, AFSC); State Representative Jason Dawkins; Nihad Awad (Executive Director, CAIR National); US Representative Keith Ellison; Linda Sarsour (Executive Director, Arab American Association of New York); Donna Nevel (Network Against Islamophobia, Jewish Voice for Peace); Raed Jarrar (Government Relations Manager, AFSC); and The Rev. Dr. David D. Grafton (Associate Professor of Islamic Studies and Christian-Muslim Relations, Lutheran Theological Seminary in Philadelphia).
A musical interlude was provided by Al-Bustan Music Director Hanna Khoury.
View recorded video on Facebook | Photos on Flickr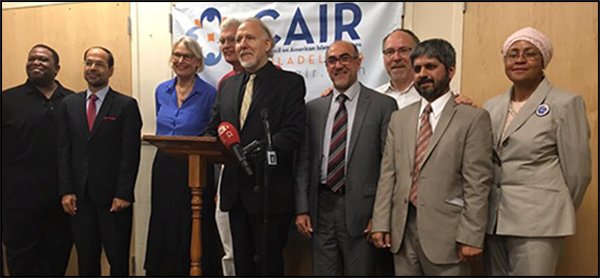 On Monday morning, CAIR-Philadelphia held a press conference to follow up on the issues raised at the town hall meeting in relation to the ongoing Democratic National Convention and to urge the Convention to adopt a platform that focuses on civil rights, refugees, policing reforms, economic equality, and the climate crisis.
Speakers included Jacob Bender, Nihad Awad, Nick Taliaferro (900AM-WURD radio host, pastor and longtime public servant), Oussama Jammal (US Council of Muslim Organizations), Nancy Fuchs Kreimer (Reconstructionist Rabbinical College), Reverend David Tatgenhorst (St. Luke United Methodist Church), Rabbi Shawn Zevit (Mishkan Shalom), Jameelah Malik (Maryland activist), and Ijaz Chaudhry, Esq. (representing the Bensalem-area Muslim community).