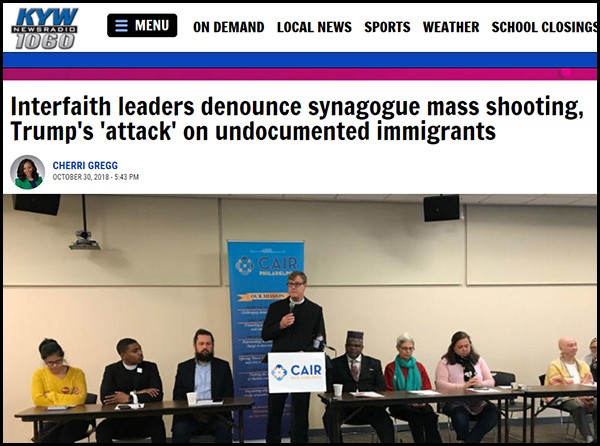 An interfaith press conference about the Pittsburgh synagogue massacre, hosted by CAIR-Philadelphia and Masjidullah at the Friends Center yesterday, received wide media coverage last night on radio, TV, and internet.
Jewish, Christian, and Muslim religious leaders at the press conference condemned the mass murder at the Tree of Life Synagogue in Pittsburgh, as well as calling attention to the environment of racism, xenophobia, and calls to violence in which the anti-Semitic murders took place. Many speakers noted a climate of fear and divisiveness stoked by the irresponsible rhetoric of the president of the United States.
Speakers at the press conference included: (bottom row, left to right): Jacob Bender, Executive Director, CAIR-Philadelphia; Timothy Welbeck , Esq., Staff Attorney, CAIR-Philadelphia; Pastor AJ Smith, Restoration Church; Pastor Nicolas O'Rourke, POWER Philadelphia and Assistant Pastor, Living Water United Church of Christ; Rabbi Arthur Waskow, Director, The Shalom Center. (top row, left to right): Blanca Pacheco, Co-Director, New Sanctuary Movement of Philadelphia; Rev. Robin Hynicka, Senior Pastor, Arch Street United Methodist Church; Imam Mikal Shabazz, Masjidullah; Melinda Wenner-Bradley, Religious Society of Friends-Quakers.?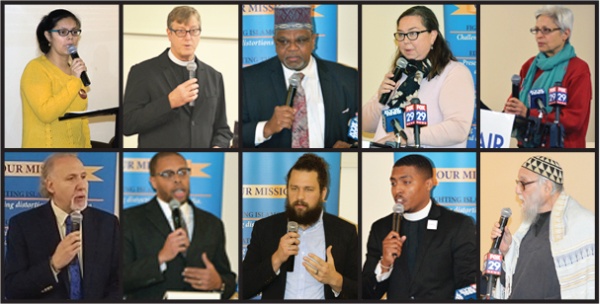 Some media coverage of the press conference:
CBS Philly: Local Religious Leaders Denouncing Pittsburgh Synagogue Shooting (video)
KYW News: Interfaith leaders denounce Pittsburgh shooting, Trump's 'attack' on immigrants
The press conference concluded by a recitation in Hebrew (with English translation) of the kaddish, the traditional Jewish prayer of mourning, by Rabbis Arthur Waskow and Phyllis Berman of the Shalom Center (below, far right).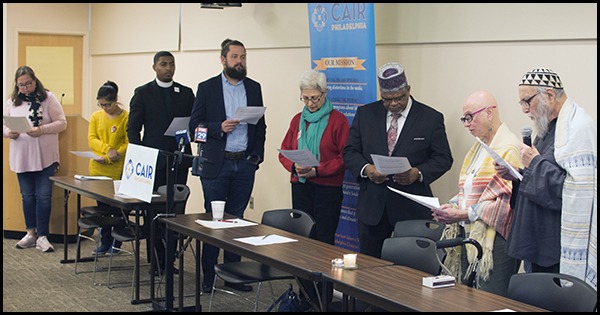 Meanwhile, yesterday in Pittsburgh, thousands of people — including many from the Muslim community — came together to protest the president's visit to their city, and Safdar Khwaja, President of CAIR-Pittsburgh was one of the speakers at the rally (see below).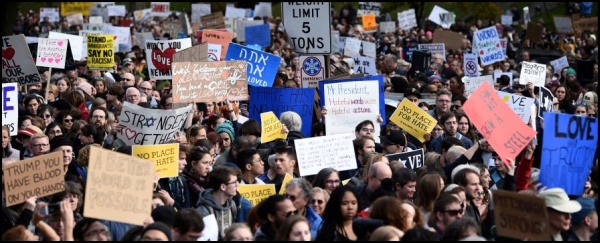 ---
Through Nov 2, AmazonSmile is donating 5% to CAIR-Philadelphia when you shop at smile.amazon.com/ch/54-2174614.