Interfaith Iftar Celebration at St. Luke United Methodist Church in Bryn Mawr (06/06/2017)
CAIR-Philadelphia Executive Director Jacob Bender was the keynote speaker at an Interfaith Iftar Celebration at St. Luke United Methodist Church in Bryn Mawr, co-sponsored by Peace Island Institute.
Doylestown Meeting in Solidarity with the Muslim Community (06/10/2017)
Over 100 people gathered at Doylestown Presbyterian Church for a solidarity meeting with the Muslim community, called "Many Faiths, One Community: BuxMont Solidarity Gathering." Speakers included Imam Numaan Cheemah of Zubaida Foundation, Doylestown Mayor Ron Strouse, and Jacob Bender of CAIR-Philadelphia. The event was co-sponsored by Zubaida Foundation, Bucks County Interfaith Coalition for Refugee Resettlement, and Rise Up Doylestown.

Interfaith Iftar Celebration at Masjidullah (06/11/2017)
Over 300 people participated in CAIR's 4th Annual Interfaith Iftar, co-sponsored by — and taking place at — Masjidullah. Over half the participants were Jews and Christians (photo below). Speakers included Imams Mikal Shabazz and Muhammad Abdul-Aleem of Masjidullah, Rabbi Shawn Zevit of Mishkan Shalom Synagogue, Rev. Cheryl Pyrch of Summit Presbyterian Church, and Jacob Bender of CAIR.

"Diversity Day" at Palumbo Academy (06/15/2017)
Jacob Bender and CAIR-Philadelphia Staff Attorney Ryan Houldin spoke at Palumbo Academy's "Diversity Day"; Jacob presenting an "Islam 101" workshop and Ryan presenting a "Know Your Rights" workshop.
Remembering Nabra Hassanen (06/06/21)
Nabra was the 17-year-old Muslim young woman brutally murdered last week in Virginia. CAIR-Philadelphia helped organize, and co-sponsored, a memorial vigil at City Hall.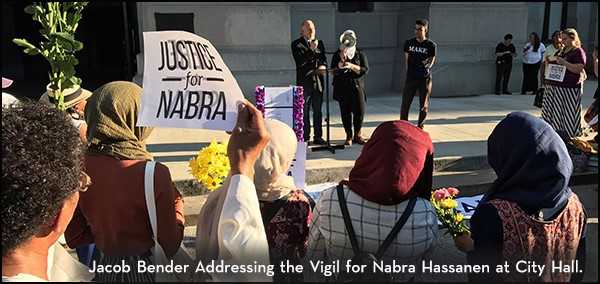 Interfaith Iftar at UPENN International House (06/20/17)
Jacob Bender and Asheq Fazlullah, CAIR-Philadelphia's Vice-President, both made presentations at an Interfaith Iftar sponsored by UPENN's International House for over 150 foreign students. Jacob noted how all three Abrahamic faiths employ some degree of abstinence during their sacred calendars while Asheq presented a PowerPoint on the meaning of Ramadan.
City Hall Iftar (06/22/2017)
Over 200 people came to City Hall last night for the 5th Annual City Hall Iftar Celebration. The joyous event was MCd by CAIR-Philadelphia Executive Board Member Salima Suswell, and speakers included Philadelphia City Council Member Curtis Jones and State Senator Sharif Street.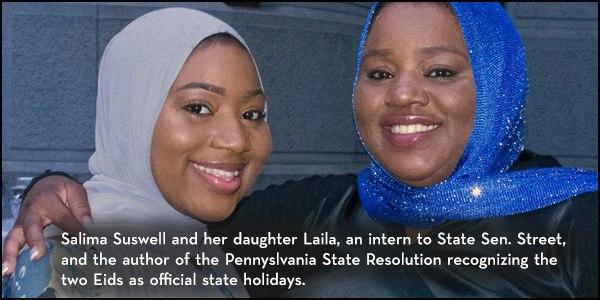 Report From Our Advisory Board
CAIR-Philadelphia Advisory Board member Rabiya Khan of York, PA, has been busy since inauguration day, organizing and attending several events in her area to dispel myths and misunderstandings of Islam and Muslims and to counter the negative rhetoric of the new administration.
In April, Rabiya set up a table at the Race Against Racism for the public to come up and ask questions and get information about Islam. Watch a video from the York Daily Record: "We want people to understand that we are also American and love living here too."
Rabiya was asked to write about her experience at The Human Library event in March for the York Daily Record: "What I learned by being a 'human book'"
She was also featured alongside Advisory Board member Aaysha Noor in a short video about Eid al-Fitr. They discussed last year's outdoor Eid prayer in York, which brought out the community in a show of solidarity with their Muslim neighbors.
She participated in Susquehannock High School's "Culture Con" for their Day of Diversity in March (photo below). She reported: "I was the only female presenter on religion today who also happened to be the ONLY Muslim speaker! Shattering glass ceilings and breaking stereotypes about my religion, all during Women's History Month!!"
Rabiya also hosted CAIR's table at a Diversity Day program at Central York High School. She spoke about her experiences as a Muslim overcoming adversity, and was a guest speaker on a panel discussion featuring various members from diverse communities.
Journeys with Al-Sharif Nassef
Al-Sharif Nassef, our intrepid Outreach Manager (below), was exceedingly busy this Ramadan. He spoke about CAIR and the services we provide to the Muslim community at seven different mosques, as well as doing salat (prayers) at a dozen more mosques throughout the greater Delaware Valley, where he often set up a table with CAIR literature, and signed-up several hundred new people to receive CAIR's E-newsletter and Action Alerts.
MEDIA APPEARANCE
In U.S., are Muslims the new Jews?
by Stu Bykofsky, Philadelphia Daily News
Muslims are the latest to arrive in numbers, and they carry the additional burden of being associated with terrorism. "Bad luck," as with Japanese immigrants in California at the outbreak of World War II, observes Jacob Bender, executive director of the Philadelphia chapter of the Council on American-Islamic Relations. For Muslims, 9/11 created "a level of suspicion that was heretofore unknown to their community." Bender happens to be Jewish. Read more…
—
Jacob was also quoted this week on CBS-Radio and was interviewed for a 30-minute spot to be aired on COMCAST 61 in August. Stay tuned…