Scores of American Muslims, together with their Jewish and Muslim allies, descended on Harrisburg on Tuesday, April 17, for the Third Annual Muslim Capitol Day (MCD III) in Harrisburg, PA. Muslim Capitol Day was co-sponsored by CAIR-Pennsylvania and Emgage Pennsylvania, and two Philadelphia mosques: Masjidullah and Philadelphia Masjid. Close to 100 Muslim Americans held 35 meetings with Pennsylvania legislators and government officials.
The goals of MCD were fourfold:
To meet with Pennsylvania state senators and representatives and their staffers to explain to them how, in the last two years, Islamophobic statements and acts have become a far too prevalent and disturbing component of Muslim daily lives.
To lobby our elected officials on specific pieces of legislation, as is the right of all US citizens: "to petition the government for redress of grievances." This year MCD participants lobbied for SB942/HB135: Parole Eligibility for Life Sentences; co-sponsored by Senator Sharif Street and Representative Jason Dawkins.
To train American Muslims, especially youth, in the process of civic engagement and lobbying, thus deepening the connection between the Muslim community and democratic governance.
Finally, Muslim Capitol Day is a visible manifestation of the Muslim community's determination not to be bullied into silence by bigoted politicians and media pundits who continue to assert that Islam is a threat to the American republic.
Muslim Capitol Day began with an orientation session led by Ahmet Tekelioglu, Outreach and Education Director of CAIR-Philadelphia (standing) and Wasi Mohamed, Executive Director of the Islamic Center of Pittsburgh and Emgage representative (seated).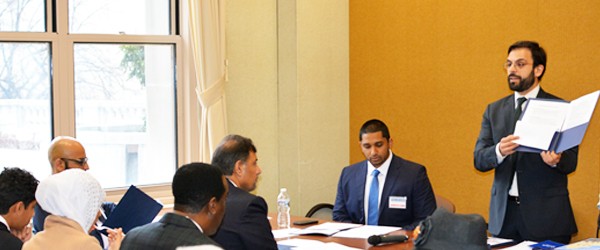 MCD participants then broke into small groups of between 6-10 people to visit the offices of PA State Senators and Representatives and state officials, like the group meeting with PA Secretary of the Commonwealth, Robert Torres (below).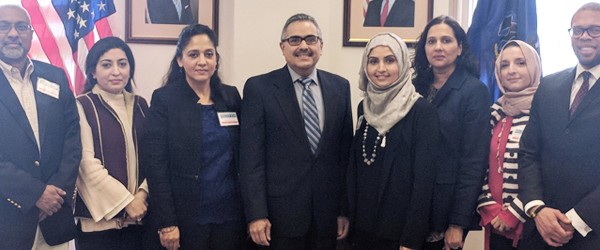 A group of students from New Medina Institute in Philadelphia also participated in the day's events, shown below meeting with Bucks County representative Warren Perry.
As noted above, the organizers of this year's MCD decided to focus on one major piece of legislation, that being Senate Bill 942 / House Bill 135: Parole Eligibility for Life Sentences. The bill is sponsored by Senator Sharif Street (below, addressing MCD participants) and Representative Jason Dawkins, both American Muslims, respectively, in the PA Senate and House of Representatives. Their bill would accomplish three things:
Abolish life sentences without parole in Pennsylvania;
Install provisions for rehabilitated inmates serving life sentences; and
Alleviate the financial burden of Pennsylvania tax payers and create room for other services.
By taking on issues such as criminal justice reform, MCD and the Muslim community in general demonstrated that their social justice concerns do not focus solely on narrowly defined "religious" issues, but on a wider vision of a society endowed with justice for all.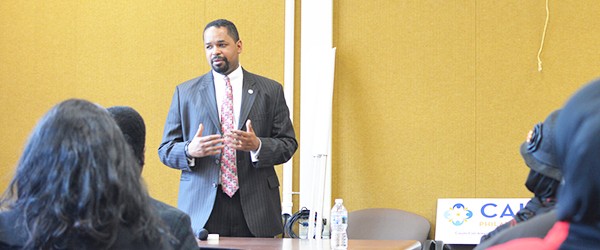 The highlight of Muslim Capitol Day was a rally on the Rotunda steps, during which both Muslim and non-Muslim speakers spelled out an agenda of inclusion, pluralism, and justice. At the podium (below) are Jalila Parker, Executive Director of the Governor's Commission for African American Affairs, and Tiffany Chang Lawson, Executive Director of the Governor's Advisory Commission on Asian Pacific American Affairs.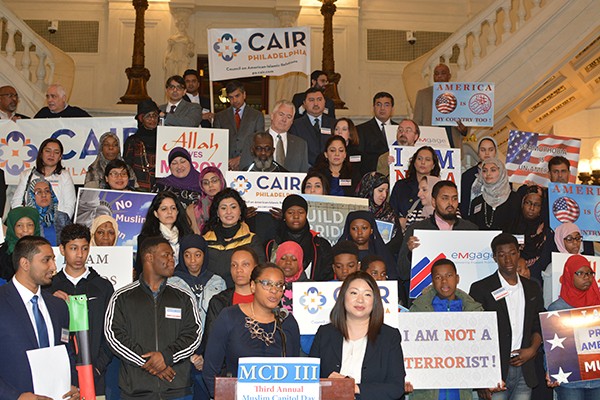 Speakers at the rally included (below, left to right): Imam Salaam Muhsin (Masjidullah); Rep. Patty Kim (103rd Legislative District); Rabbi Eric Cytryn (Beth El Temple); Timothy Welbeck (CAIR-Philadelphia Civil Rights Attorney); and Adila Hasan (Emgage).