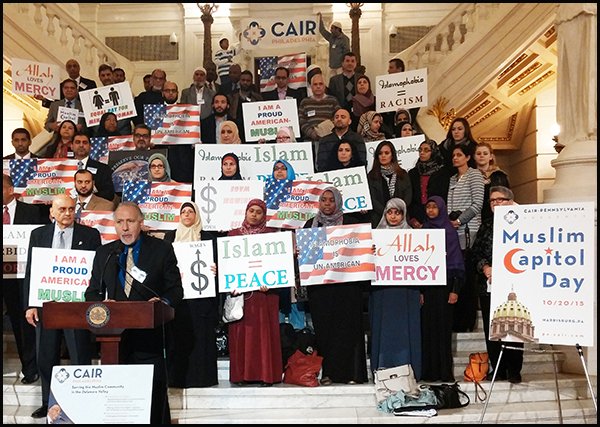 CAIR-Philadelphia's first annual MUSLIM CAPITOL DAY (MCD) was held last week on October 20 in Harrisburg. Over 60 participants from around Pennsylvania met with their elected representatives in the State Capitol Building in order to express the concerns of the Muslim community.
(Read the page 2 article about Muslim Capitol Day in the Philadelphia Inquirer)
Issues discussed with the lawmakers were Islamophobia, defending the rights of immigrants, the Syrian refugee crisis, equal pay for women and men, and making the two Eids official state holidays.
At the press conference that was part of MCD, nearly 100 participants heard a diverse list of Muslim, Christian, and Jewish speakers all condemn the recent insertion of Islamophobia into the political discourse. The speakers included Jacob Bender, CAIR-Philly Executive Director (see photo above); Iftekhar Hussain, Vice President of CAIR-Philly; State Representative Jason Dawkins (see photo below); Tiffany Chang Lawson, from the Governor's Office; Rabiya Khan, local Muslim activist; Ann Van Dyke, Community Responders Network; Rev. Sandra Strauss, Harrisburg Council of Churches; and Rabbi Linda Holtzman, Tikkun Olam Havurah.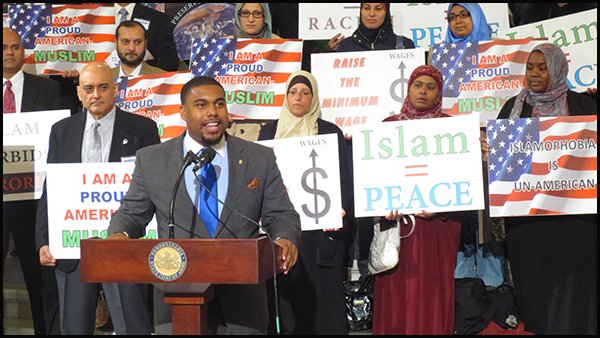 All the speakers stressed the importance of effective political coalitions in order to challenge the well-funded Islamophobic Network.
Muslim Capitol Day concluded with an Islamic prayer service in the Capitol Rotunda (photo below). To see more photos from Muslim Capitol Day, view our Flickr album.