Have you ever watched a show about a specific demographic and felt like the producers never spoke to anyone from that community?
On Thursday, September 8th a few members of the Philadelphia Muslim community came together at the Drake Theatre to join in on a discussion with our partners at InterAct Theatre to discuss the process for an upcoming play and the expectations for the choosing of a playwright.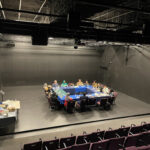 CAIR-Philadelphia will be partnering with InterAct Theatre Company (InterActTheatre.org), an independent theater in Philadelphia with a track record in telling organic stories about various communities of the Philadelphia region. Our colleagues at Interact received a grant to produce three major plays in the next 5 years on Philadelphia's diverse communities. One of these will be a play that will focus on Muslims in Philadelphia (more specifically, African American Muslims, reflecting their rich history and presence).
"InterAct is a theater for today's world dedicated to commissioning, developing, and producing new contemporary plays that explore social, political, and cultural issues of our time".
Our colleagues at InterAct approached us to bring our community together with them as they would like to involve our community at three stages of the development of this play: 1) the choosing of the playwright, 2) the development of the singular story for the play, which will emerge from the playwright's direct engagement with and listening to communities and 3) feedback on successive drafts of the play mostly through readings presented by InterAct in our community. We welcome and applaud this approach. This is where you come in!
There are so many amazing aspects of the Philadelphia Muslim community. Therefore, in order to ensure the play that is put on is not just enjoyable but also accurate in the way our community is represented we would love for as many community members to join in on this process.
If you would like to be a part of the next stages of the process, please fill out the form below: