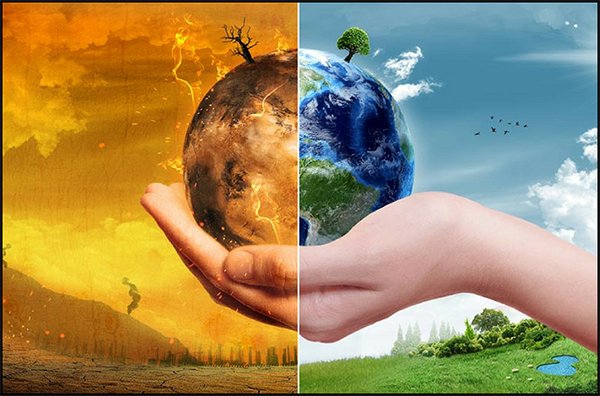 With Earth Day around the corner, and the People's Climate March just two weekends away, CAIR encourages our Muslim sisters and brothers throughout the Delaware Valley to join Faith Climate Action Week. Together with people of all faiths, we can be part of a global solution to the greatest challenge facing humanity on God's great earth: climate change (and humanity's own greed and waste).
CAIR-PA invites the wider Muslim community to a series of events on Spiritual Ecology that we've organized with faith leaders in Bethlehem, Trooper, and West Philadelphia this Earth Day weekend. Join us to learn what Islam teaches about the environment, living with a green-conscience, and what we must do to prevent global catastrophes resulting from climate change.
We are also excited to announce that Muslim-Americans have been asked to lead the Interfaith Contingent ahead of the People's Climate March on Washington. Be sure to reserve your seat online to join CAIR's bus to the march for an inspiring and historic Saturday. The bus will depart to Washington D.C. at approximately 8am on Saturday, April 29. Please arrive early to join us for breakfast at Philadelphia Masjid/Clara Muhammad School (47th St. and Wyalusing Ave, Philadelphia, PA). We will return after sunset, Insha'allah (at around 10pm). Recommended donations are $10-$20 per person to cover transportation costs, but are not required.
In addition, we encourage members to get involved with the wider ecological and climate movement, with many active groups and activities that help improve our environmental condition happening this week and beyond.
CAIR-Philadelphia Earth Day Weekend Series: 
Spiritual Ecology: Climate Change and Our Faith Duty for Clean Earth
Friday, 4/21, 8-9pm

Iqra Institute, 2550 Eisenhower Ave., Suite B-205, Trooper, PA 19403 w/ Rev. Alison Cornish
Saturday, 4/22, 8-9

Respect Graduate School, 2200 Industrial Drive, Bethlehem, PA 18017 w/ Sh. Walead Mossad
Faith Climate Action Week:
Tue Apr 18 
7-8:30pm – Defending Climate Progress:

Townhall with Congressman Boyle, Huntingdon Valley Library 625 Red Lion Rd, Huntingdon Valley PA
Wed Apr 19 
11-1pm – #PAClimateCaucus Lunch 'n Learn

w/ your legislator about clean energy options for PA, State Capitol North office building, 401 N Street, Harrisburg PA Hearing Room
Thu April 20 
7p – Film – Seasons, Bryn Mawr Film Institute

824 Lancaster Ave, Bryn Mawr, PA — Join the Environmental Justice Committee of the Bryn Mawr Presbyterian Church (BMPC) for their Green on Screen film series followed by a local expert leading a talk-back discussion. Seasons: Breathtaking imagery will show the cycle of seasons that was established when the ice retreated, forever binding humankind with nature. his is part of their ongoing mission to educate and advocate for God's creation both in our congregation and the larger community. Discussion after the film will be led by the Rev. Alison Cornish, Executive Director of Pennsylvania Interfaith Power and Light. Contact Carol Schmidt / 610-525-2821 / CarolSchmidt@bmpc.org
8-9p – Webinar w Former EPA Administrator Gina McCarthy

IPL President and Founder, Rev. Sally Bingham will introduce Gina McCarthy. The webinar will be one hour and will have time for questions and answers. If you are unable to log in on a computer you can still sign up to call in from your phone.
Fri Apr 21 – Sun Apr 22  
Sat Apr 22 
10am – 1pm – March for Science in Philadelphia 

Penn's Landing 101 S Columbus Blvd, Philadelphia — People will assemble at 10am on the east side of City Hall (Juniper Street). The March will kick-off promptly at 11am; will go down Market Street to Front Street; Front Street to Chestnut Street and then over Chestnut Street to Penn's Landing – Great Plaza.
9am – 2:30pm Girl's Climate Summit

Springside Chestnut Hill Academy, 500 W Willow Grove Ave, Philadelphia
9a – 1pm – tree planting in Germantown

First United Methodist Church of Germantown, 6001 Germantown Ave, Philadelphia — Germantown Interfaith Power and Light Tree Tenders, an outreach project of Philadelphia PA IPL, is having their second planting event. We have 5 yard trees to plant this spring. There are two geographically distinct locations that would work well for two teams. 3 trees at a residence at 5433 Morris St, 2 trees at Jane's Memorial UMC at 47 E Haines. Reverend Cheryl Pyrch & Pastor Andrew Foster will lead a blessing of the trees at Jane's. Exact time of the blessing is yet to be determined. Contact: Mark Smith / 215 886 5383
6am – 8:30pm – Training – Building Power at the Intersection of Race, Economics and Climate

POWER Interfaith 1429 North 11 Street, Philadelphia — God's creation is threatened by the growing crisis of climate change and racial and economic abuses that hurt the most vulnerable of our community. Join in building power towards the creation of Green Jobs, claiming economic opportunity in renewable energy and efficiency.
Sun Apr 23 
9:30am – 12:00pm Tree planting w Philly Tree People

2771 Jasper St, Philadelphia, Philly Tree People's Spring 2017 Planting. Please help plant 100 trees in Fishtown, Port Richmond, and East Kensington. Pick-up trucks (& drivers) needed. Tools will be provided. Bring gloves. Two hours of planting estimated.
All day: Art build for 4/29 People's Climate Mobilization

2401 Walnut St, Philadelphia — Make puppets, props, banners & posters. Come anytime if you are not making puppets. Come dressed for working with paint and other materials that can permanently stain clothes. Bring a brown bag lunch. Contact: Lou Ann Merkle louannmerkle15@gmail.com 610-564-2131
Mon Apr 24 
11am & 5pm – SEPTA's operating budget hearings

1234 Market St, Philadelphia — review & offer feedback on proposed rate hikes; on ending the $1 transfer fee; on the financial implications of SEPTA's plans for natural gas plants; and on the need for a rapid transition to renewable energy and electric buses.
7am – 8:45pm – Panel discussion: Re-imagining Philadelphia: Sustainability & Three Path-breaking Innovations

Ludington Library, 5 S Bryn Mawr Ave, Bryn Mawr, PA — Please join Impact100 for a panel discussion moderated by Alan Greenberger – former Deputy Mayor for Economic Development and former Executive Director and Chair of the Philadelphia City Planning Commission. An award-winning architect, he is now head of the Department of Architecture, Design & Urbanism at Drexel and a Fellow at the university's Lindy Institute for Urban Innovation.
Sat Apr 29 
8am – CAIR-PA Muslim Contingent Bus to Washington DC for People's Climate March

Departs from Clara Muhammad Square at approximately 8am from Clara Muhammad Square (49th St. and Wyalusing Ave, Philadelphia, PA) to Washington, returning after sunset, Insha'allah. (Recommended donations are $10-$20 per person to cover costs, but are not required). Reserve your spot, before all the seats fill up!