On Wednesday October 9, 2019, Timothy Welbeck [above, left], CAIR-Philadelphia Staff Attorney, moderated a discussion at Temple University with Dr. Yusuf Salaam and Mr. Raymond Santana, Jr. of the "Exonerated 5" (formerly known as the "Central Park 5"). Joining them on the panel was Mr. Jharrel Jerome, who recently won an Emmy for his portrayal of Mr. Korey Wise in Ava DuVernay's Netflix Series When They See Us.
The conversation, which was part of Temple University's Homecoming festivities, explored the horrific injustice Dr. Salaam and Mr. Santana experienced in serving a sentence (six years, eight months each) for a crime they did not commit, then bearing the stigma of that crime for years until their exoneration in 2002. Their discussion also revolved around other notable topics such as racial profiling, mass incarceration, criminal justice reform, and the greater need to honor the dignity and humanity of all people.
See: Members of the 'Exonerated Five' visit Temple for a discussion on criminal justice
(More than a decade after the exoneration of the five black and Latino teens accused of raping a woman in Central Park, President Trump says that he still doesn't accept their innocence. Nor does he think he owes them an apology for publicly calling for their executions.)
Upcoming Event: "Out of Cordoba" Screening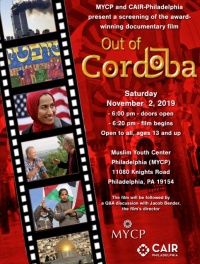 Jacob Bender, CAIR-Philadelphia Executive Director, will be screening his film "Out of Cordoba" at the Muslim Youth Center of Philadelphia (11080 Knights Rd, Philadelphia​) on Saturday, November 2, at 6:00pm.
The award-winning documentary is about those centuries in medieval Muslim Spain when Cordoba was the most advanced metropolis on the entire European continent and Muslims, Jews, and Christians created a culture of tolerance that is still an inspiration to those challenging the voices of bigotry and xenophobia arising across the land.