On Friday August 24, CAIR-Philadelphia — together with two other American Muslim organizations: Emgage Pennsylvania and MPower Change — organized a voter registration drive as part of National Muslim Registration Day (#NMVRD #mymuslimvote). The drive took place at Islamic Society of Chester County in West Chester, and CAIR-Philadelphia Executive Director Jacob Bender and Outreach and Education Director Ahmet Tekelioglu [photo below] spent the afternoon registering many new Pennsylvania voters arriving for Jumma (Friday afternoon prayers).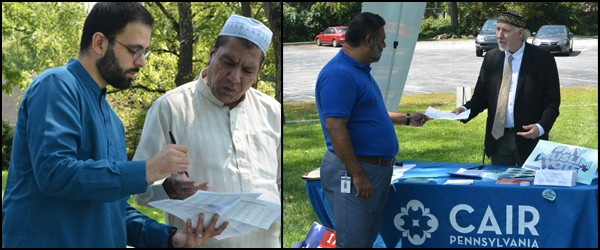 On the same day, Iftekhar Hussain (CAIR-Pennsylvania Board President, shown at left) delivered a powerful khutbah about the importance of voting. A video of the khutbah is available on Facebook.
Islamic Wills Workshop in Delaware
On Saturday, August 18, CAIR-Philadelphia and the Education Committee at Islamic Society of Delaware (ISD) co-sponsored an Islamic Wills workshop at ISD [photo below]. Sheikh Abdul-Hadi Shehata, New Castle County Registrar Ciro Poppiti, and Attorney Ejaz Sabir addressed technical, religious and legal aspects of wills. Over 30 community members attended the event and were able to utilize the Islamic Wills documents prepared by ISD.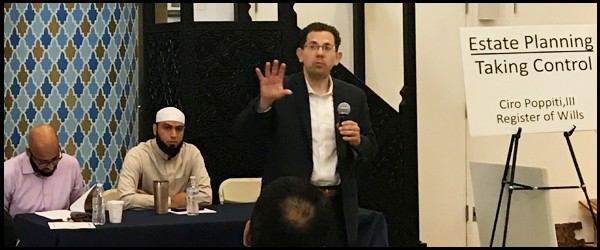 Please stay tuned for further Islamic Wills workshop. If you are interested in hosting a similar program, please send an email to atekelioglu@cair.com
Advisory Board Member Attends Governor Wolf's 3rd Annual Eid al-Adha Dinner
On August 14, 2018, CAIR-Philadelphia Advisory Board Member attended Governor Tom Wolf and First Lady Frances Wolf's 3rd Annual Eid al-Adha Dinner with Muslim community leaders from across Pennsylvania [photo below]. The program was organized by Tiffany Chang Lawson, Executive Director of Governor Wolf's Advisory Commission on Asian Pacific American Affairs, and Jalila Parker, Executive Director of Governor Wolf's Advisory Commission on African American Affairs. Ms. Chang Lawson and Ms. Parker addressed the Muslim Capitol Day press conference organized by CAIR in April 2018.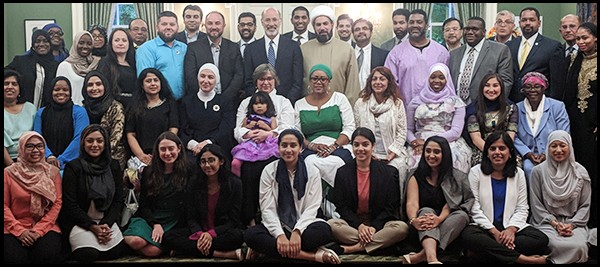 Anti-bullying Presentations in Coatesville and Lancaster
CAIR-Philadelphia Education Director Dr. Ahmet Selim Tekelioglu delivered an anti-bullying presentation at the Islamic Community Center of Lancaster on August 20, 2018, after the mosque's "Day of Arafah" gathering. More than 50 community members received tips on preventing bullying ahead of the beginning of the school year. Br. Ahmet also delivered the same presentation at Masjid Ar-Rahman in Coatesville following the community's Eid celebration on August 26.
CAIR-Philadelphia will next present its anti-bullying workshop in these locations:
September 8: Elwyn Children's Behavioral Services in Philadelphia
September 15: Masjid al-Falah / Indonesian Community of Greater Philadelphia
Request this free workshop for your community.
CAIR-Philadelphia Serves Lancaster Community
Tekelioglu also delivered the Eid khutbah at ICCL's Eid Prayer Service organized at the Marriott Hotel at Penn Square in Lancaster [below]. Br. Ahmet emphasized the importance of serving our community. He also visited the Lancaster County Prison on behalf of ICCL and distributed Eid sweets to Muslim inmates.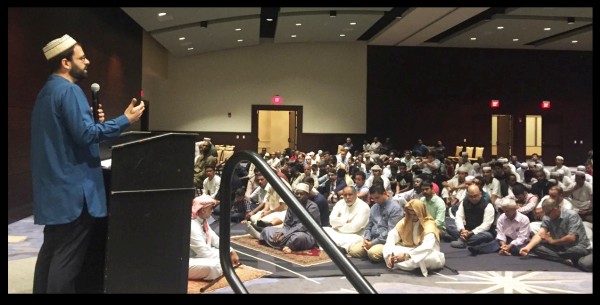 CAIR-Philadelphia Advisory Board Member and Interfaith Allies Publish Open Letter against KKK Campaign
CAIR-Philadelphia Advisory Board Member Rabiya Khan and other faith leaders from York, PA published a joint open letter in The York Daily Record to condemn the recent KKK campaign to malign minority communities.