Dear Friends / ASA,
It has been six years since I began working as Executive Director of CAIR-Philadelphia, and two years since my family and I migrated from the chaotic canyons of Manhattan to the (relative) calm of Philadelphia's Wissahickon Park.
As the first non-Muslim, and American Jew, to head one of CAIR's 33 chapters across the country, my hiring was, of course, an experiment. Yet, as I came to know many of you, and as you came to know me, I was quickly welcomed with open arms by the diverse Muslim communities all across the Greater Delaware Valley region.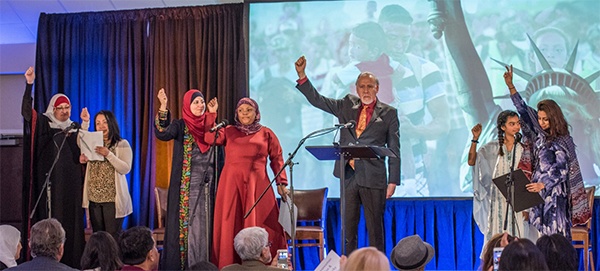 "O mankind, We have created you from a male and a female and have made you into nations and tribes for you to know one another." Qur'an 49:13
I now turn to you in a moment of need, in a time of turmoil, to ask for your help in supporting the wonderful organization that I am privileged to lead, and which means so much to the Muslim communities of my new city. Day in and day, month in and out, CAIR provides invaluable services to thousands of Muslims and others all across the region:
• Legal representation to those experiencing anti-Muslim discrimination in the workplace, or government harassment, or schoolyard bullying of your children; all provided free-of-charge by Timothy Welbeck, Esq., our indomitable and dedicated Civil Rights Attorney.
• In the non-legal arena, Dr. Ahmet Selim Tekelioglu, our dedicated Director of Outreach and Education, has amassed thousands of transportation miles in meeting with Muslims (and their interfaith allies) all across this great Commonwealth; Ahmet's devotion and selflessness are living manifestations of the Islamic values of mercy and compassion.
• Iftekhar Hussain, CAIR-Pennsylvania's Chair, continued presenting his signature "Islam 101" courses to universal acclaim to Christian, Jewish, and public institutions all over the region, thus helping to fulfill one of CAIR-Philadelphia's central missions: "To enhance the greater understanding of Islam."
• Sally Selim, our Banquet Chair, has, under her watch, seen our annual banquet double in size, from 500 to nearly 1,000 at this year's gala celebration; our annual banquets are recognized nationwide for their creative and dramatic impact by CAIR chapters around the country.
• Additionally, as Executive Director, I have attempted, to the best of my abilities, to represent CAIR before the media with the honesty and integrity it deserves. In my numerous TV and radio interviews and published op-ed articles and letters-to-the-editor, I have presented a picture of a peaceful and pluralistic Islam totally at odds with the inaccurate, intolerant, and ignorant commentary spewing forth from irresponsible politicians and certain media outlets.
• Finally, led by the indefatigable and seemingly unstoppable Osama Al-Qasem, President of CAIR-Philadelphia's Executive Committee and Advisory Board (Carlin T. Saafir, Ghada Bistanji, Hani White, Iftekhar Hussain, Mohammed Zubairu, Osama Al-Qasem, Rabiya Khan, Razin Karu, Sahir Mohammed, Salima Suswell, Ijaz Chaudhry, Sally Selim, Margarita Abuawadeh, and Kareem Ali) have collectively given thousands of hours of donated time to this amazing organization; never have I had the pleasure of working with such a dedicated group of volunteers.
However, no matter the dedicated work of my fellow staff members — Timothy, Ahmet, and Leena Jaffer, our indispensable Operations Manager — and the heroic efforts of our Executive Committee and Advisory Board members, the future of CAIR, and therefore, I believe, the future of the American Muslim community is dependent, in part, upon your generosity.
In all humility, I believe CAIR has done its part. The future, dear brothers and sisters, is up to you.
On this joyous and blessed day of Eid-al-Fitr, won't you please help guarantee that future by making a generous donation to CAIR-Philadelphia TODAY?
EID-MUBARAK,

Jacob Bender
Executive Director