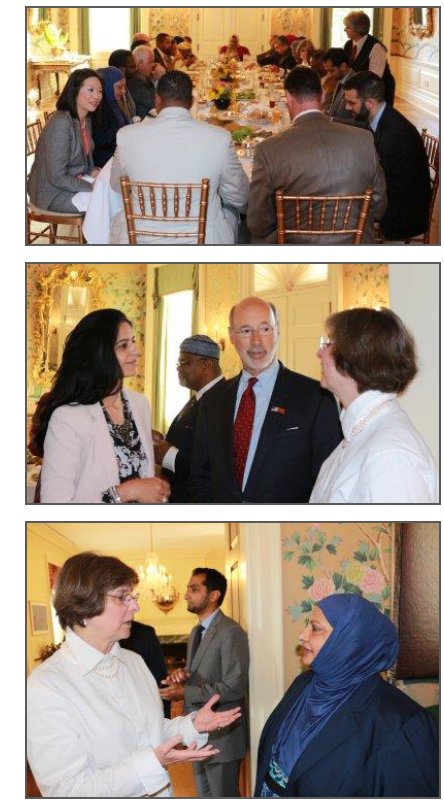 Report by Rabiya Khan
(CAIR-Philadelphia Advisory Board Member)
Governor Tom Wolf and First Lady Francis Wolf made history when they hosted the first Eid-al-Adha dinner celebration at the Governor's Mansion in Harrisburg on Thursday, September 15th, 2016.
More than two dozen Muslims from across Pennsylvania were invited to attend this historic occasion where they were treated to a three course meal prepared by the Governor's personal chef.
Before sitting down to eat, a room was available to perform the late afternoon ("Asr" in Arabic) prayer.
Attendees mingled with each other and were introduced to the Governor and his wife who graciously took the time to personally greet each guest. After taking pictures with their excited and honored guests, everyone took their seats at the dining table where the meal was preceded by a speech by the Governor and a prayer by Imam Mikal Shabazz of Masjidullah in Philadelphia.
In keeping with the traditions of this religious holiday, the Governor announced that the halal meat his chef had ordered and prepared was divided into three portions: One for the poor, one for our meal, and one for us to take home and share with our family and friends.
The dinner attendees were:
Zakariyya Abdur-Rahman, President & CEO, Nicetown CDC
Osama Al-Qasem, President, Council on American-Islamic Relations Pennsylvania
Rep. Jason Dawkins, Legislator, Philadelphia
Nasir Emadi, Shia Muslim Community (Harrisburg)
Councilman Curtis Jones, Jr., Philadelphia City Councilman
Dr. Fariha Khan, Governor's Advisory Commission on Asian Pacific American Affairs
Rabiya Khan, Founder, Solidarity Society of South Central PA
Tiffany Chang Lawson, Executive Director, Governor's Advisory Commission on Asian Pacific American Affairs
Samia Malik, Community Leader, Central PA Muslim Community
Dr. Atizaz Mansoor, Islamic Society of Greater Harrisburg
Wasi Mohamed, Executive Director, Islamic Center of Pittsburgh
Dr. Mubasheer Mumtaz, Ahmadiyya Muslim Community (Harrisburg)
Jalila Parker, Executive Director, Governor's Advisory Commission on African American Affairs
Majeedah Rashid, Chief Operating Officer, Nicetown CDC
Imam Mikal Shabazz, Imam of Masjidullah in Philadelphia
Shirley Jones-Shakur
Sharif Street, Attorney, PA Senate Candidate
Salima Suswell, Philadelphia Eid Coalition
Mukarem Syed, Islamic Community Center of Lancaster
Hani White, Governor's Advisory Commission on Asian Pacific American Affairs
At the end of the evening, local activist Samia Malik presented the Governor with a plaque on behalf of the Muslim community which stated: "The Muslims of Central PA extend this small token of appreciation for your courage in standing for justice and equality for all citizens, including American Muslims. We also recognize your humanitarianism in welcoming refugees to our Great State of PA."
View More Photos on CAIR-Philadelphia's Flickr
View More Photos on Governor Wolf's Flickr