"Peace At Home" Symposium | October 21, 2017
On October 21, CAIR-Philadelphia brought together mental health professionals, psychologists and expert therapists with Muslim community members in a symposium titled, Peace at Home: The Power of Change is in Our Hands.
The full-day program was held at Masjidullah in Philadelphia. During meetings held in 2016, issues such as communication between spouses, between parents and children, and dealing with the often stressful nature of our daily lives, were identified as a significant problems for many Muslim communities. In response, CAIR-Philadelphia, together with ICNA Relief, organized a symposium called Peace at Home.
During the morning session, marriage and family therapist Rabab Alma addressed parenting skills and cultivating healthy parent-child communications; behavioral specialist Sahir Muhammad stressed that Muslim professionals are needed to attend to the community's needs; Muslim health counselor Miriam Bhutta tackled how Islam approaches the problem of domestic violence; and community leader and health professional Sr. Shirley Jones Abdus Shakur shared insights on developing a peaceful, mutually enriching Muslim family life.
In the afternoon portion of the symposium, counselor Margarita Miriam Abuawadeh and activist Herman "Abdus Salaam" Davis joined other speakers on a panel where they shared their experiences and answered questions from the audience.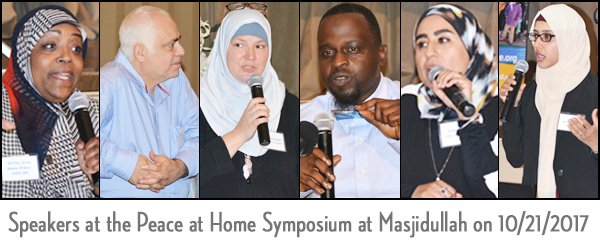 The symposium program can be accessed at http://dvmcf.net/meetings/peace-at-home/. CAIR-Philadelphia is currently working to bring this program to other communities in Delaware and Pennsylvania. Please stay tuned.
Visit to Harrisburg | October 24, 2017
Jacob Bender, Timothy Welbeck, and Ahmet Selim Tekelioglu teamed up with local Muslim activists in Harrisburg on October 24 at the State Capitol Building. Our team met with a number of State Representatives and Senators, including Sen. Lawrence Farnese Jr., Senator Sharif Street, Rep. Patty Kim, Rep. Shirley Delozer, Marcus Brown (PA Homeland Security Advisor) and PA Secretary of Education Pedro Rivera. At each office, we explained why, at this moment in the history of our country, when blatant Islamophobia is expressed by both high government officials and across the media, American Muslims are so fearful in the present, and so worried about the future of our community.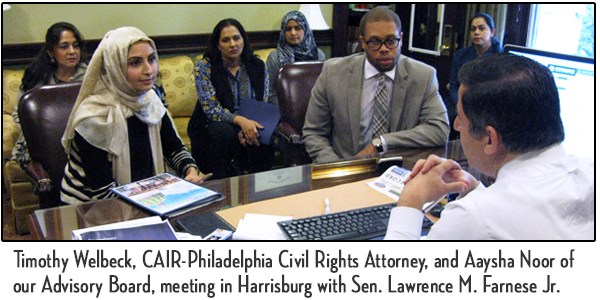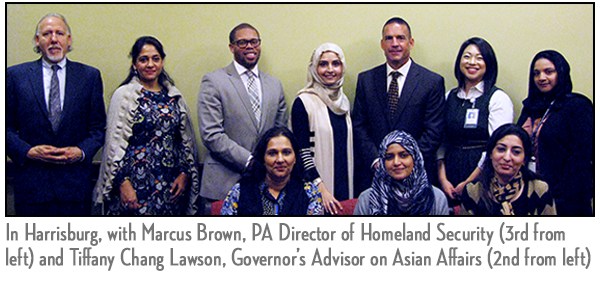 Khutbah at ISGH Harrisburg | October 27, 2017
On October 27, CAIR-Philadelphia's Education and Outreach Director Dr. Ahmet Selim Tekelioglu traveled to Harrisburg and delivered the Friday bayaan/speech at the Islamic Society of Greater Harrisburg (ISGH). The theme of his bayaan was "Upholding Justice, Developing Good Character" where he highlighted why Muslims have a responsibility to simultaneously cultivate a more just world and a good character.
Civic Engagement Training with Tiffany Lawson | November 3, 2017
On November 3, CAIR-Philadelphia organized a Civic Engagement 101 training in the Harrisburg-Mechanicsburg area. The training was delivered by a prominent civil servant and a great ally of the Muslim community, Tiffany Chang Lawson.
Ms. Lawson is the Executive Director of Governor Tom Wolf's Advisory Commission on Asian Pacific American Affairs. The training, which took place in the Upper Allen Township Building and was attended by nearly thirty community members, included crucial tips to increase Muslim civic and political engagement. The session was professionally recorded and will be made available to community members in the coming days.
CAIR-Philadelphia Board member Aaysha Noor and Education and Outreach Director Ahmet Tekelioglu thank Ms. Lawson for her efforts and the attendees for their interest in this timely workshop.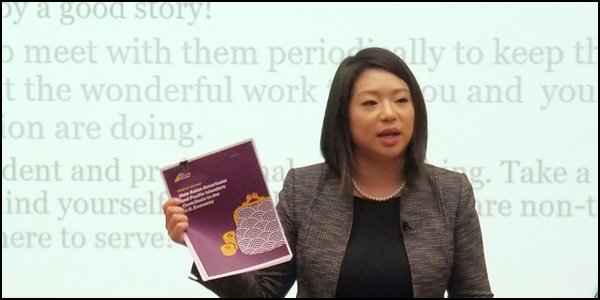 Resist Hate: We Are One Action Fair | November 4, 2017
On November 4, 2017 CAIR-Philadelphia co-sponsored and participated in the Resist Hate: We Are One Action Fair. The day begin with a 5K Run/2K Walk in support of immigrant rights and continued with an action fair held at the Reformed Church of the Ascension in Norristown. CAIR-Philadelphia's Outreach and Education Director Dr. Ahmet Selim Tekelioglu joined the fair and interacted with other non-profits and community members. This was a wonderfully synergetic, mutually enriching opportunity for everyone involved.