On Wednesday, June 20, CAIR-Philadelphia and Historical Society of Pennsylvania co-hosted a panel and a concert at HSP to recognize the histories of Muslims in the Keystone State. The panel was organized and moderated by CAIR-Philadelphia's Outreach and Education Director, Dr. Ahmet Selim Tekelioglu (photo below).
See more photos of "Muslims in Pennsylvania – Creating Community" event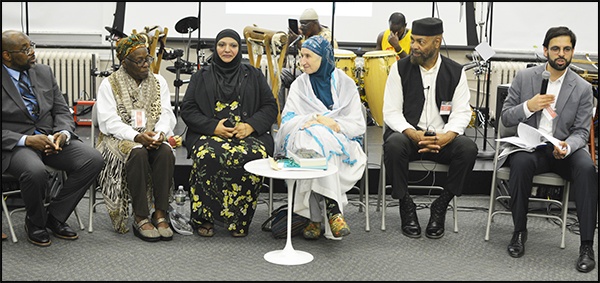 Muslim community leaders and clerics from Philadelphia, Harrisburg, and Pittsburgh were represented in the panel.
Sheikha Maryam Kabeer Faye from the Bawa Muhaiyaddeen Fellowship, Imam Kenneth Nuriddin of the Philadelphia Masjid, Samia Malik from the Harrisburg community, Sarah E. (Jameela) Martin from Pittsburgh community, and Shaykh Anwar Muhaimin of the Quba Institute shared the histories of their congregations, as well as their personal stories with the audience. The legendary song writer and producer Kenny Gamble (aka Luqman Abdul-Haqq) also joined the event and the panel as an honorary guest.
The panelists highlighted the continuity between the enslaved Muslims who were brought to the United States in chains, and the spread of Islam thanks to later generations of free African Americans. The crucial role of leaders such as Elijah Muhammad, Muhammad Ezaldeen, Malcolm X, and Imam Warith Deen Mohammad were discussed during the panel. Also highlighted were the changes and challenges in Muslim life after 9/11 and the resilience of the Muslim community.
Following the panel, the Philadelphia based music band "Children of Adam," led by Masjidullah member Baba Kenya, performed a fascinating blend of jazz, R&B and spiritual music. Children of Adam is a new initiative and their debut at HSP was a stellar success (photo below).