Back2School: CAIR-Philadelphia Offers Resources for Students and Parents
Back-to-School can be a stressful time for Muslim parents and students. CAIR-Philadelphia continues to work with multiple school districts to ensure Muslim students enjoy an equitable educational atmosphere that is free of anti-Muslim bias in the school and in the curriculum. Please see the flyer and tips below:
Contact us to schedule an interactive anti-bullying listening and action workshop in your community.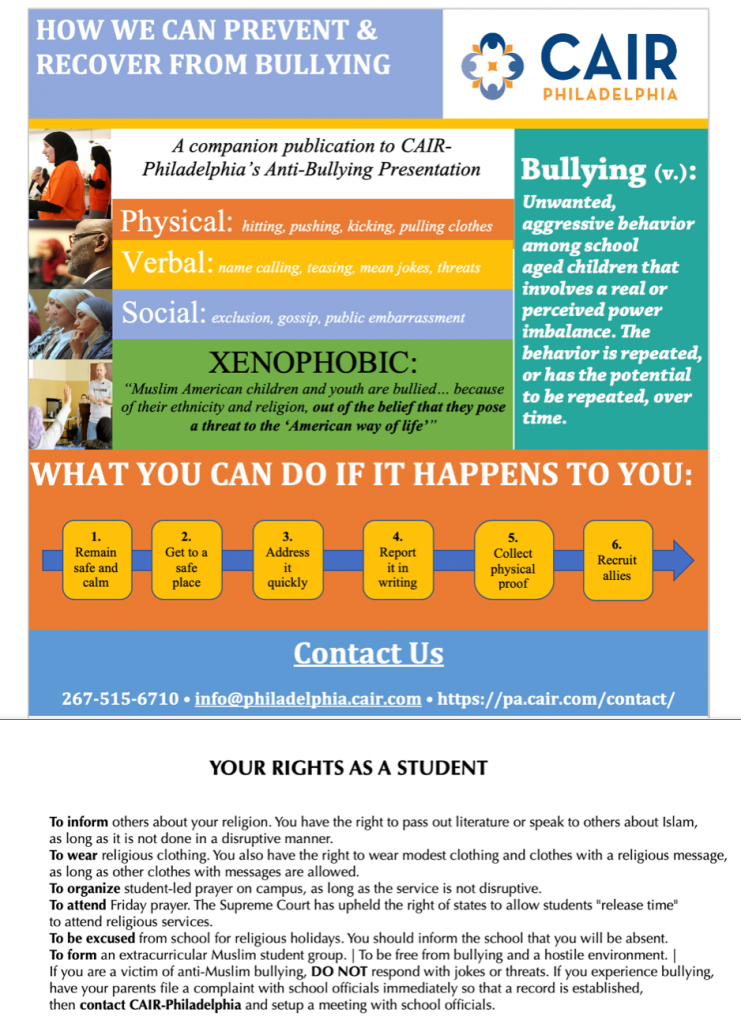 Unfortunately, young Muslims are sometimes the target of bullying or discrimination at school. Knowing your rights can help prevent this. As a student, you have the right:
To inform others about your religion. You have the right to pass out literature or speak to others about Islam, as long as it is not done in a disruptive manner.
To wear religious clothing. You also have the right to wear modest clothing and clothes with a religious message, as long as other clothes with messages are allowed.
To organize student-led prayer on campus, as long as the service is not disruptive.
To attend Friday prayer. The Supreme Court has upheld the right of states to allow students "release time" to attend religious services.
To be excused from school for religious holidays. You should inform the school that you will be absent.
To form an extracurricular Muslim student group.
To be free from bullying and a hostile environment. If you are a victim of anti-Muslim bullying, DO NOT respond with jokes or threats. If you experience bullying, have your parents file a complaint with school officials immediately so that a record is established, then contact CAIR and setup a meeting with school officials.
---
CENSUS MATTERS! Join us on September 17!
CAIR-Philadelphia is partnering with the City of Philadelphia's Philly Counts initiative and is happy to invite Muslim community members to a special information training about Census 2020. The Census Champion Training will inform the community about:
FAQs on the Census
Census Jobs
Data privacy concerns
Census and political/economic power
And more!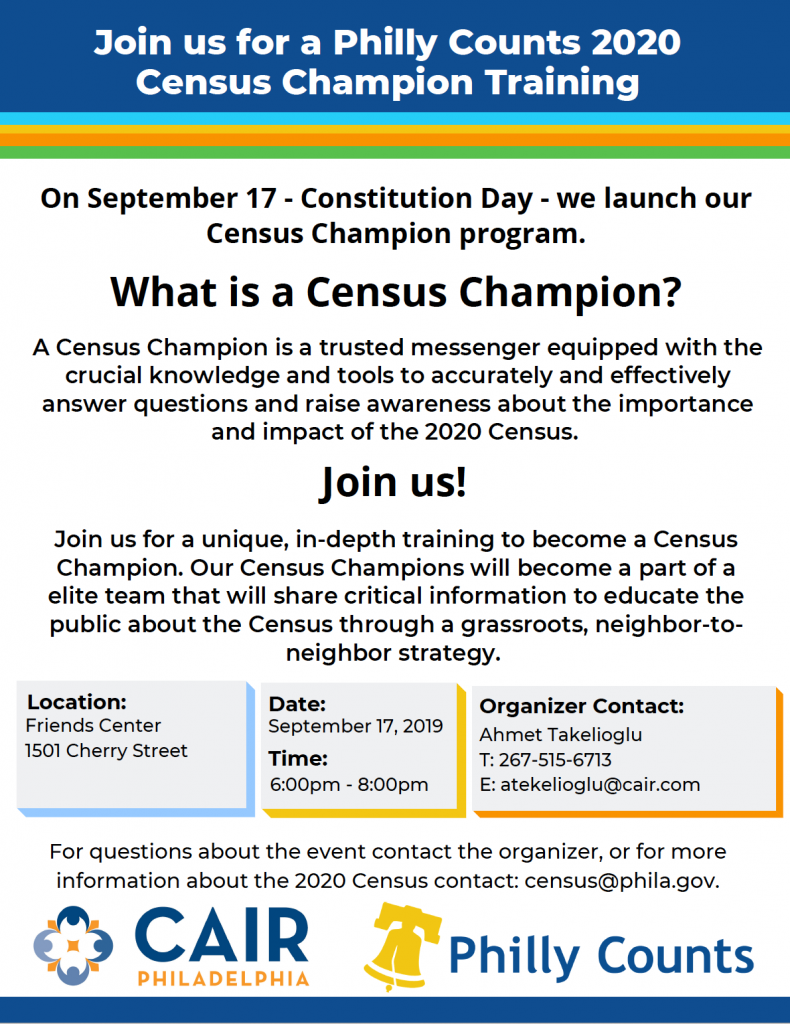 ---
Lehigh Valley and West Chester Registered to Vote! National Muslim Voter Registration Day
On August 23, 2019 CAIR-Philadelphia, together with Emgage PA and the national campaign leader MPower Change conducted voter registration drives in Muslim Association of Lehigh Valley and Islamic Community Center of Chester County in West Chester. Young volunteers from both mosques led the effort to register and inform voters ahead of 2019 Municipal and 2020 General Elections.
To organize a voter registration drive in your community with the #mymuslimvote swag email CAIR-Philadelphia Education and Outreach Director Ahmet Selim Tekelioglu.