The Sacred Month of Ramadan is one of the greatest gifts from God the Creator to humankind, for it commemorates the month when the Glorious Quran, God's final Revelation to humankind, began to be revealed. This is why the Holy Month, according to Islamic scholar S.H. Nasr, "is called 'the blessed,' mubarak, a time during which the grace or barakah of God flows upon the Islamic community and rejuvenates its deepest sources of life and action."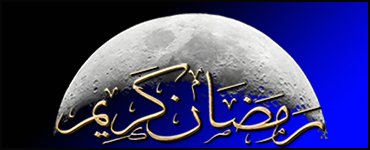 One of Islam's most profound actions is the giving ofzakah, and Anas narrated that the Prophet (PBUH) said, "The best charity is the one given in Ramadan." (At-Tirmidhi).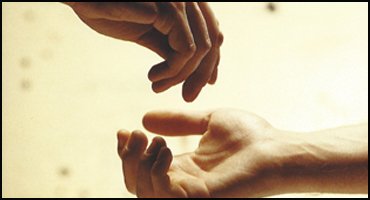 When we give zakah, we express gratitude to Allah and provide for those less fortunate than ourselves. Just as important, the act of zakah indelibly connects us to our fellow human beings, and specifically to the American Muslim community, which we are obligated by the Qur'an and the Sunnah to defend.

Today, this community, our community, is under attack: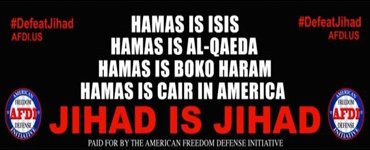 Bigoted anti-Muslim ads appear on public buses in Philadelphia, in addition to Washington DC, New York, and San Francisco; mosques are attacked around the U.S., including one burned in Texas; armed vigilantes surround a mosque in Arizona; and politicians and media "talking heads" daily spew Islamophobic rhetoric into the public discourse.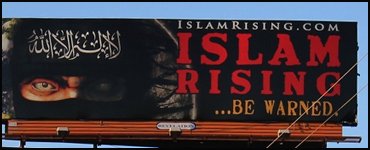 It is our considered opinion that Islamophobia — an irrational hatred of Islam and an obsessive fear of Muslims — is the leading threat facing the American Muslim community. This hatred instils fear in our children, negatively influences the Islamic identity of our teenagers, and brings Muslim adults face-to-face with workplace discrimination and government intimidation.
This is why CAIR-Philadelphia should be at the top of yourzakah list this Ramadan. There is simply no other organization in American Muslim life like CAIR, combining thoughtful, strategic responses to Islamophobia, with a legal department dedicated to providing free legal services to Muslim individuals and organizations.
pa.cair.com/donate/
It was the above strategy that led CAIR to play an instrumental role in the recent U.S. Supreme Court case "EEOC vs Abercrombie & Fitch," in which the Court ruled that women have a right to wear the hijab in the workplace. This historic decision will benefit American Muslims, and indeed, the cause of religious liberty for all Americans, for generations to come.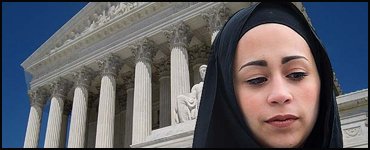 CAIR-Philadelphia's current legal cases include:
Bringing suit on behalf of a local Muslim community against the Township of Bensalem, PA, for the Township's refusal to issue a zoning permit allowing the construction of a mosque;
Representing a Muslim woman fired by her employer for wearing her hijab in the workplace;
Defending another Muslim woman who, while on her job as a security guard, was ordered to remove her hijab when she was being photographed for her ID; and
Defending a Muslim woman denied permission to visit her husband in prison, because the prison refused to accept their Islamic marriage as legal.
CAIR-Philadelphia, together with CAIR-LA, is also in the process of contacting both the Department of Justice and the Department of the Treasury regarding Muslim bank customers who have had their bank accounts closed for potentially discriminatory reasons.
And CAIR-Philadelphia is now offering a new legal service to our community. Our new Staff Attorney, Ryan Houldin, will be visiting a different mosque each week on Friday during Jum'ah to offer free legal advice to those in need of such service. His schedule will be regularly posted on our website at: pa.cair.com/legalclinic/.
And when Islamophobe Pamela Geller paid for space on SEPTA buses to display her bigoted ads, CAIR-Philadelphia jumped into action and helped organize a campaign to rationally and strategically respond to the ads.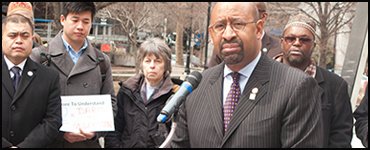 The formation of an interfaith coalition composed of dozens of Philadelphia community, social, and religious groups that vowed not to let the voices of hate represented by the ads threaten the social fabric of our city;
The activation of a media strategy which garnered CAIR-Philadelphia over 10 press, TV, radio, and internet interviews on the first few days the ads were up.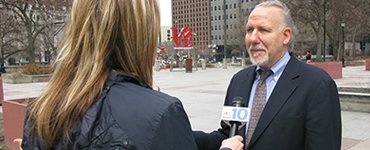 The leafleting of thousands of SEPTA riders and employees with a flyer pointing out the falsehoods in Geller's ads, and where to find objective information about Muslims and Islam.
In our non-legal work, CAIR-Philadelphia continues to provide much needed innovative advocacy and educational programs to the Delaware Valley region, including: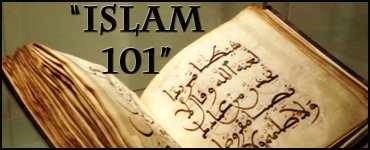 The offering of our innovative 10-part course on "Islam 101" to non-Muslim institutions around the city;
"MYLP" (Muslim Youth Leadership Programs), "Know Your Rights," and "Anti-Bullying" Workshops that are helping to train the next generation of Muslim leaders;
Free screenings of "Out of Cordoba," Jacob Bender's award-winning documentary film on Al-Andalus and interfaith relations;
"Do it for the Deen Youth Symposium," a 3-part program for teens, led by CAIR Executive Committee Member Prof. Katera Moore, that employs a cohort model that provides an alternative to the seductive distractions of thedunya by one grounded in the beauty of the deen, offering youth an opportunity to intentionally prepare for the future and do it with peers, while engaging with the broader community; and
The organizing of a ground-breaking "Muslim Leadership Forum" that brought together inner-city African American Muslim leaders and the suburban immigrant Muslim leadership to discuss issues of mutual concern.
And just this past Sunday evening, CAIR-Philadelphia held its First Annual Ramadan Interfaith Iftar Dinner, attended by over 100 of Philadelphia's leading Muslim, Jewish, and Christian religious leaders for an evening of food, friendship and spiritual inspiration. Highlights of the June 28 event included presentations by Shaikh Yahya Rhodus of the Al-Maqasid Institute, Rabbi Yael Levy of Mishkan Shalom Synagogue, and Rev. David Tatgenhorst of the St. Luke United Methodist Church, as well as an award given to Rabbi Arthur Waskow by Iftekhar Hussain and Jacob Bender to honor his lifetime of service to peace and justice. (See photo below.)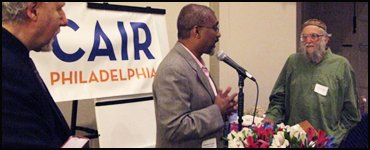 Read CAIR-Philadelphia Executive Director Jacob Bender's remarks at the Interfaith Iftar (pdf).
Finally, CAIR-Philadelphia is organizing Pennsylvania's first Muslim Capitol Day in Harrisburg this coming October, when we expect dozens of Muslims from all over Pennsylvania will descend on the state capitol building to present the concerns of the Muslim community to their elected representatives. (Details coming in the next few weeks.)
To help ensure the continuation of CAIR's vital services, please contribute generously by clicking the DONATE button below.
Donations to CAIR are tax-deductible and zakah-eligible; see pa.cair.com/about/zakat/.
And please feel free to contact me if you have any questions.
Wishing you and your family a Blessed Ramadan,

Osama Al-Qasem
President, CAIR-Philadelphia
Thank you for your generous support!