+ CAIR'S YEAR IN PHOTOS
Dear Friends, As-salaam Alaikum!
The year 2018 is drawing to a close, with the past several months being particularly difficult ones for those of us committed to a pluralistic, peaceful, and just vision of America.
Although the midterm elections brought some measure of relief to those of us disgusted by the childish, racist, and incendiary language of our "Twitterer in Chief" with a change of leadership in The U.S. House of Representatives (and the election of the first two American Muslim Congresswomen, Rashida Tlaib and Ilhan Omar, an additional source of Muslim pride and joy), it often felt that each time we went online, or opened a newspaper, or turned on the radio, a new outrage was there to greet us:
The forced separation of families along our southern border, leading to the detention of hundreds of children, with at least two reported deaths of children in U.S. custody, as of this writing;
The brutal murder of Saudi dissident journalist Jamal Khashoggi;
The pipe bombs mailed to anti-Trump activists around the nation, such as liberal financier George Soros;
The massacre at the Tree of Life Synagogue in Pittsburgh, and then in a music club in Thousand Oaks, California;
And all this against a backdrop of presidential illegality, incompetence, and narcissism unprecedented in the history of the Republic.
THE GOOD NEWS
We know full well that this tsunami of bad news inundating our lives can lead to political paralysis. The good news is that there is a cure for this immobility, and that remedy is called "civic engagement." And the good news here is that for those not able for various reasons to morph into political activists, the simplest and easiest way to support the American Muslim community is by donating to the one organization that offers FREE legal services to Muslims facing discrimination and government harassment, as well as educating thousands of non-Muslims each year about the beauty and social justice of the Qur'an and Muslim civilization. In donating to CAIR-Philadelphia, you will also receive our frequent newsletter in which you will discover that the Muslim community does not stand alone, and that millions of people and hundreds of organizations throughout the nation share Islam's commitment to the values of justice and peace.
The Council on American-Islamic Relations is just one of the many organizations who reject the current politics of hate and xenophobia polluting the internet and the media. For American Muslims, however, CAIR is the essential line of defense for our community, for no other Muslim American organization has either the geographic reach of CAIR (with 33 chapters nationwide) or its programmatic depth.
WHAT WE ACCOMPLISHED
For those of you who may still be asking what exactly CAIR does, consider the following list that details the accomplishments of the Staff, Executive Committee, and Advisory Board of CAIR-Philadelphia during 2018:
Provided 126 legal intakes by phone, email, and in-office interviews to potential clients facing workplace discrimination and harassment, and government intimidation;
Represented clients at 15 trials, hearings and other legal processes;
Trained over 80 federal officials at Equal Employment Opportunity Commission and Federal Executive Board on Islam, Muslims, and anti-Muslim racism;
Presented programs and trainings at leading area institutions such as Please Touch Museum and Historical Society of Pennsylvania;
Gave 81 khutbas (sermons to the community during Friday afternoon communal prayers) at city and suburban mosques;
Made 121 public speeches on a range of subjects, including combating Islamophobia, Muslim civic engagement, and interfaith relations.
Facilitated 45 workshops, seminars, and courses on "Islam 101," "Know Your Rights," "Anti-Bullying," "American Muslim History," and "Engaging with the Media."
Met with 40 elected officials in Pennsylvania, including Governor Wolf of Pennsylvania, Mayor Kenney of Philadelphia, Attorney General Shapiro of Pennsylvania, and several state senators, state representatives, and US congressmen.
Appeared in 25 TV and radio interviews;
Quoted 17 times in print publications.
And so we turn again to you, dear friends, to ask you for the support that will enable CAIR to continue to serve the Muslim community of the Greater Delaware Valley Region.
Now is not the time for silence or lethargy, but for activism and civic engagement. Let CAIR be your voice, from your local courthouse to the State House, from the masjid to the media.
So please help CAIR help you by donating generously in the remaining hours of 2018. Your donations are tax-deductible and zakah-eligible. You will be making an investment in the future of the American Muslim community.

Jacob Bender
CAIR-Philadelphia Executive Director

Osama al-Qasem
CAIR-Philadelphia Executive Committee President
Thank you for your generous support.
2018: The Year in Photos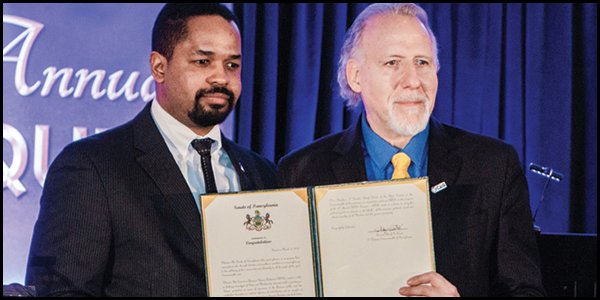 Pennsylvania State Senator Sharif Street presenting a proclamation of the State Senate to Executive Director Jacob Bender on the occasion of CAIR-Philadelphia's 12th Annual Banquet.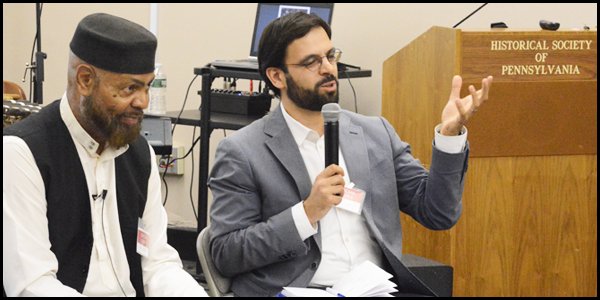 CAIR-Philadelphia Education and Outreach Director Dr. Ahmet Selim Tekelioglu and Imam Kenneth Nurideen at a panel discussion on the Muslim community of Pennsylvania at the Historical Society of Pennsylvania.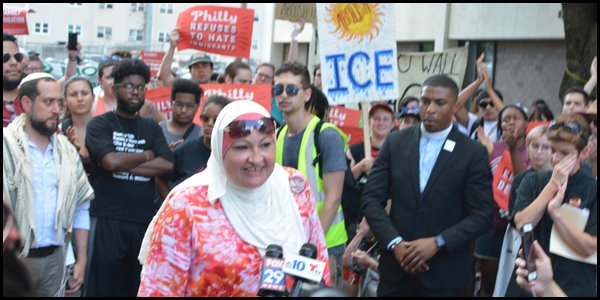 CAIR-Philadelphia Executive Committee Member Miriam Abuawadeh speaking at rally to protest forced separations by ICE (Immigration and Customs Enforcement).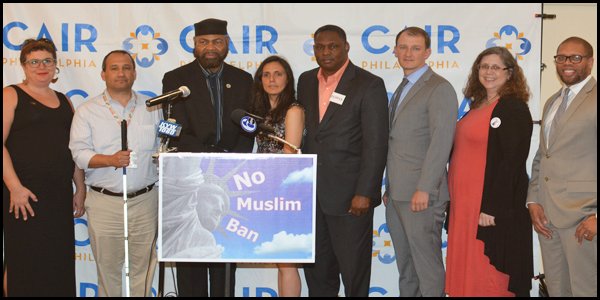 Speakers at the Interfaith Press Conference in Response to SCOTUS' "Muslim Ban" ruling. (L-R): Rabbi Alissa Wise of Jewish Voice for Peace; Thomas Earle of Philadelphia Commission on Human Relations; Imam Kenneth Nurideen of Philadelphia Masjid; Golnaz Fakhimi of ACLU-PA; Rev. Gregory Holston of Power; Jonah Eaton of Nationalities Service Center; Catherine Miller Wilson of HIAS-PA; Timothy Welbeck, Esq., CAIR-Philadelphia Staff Attorney.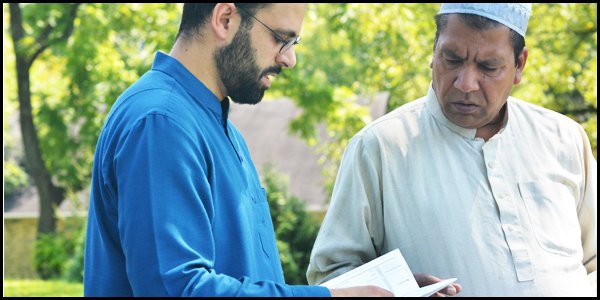 Ahmet Tekelioglu registering a new voter during National Muslim Voter Registration Day.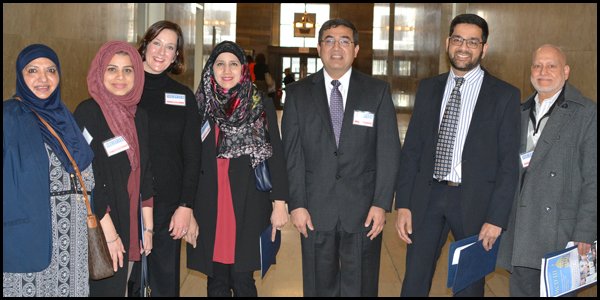 CAIR-Pennsylvania participants at Muslim Capitol Day 2018.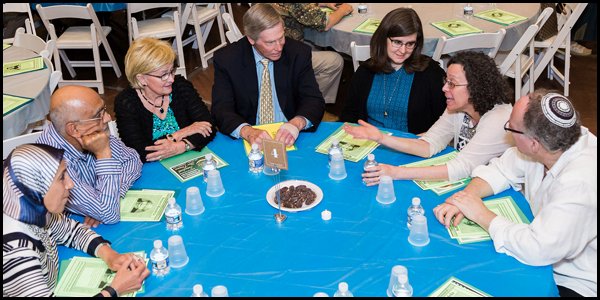 Muslim, Jewish, and Christian participants in CAIR-Philadelphia's Interfaith Iftar at Masjidullah share with each other the wisdom of their traditions.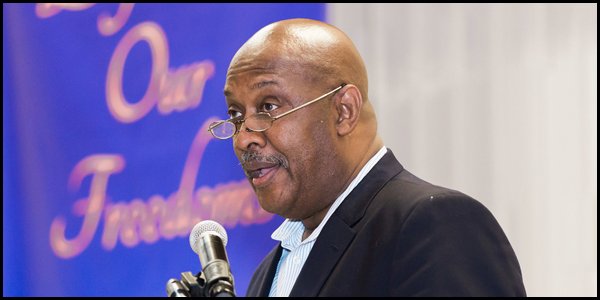 U.S. Congressman Dwight Evans at CAIR-Philadelphia's Interfaith Iftar at Masjidullah.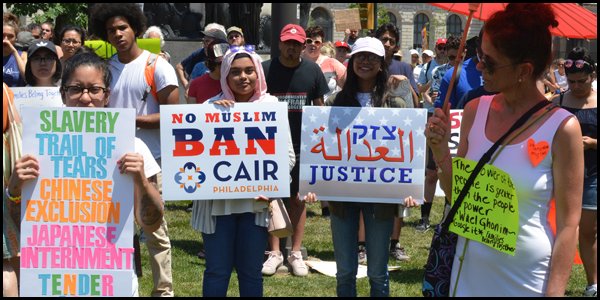 CAIR-Philadelphia protesters at March Against Family Detention.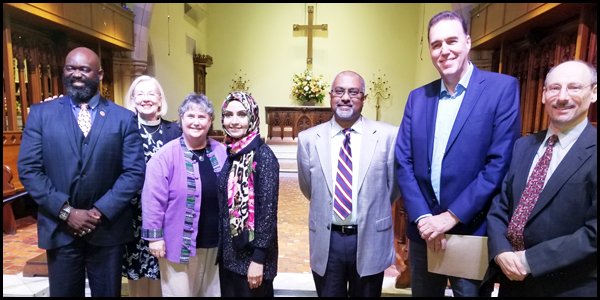 CAIR-Philadelphia Executive Committee Members Aaysha Noor and Iftekhar Hussain Presented at an Interfaith Community Conversation about Faith, Justice and Mercy.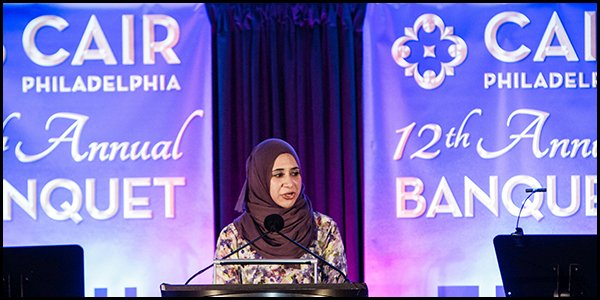 Zahra Billoo, CAIR-Bay Area Executive Director, speaking at CAIR-Philadelphia's Banquet.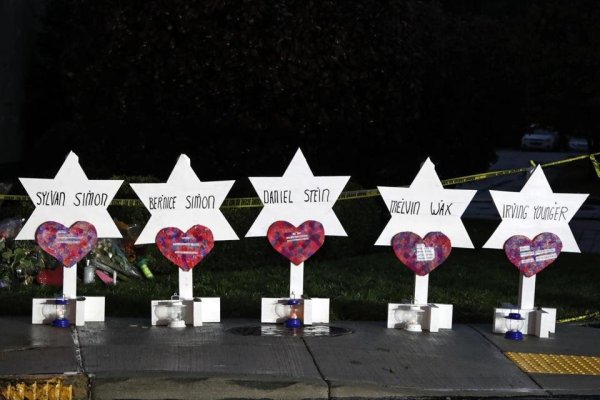 CAIR staff and activists participated in numerous vigils after the massacre at the Tree of Life Synagogue in Pittsburgh.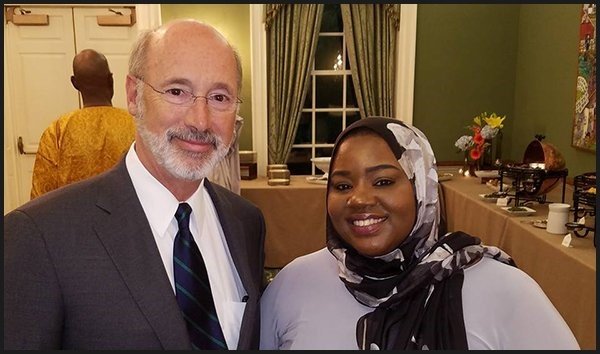 Gov. Tom Wolf of Pennsylvania with CAIR-Philadelphia Executive Committee Member Salima Suswell.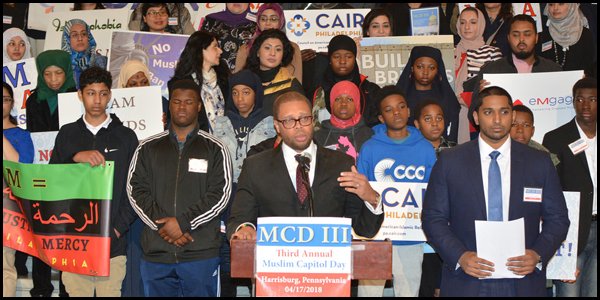 Timothy Welbeck, Esq., CAIR-Philadelphia Staff Attorney, speaking at the Pennsylvania Capitol Building during Muslim Capitol Day.
Thank you for your generous support.