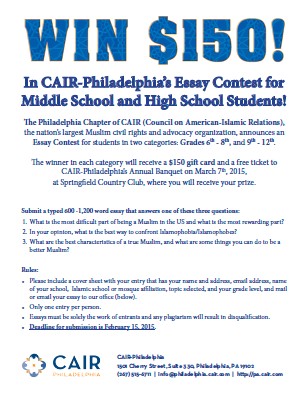 The Philadelphia Chapter of CAIR (Council on American-Islamic Relations), the nation's largest Muslim civil rights and advocacy organization, announces an Essay Contest for students in two categories: Grades 6th-8th, and 9th-12th.
The winners in each category will receive a gift card and a free ticket to CAIR-Philadelphia's Annual Banquet on March 7th, 2015, at Springfield Country Club, where you will receive your prize.
Submit a typed 600- to 1,200-word essay that answers one of these three questions:
What is the most difficult part of being a Muslim in the US and what is the most rewarding part?
In your opinion, what is the best way to confront Islamophobia/Islamophobes?
What are the best characteristics of a true Muslim, and what are some things you can do to be a better Muslim?
Thank you all for participating — the contest is now closed.