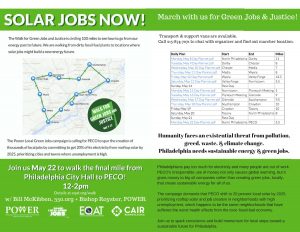 CAIR-Philadelphia has endorsed the Power Local Green Jobs campaign led by our friends at Earth Quaker Action Team and Power Interfaith.
Walking through five countries throughout the Greater Philadelphia area, this direct action encourages PECO, Pennsylvania's largest utility company, to make a major shift to locally-generated solar power that benefits low income communities and communities of color. This addresses three critical issues locally and for humanity at large: underemployment, crumbling infrastructure, and climate change.
Details of the daily local walk can be found on the EQAT website. The "Final Mile" of the Walk for Green Jobs and Justice will feature an address by Bill McKibben, America's leading environmental activist. Invite your friends to the event on Facebook.
CAIR members are encouraged to join us on the final mile next Monday, May 22nd at 12pm at Thomas Paine Plaza in downtown Philadelphia with hundreds of Pennsylvanians, prominent clergy, and national leaders Bill McKibben of 350.org and Bishop Dwayne Royster, founder of POWER.
RSVP to the walk the final mile with us!
CAIR-members who cannot join the walk are encouraged to live in an environmentally conscientious way. We also recommend our members read the Islamic Declaration on Global Climate Change signed by Muslim leaders from around the world.