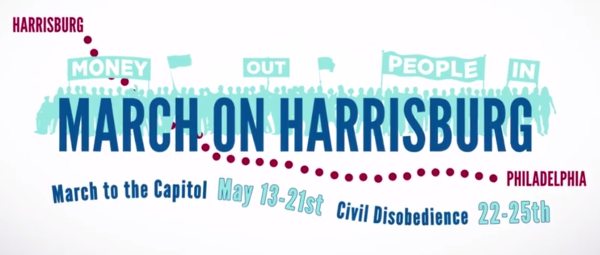 It has been over two months since a courageous group of March on Harrisburg activists embarked from Philadelphia to a 105-mile political pilgrimage to the Pennsylvania Statehouse to demand real reform with three pro-democracy and anti-corruption bills: automatic voter registration, non-partisan redistricting to end gerrymandering, and a ban of legalized bribery.
As we traveled by foot, we educated people along the way and met with legislators in their in-district offices. We held rallies in small-town public squares and held panels with journalists and other guest speakers, making new friends and allies in the striving for a good government that serves us better.
Upon arrival in Harrisburg, activists and volunteers delivered hundreds of hand-written letters and postcards to dozens of State representatives. Then we committed to three days of nonviolent civil disobedience, which upped the political pressure and gained the attention and admiration (or frustration!) of many at the Pennslyvania Statehouse.
Our actions were covered nationally and across Pennsylvania, with many reporters noting the absurdity of Pennsylvania's current political gift-giving laws. The media coverage spurred lawmakers to seriously consider the legislation that we were proposing. With March on Harrisburg volunteer advocates from all walks of life having met with legislators bi-weekly for several months, many in Harrisburg who did not previously support the reforms were eventually convinced to support it.
Since May, the March on Harrisburg legislative team has continued its lobbying effort in the Capitol. We now have a firm commitment that the Pennsylvania Senate will advance SB 22: Independent Redistricting Commission to end gerrymandering and SB 132 (HB 39's Senate counterpart.) Also, HB 39 now has 25 bipartisan cosponsors and HB 722 now has 96 bipartisan cosponsors.
The March on Harrisburg is currently planning its next march for the fall. Until then, keep up the pressure by meeting, calling, or writing to your State Representative and State Senator with March On Harrisburg's citizen lobbying toolkit and keeping current with the movement's legislative calls to action.
Please stay tuned on the March On Harrisburg website as well as on its Facebook and Twitter feeds.
CAIR-Pennslyvania will continue to support the initiative for pro-democracy, anti-corruption reforms that we believe will enable a healthy democracy for all of us to thrive in.