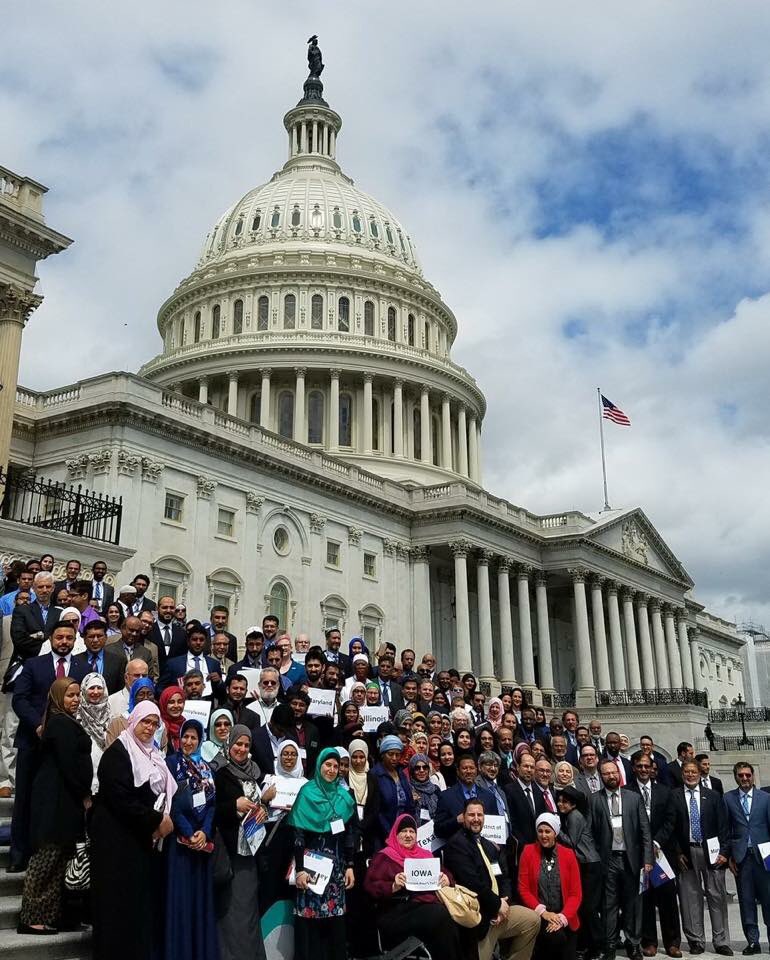 Last weekend, CAIR-Philadelphia members marched alongside over 100,000 Americans at the People's Climate March on Washington with an additional 100,000 taking part in local actions around the United States. We demanded the government shift to clean energy, create green jobs, and take action to prevent human suffering caused by pollution and climate change.
During the week, we carried the message of the march through the halls of power on Capitol Hill, where we reiterated support for climate justice, given the principle of earth stewardship emphasized in Islam.
Hundreds of American-Muslim students, attorneys, community leaders, doctors, and small business owners became community advocates on Capitol Hill. CAIR joined allies with nearly two dozen American-Muslim civic organizations for Advocacy Days on Capitol Hill.
CAIR-PA met with senior staffers at nearly a dozen offices of congressmen and senators to advocate for the American-Muslim community's rights, principles, and values. Our advocacy efforts included senior staffers from the offices of Sen. Casey (D, PA), Rep. Boyle (D, PA-13), Rep. Evans (D, PA-2), Rep. Brady (D, PA-1), Rep. Dent (R, PA-15), Rep. Smucker (D, PA-16), Rep. Costello (R, PA-6), and Rep. Meehan (R, PA-7). Unfortunately, the office of Sen. Toomey (R-PA) refused to meet with American-Muslim members of CAIR-PA after numerous requests.
We made specific requests to our elected officials to support laws that stop state-funded targeting and profiling of religious and racial minorities, and oppose any national registry of Muslims in America. We also iterated support for legislation that prohibits local police from targeting undocumented immigrants, and maintaining federal educational and skill-building opportunities for immigrants through DACA. In addition, we emphasized the Islamic principle of stewardship in protecting the environment and prioritizing prevention of global warming through creation of green jobs in sustainability and agriculture.
Our community advocacy work will continue on a local level. There are many ways people can continue to be become part of the solution to the ills of society. Let us continue to address our faith duties, the needs of humanity, and enable the betterment of all of us in the Greater Philadelphia Region and the Delaware Valley. Be sure to read our newsletters for future details.