Supported with a generous grant from SEAMAAC, CAIR-Philadelphia conducted a comprehensive Get Out the Vote Campaign in four counties (Philadelphia, Delaware, Bucks, and Montgomery), five locations (Masjid Al-Falah, Muslim Youth Center of Philadelphia, Zubaida Foundation, North Penn Mosque, and Masjid Al-Madinah/Upper Darby Islamic Center), and in five languages (we distributed a sermon that emphasized the importance of voting from an Islamic point of view in Bangla, Urdu, Hindi, Indonesian, and Burmese).
Our GOTV efforts will continue into the general municipal elections in November but TODAY, please vote and have a say in the future of your community. POLLS ARE OPEN UNTIL 8:00 pm. Please visit votespa.com now to double-check your polling place.
As a non-profit, CAIR-Philadelphia does not endorse any candidates. The fliers below present the offices that we will be voting in this cycle.
Philadelphia County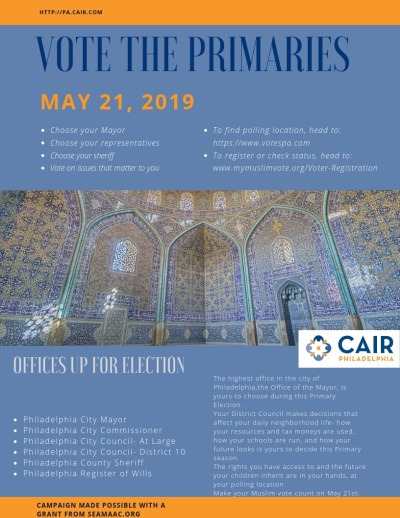 Montgomery County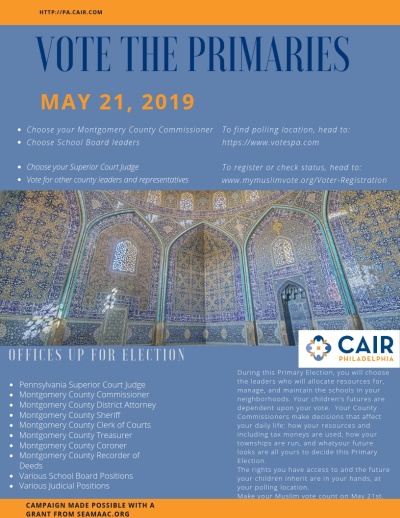 Delaware County


Bucks County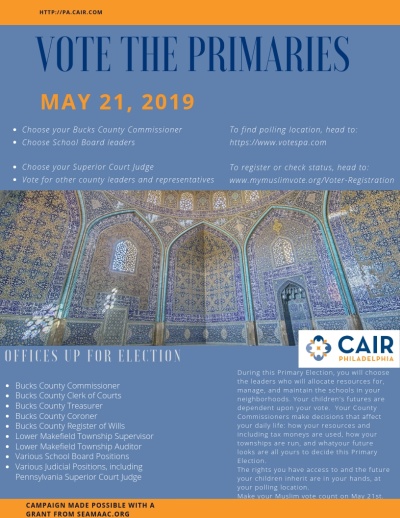 A COMMUNITY THAT CALLS FOR WHAT IS GOOD