Not even water? It's normal to face questions from your schoolmates or colleagues during Ramadan. Review the graphics and information below developed by CAIR-Philadelphia to share with your schools/employers.
Please note CAIR-Philadelphia offers quick workshops for schools/workplaces at no cost that can onboard them to be better prepared in their DEI efforts. Please reach out to Asiyah Jones for educational settings and to Ahmet Tekelioglu for workplace settings to get this training scheduled.
---
Graphics for Sharing/Download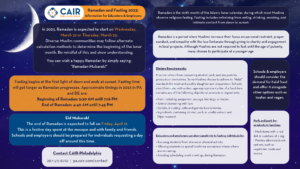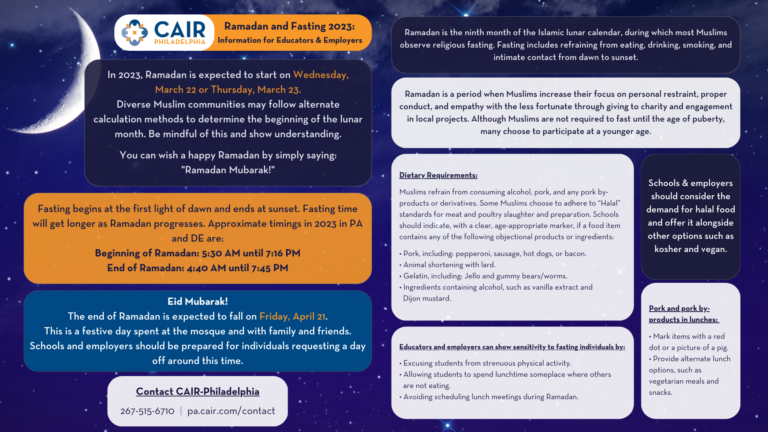 ---
In 2023, Ramadan is expected to start on Wednesday, March 22 or Thursday, March 23. Diverse Muslim communities may follow alternate calculation methods to determine the beginning of the lunar month. Be mindful of this and show understanding. You can wish a happy Ramadan by simply saying "Ramadan Mubarak!"
Fasting begins at the first light of dawn and ends at sunset. Fasting time will get longer as Ramadan progresses. Approximate timings in 2023 in PA and DE are:
Beginning of Ramadan: 5:30 AM until 7:16 PM
End of Ramadan: 4:40 AM until 7:45 PM
Eid Mubarak!
The end of Ramadan is expected to fall on Friday, April 21. This is a festive day spent at the mosque and with family and friends. Schools and employers should be prepared for individuals requesting a day off around this time.
About Ramadan:
Ramadan is the ninth month of the Islamic lunar calendar, during which most Muslims observe religious fasting. Fasting includes refraining from eating, drinking, smoking, and intimate contact from dawn to sunset.
Ramadan is a period when Muslims increase their focus on personal restraint, proper conduct, and empathy with the less fortunate through giving to charity and engagement in local projects. Although Muslims are not required to fast until the age of puberty, many choose to participate at a younger age.
Dietary Requirements:
Muslims refrain from consuming alcohol, pork, and any pork by-products or derivatives. Some Muslims choose to adhere to "Halal" standards for meat and poultry slaughter and preparation. Schools should indicate, with a clear, age-appropriate marker, if a food item contains any of the following objectional products or ingredients:
Pork, including: pepperoni, sausage, hot dogs, or bacon.
Animal shortening with lard.
Gelatin, including: Jello and gummy bears/worms.
Ingredients containing alcohol, such as vanilla extract and Dijon mustard.
Schools and employers should consider the demand for halal food and offer it alongside other options such as kosher and vegan.
Educators and employers can show sensitivity to fasting individuals by:
Excusing students from strenuous physical activity.
Allowing students to spend lunchtime someplace where others are not eating.
Avoiding scheduling lunch meetings during Ramadan.
Pork and pork by-products in lunches:
Mark items with a red dot or a picture of a pig.
Provide alternate lunch options, such as vegetarian meals and snacks.