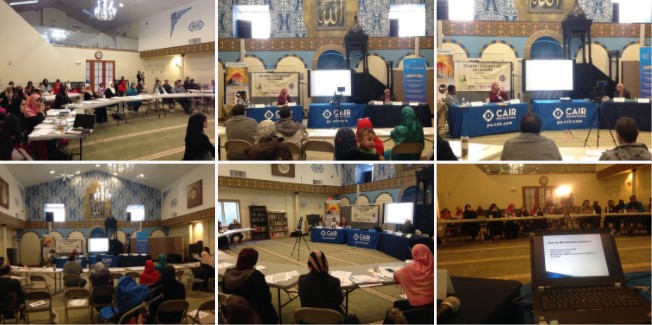 Photos from Peace at Home 2018
Hosted by Islamic Society of Delaware
Last Sunday, Jan. 14, at the Islamic Society of Delaware, CAIR-Philadelphia brought together mental health professionals, psychologists and expert therapists with Muslim community members in a symposium titled, "Peace at Home: A One Day Seminar on How to Build Happy Families."
The full day program was held at Islamic Society of Delaware. The symposium was co-sponsored by CAIR-Philadelphia, Islamic Society of Delaware and ICNA-Relief Delaware. The program started with community leader and psychiatrist Dr. Saleem Khan's remarks. Dr. Khan also moderated the program.
During the morning session, psychologist Rabab Alma addressed parenting skills and cultivating healthy parent-child communications. Activist and educator Herman "Abdus Salaam" Davis shared his experiences with domestic violence and how to quell this ill. Behavioral specialist Sahir Muhammad's presentation stressed that Muslim professionals are needed to attend to the community's needs; and community leader and health professional Sr. Shirley Jones Abdus Shakur shared insights on developing a peaceful, mutually enriching Muslim family life. In the afternoon portion of the symposium, speakers on the panel answered questions from the audience.
Peace at Home is the result of community-wide consultations and collaborations. During meetings held in 2016, issues including communication between spouses, between parents and children, and dealing with the often stressful nature of our daily lives, were identified as a significant problems for many Muslim communities. In response, CAIR-Philadelphia, together with ICNA Relief, organized a symposium called Peace at Home.
The Delaware iteration of Peace at Home Symposium followed the first Peace at Home symposium that took place in October 21, 2017 at Masjidullah.
The symposium program can be accessed at http://dvmcf.net/meetings/peace-at-home-de/. CAIR-Philadelphia invites communities in Delaware and Pennsylvania to get in touch with our office to inquire about future programming on this subject.
NEW: Videos from Peace at Home 2017
Hosted by Masjidullah