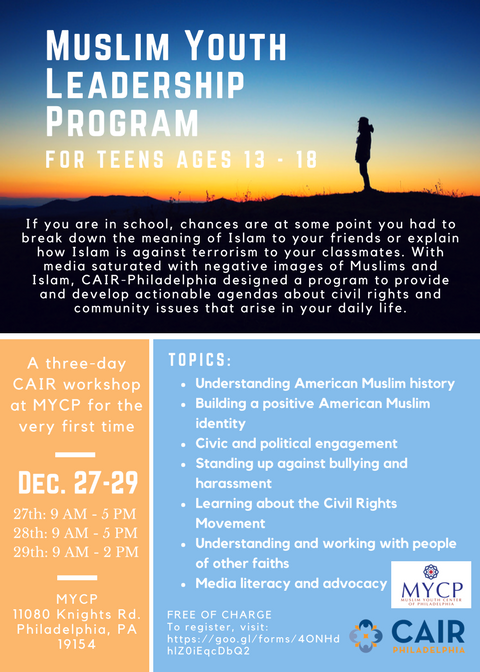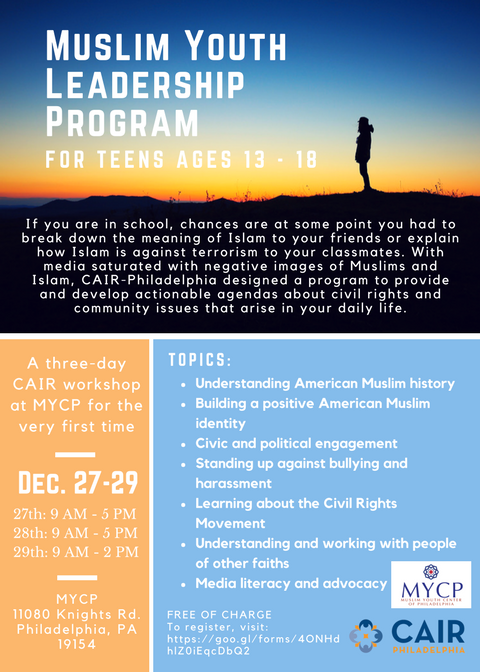 Calling all Muslim teens, ages 13-18!
Join us for the very first CAIR-PA Muslim Youth Leadership Program at MYCP!
Register here: https://goo.gl/forms/4ONHdhlZ0iEqcDbQ2
Space is limited, so reserve your spot now!
Program is free of charge.
If you are in school, chances are at some point you had to break down the meaning of Islam to your friends or explain how Islam is against terrorism to your classmates. With media saturated with negative images of Muslims and Islam, CAIR-Philadelphia designed a program to provide and develop actionable agendas about civil rights and community issues that arise in your daily life.
Muslim Youth Leadership Program
A Three-Day Workshop
December 27th – 29th
27th: 9 AM – 5 PM
28th: 9 AM – 5 PM
29th: 9 AM – 2 PM
WORKSHOPS AND SPEAKERS:
Islam and America: Tell Your Story
Ahmet S. Tekelioglu
Our Grounds, Our History, Knowing Our Rights
Timothy Welbeck
Interfaith Dialogue and Relationship Building
Asheq Fazlullah
Islam and Diversity: A Conversation on Race and Justice
Ahmet S. Tekelioglu
Japanese American Experience: Facing Discrimination, Claiming Rights
A. Hiro Nishikawa
(Guest speaker from Japanese American Citizens League)
Media and Islam
Jacob Bender
Anti-Bullying Training & Rights in School
Ahmet S. Tekelioglu
Muslim Identity and Gender Relations During High School and College Years, Community Advocacy in Current Times
Margarita Miriam Abuawadeh