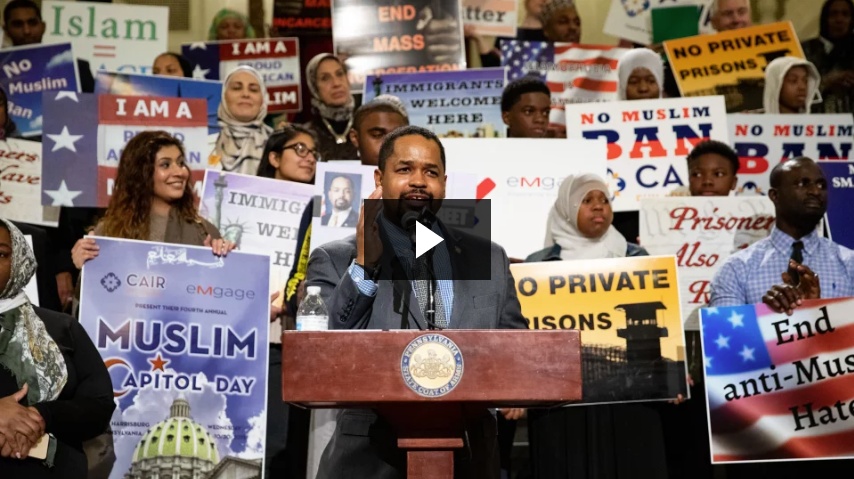 On Wednesday, October 30, more than 80 American Muslim leaders from all over Pennsylvania traveled to Harrisburg for the 4th Annual Muslim Capitol Day.
Sponsored by CAIR-Philadelphia and Emgage, MCD IV brought dozens of American Muslims into direct contact with their elected officials and state officials. In private meetings, the MCD participants had an unrivaled opportunity to speak first-hand to their state representatives and senators, letting them know in no uncertain terms what the impact of anti-Muslim bigotry has had upon them and their children.
The theme of this year's Muslim Capitol Day was a clarion call to reform the draconian and racist American criminal justice system.
MCD participants also discussed with the representatives and senators specific bills that dealt with the important issues of immigrant rights, probation and parole reform, and opposing "Risk-Assessment Tool." During the meetings, MCD participants shared their views on the following bills: HB 1555 – Smart Probation and Parole Act; HB 1799 – Anti-Risk Assessment Tool; HB-1593 – Amending Prison and Parole Title 61; SB35 – Dream Act and SB-70 – Office of New Americans Act.
MCD attendees were joined this year by a group of teenagers from Masjidullah's New Medina Institute, who had an opportunity to engage in legislative advocacy. The New Medina Institute students were also able to follow a session of the state senate from the balcony. In the session, several senators recognized the Institute, Emgage, and CAIR-Philadelphia.
The climax of Muslim Capitol Day was a rally on the steps of the great Rotunda in the Capitol Building. Stirring speeches were delivered by, among others: Sen. Sharif Street; Rep. Movita Johnson-Harrell; Masjidullah New Medina Institute student Pierre Connor, Sen. Stephen Kinsey, Sen. Anthony Hardy Williams, Rep. Joanna McClinton, PA Auditor General Eugene DePasquale, CAIR MC Rabiya Khan; CAIR-Philadelphia Executive Committee Member Salima Suswell; Emgage representative Samia Malik; and Mohan Seshadri, Executive Director of Gov. Tom Wolf's Advisory Commission on Asian Pacific-American Affairs.
We live at a time when bigotry is spreading across the land; a time when the president of the republic spreads anti-Muslim hate and white supremacy through the unregulated portals of social media. In this time, Muslim Capitol Day continues to be a crucial event in advocating for Muslim rights and guaranteeing the survival of our democracy.