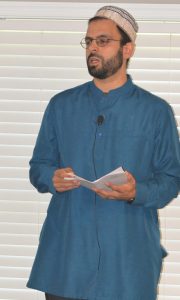 Ahmet Selim Tekelioglu, CAIR-Philadelphia's Education and Outreach Director conducted dozens of diversity trainings on Islam, Muslims and religious accommodations, including for the EEOC (Equal Employment Opportunities Commission), the Federal Executive Board, and the Please Touch Museum. He worked with Muslim youth in empowerment programs such as MYLP and Muslim Civic Activism Fellowship projects.
Dr. Tekelioglu led dozens of anti-bullying trainings for Muslim students and parents. He advocated for Muslim inclusion and equity as a member of Pennsylvania Department of Education's Inclusion and Equity Committee. He also led anti-bias and Muslim equity training for T/E School District teachers, advocated for curricular equity and attended multiple programs with the Philadelphia School District.
Ahmet developed "Islam in America" courses at Temple University's OLLI program and has overseen two grants CAIR-Philadelphia received from IRUSA and from SEAMAAC on interfaith and civic engagement work.
Ahmet's work is only possible because of the support CAIR-Philadelphia receives from individuals such as yourselves. Without your generous support we would not be able to continue, much less expand, CAIR's crucial work in protecting the civil liberties of American Muslims in the Greater Delaware Valley Region.
CAIR'S MISSION:
• Defending the civil rights of American Muslims
• Challenging Islamophobia in the American media
• Providing training in civic engagement for the Muslim community
• Enhancing the understanding of Islam
• Training the next generation of Muslim leaders
• Building coalitions that promote justice at home and peace abroad.
​​
To learn more about CAIR-Philadelphia, read our 2018 Annual Report (PDF)
To support CAIR-Philadelphia, visit pa.cair.com/donate/