(PHILADELPHIA, PA, 3/13/2019) — More than 900 American Muslims, interfaith leaders, and social justice activists gathered at Springfield Country Club last Saturday, March 9th, for the 13th Annual Banquet of the Philadelphia Chapter of the Council on American-Islamic Relations.
US Congresswomen Susan Wild, Chrissy Houlahan, and Mary Gay Scanlon were present, along with other political, community, religious and interfaith leaders, and imams and representatives from almost all of the Delaware Valley Islamic centers and mosques.
At a reception before the banquet, both Rep. Wild and Rep. Houlahan (shown below) spoke movingly about the need for a united stance against Islamophobia, anti-Semitism, and white supremacy.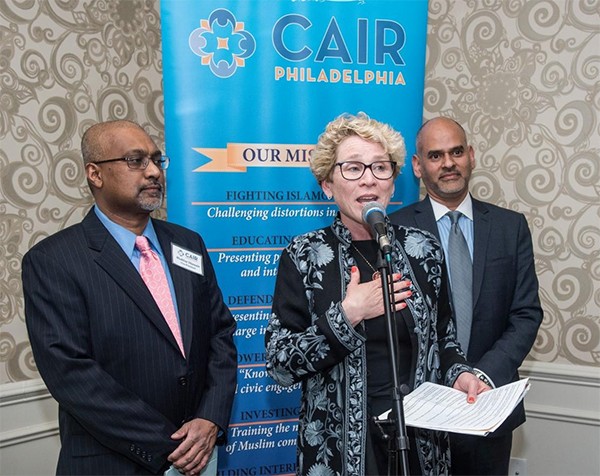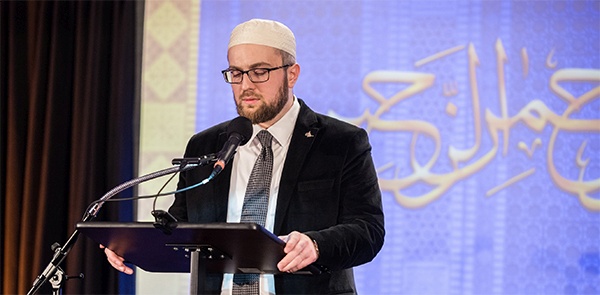 The evening opened with a Qur'anic recitation by Imam Basheer Bilaal of the Muslim Association of Lehigh Valley (above). The banquet was MCed by Rabiya Khan (below), CAIR-Philadelphia Advisory Board member from York, PA.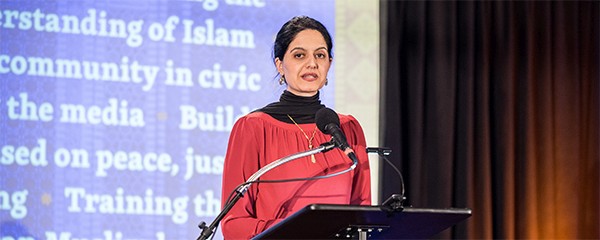 Once again, CAIR-Philadelphia Executive Director Jacob Bender directed a dramatic presentation featuring four women from different geographical and ethnic backgrounds and addressing the banquet's theme, "Families and Freedom." (pictured below).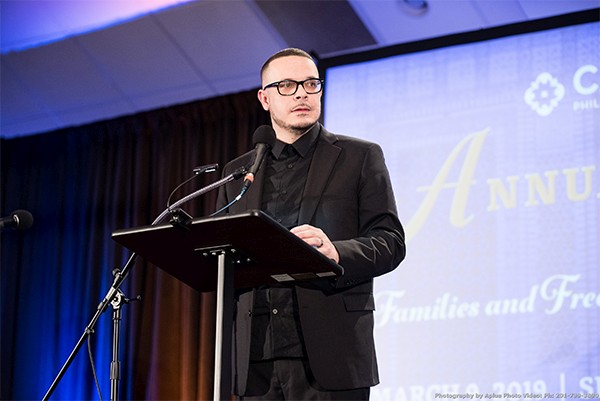 Civil rights activist Shaun King (above) praised CAIR-Philadelphia's work and delivered the keynote address where he spoke about the importance of social media in addressing the crisis of justice in the United States.
CAIR-Philadelphia Executive Committee Member and Banquet Chair Sally Selim, Chapter President Osama Al-Qasem, and Jacob Bender presented Dr. Marc Lamont Hill with CAIR-Philadelphia's Al Hajj Malik El Shabazz Malcolm X Freedom and Justice Award (below). Dr. Hill expressed his gratitude and encouraged the crowd to uphold justice at any cost.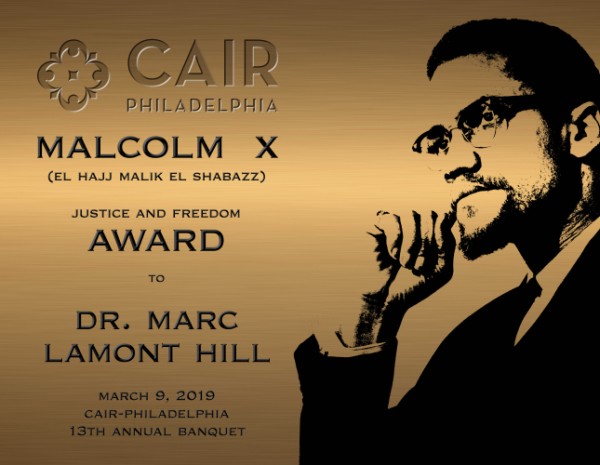 Afaf Nasher (below), Executive Director of CAIR's New York Chapter provided the community with a motivational speech where she addressed the critical nature of CAIR's work for Muslim rights and the fight against Islamophobia.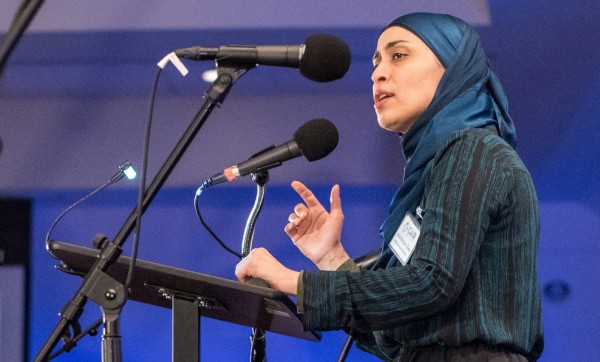 Finally, comedian Jeremy McLellan (below) performed, closing the evening with the sound of laughter.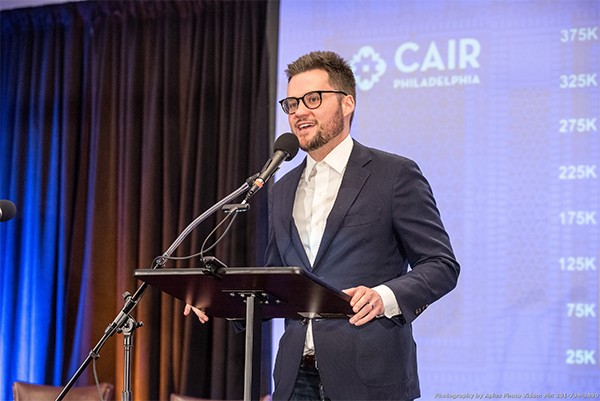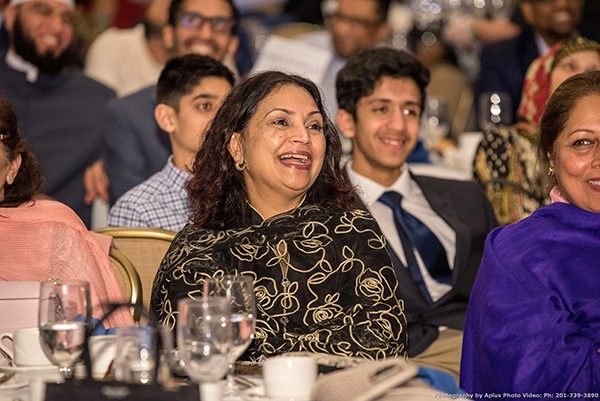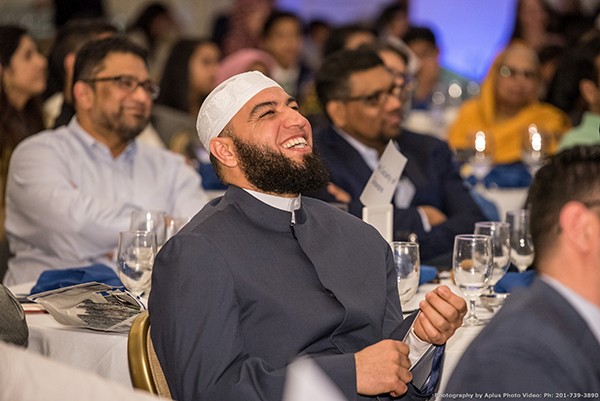 A selection of the feedback we received this year:
"Another inspiring event that has brought together diverse communities unified in their aspirations for peace."
– Sally Baraka | Commissioner, Philadelphia Commission on Human Relations
"It seems CAIR-Philadelphia outdoes itself every year. It was such a joy to see so many Muslims and allies at the Banquet. And what terrific speakers – the heartfelt stories of the four women will remain with me for a very long time. As will Shaun King's four steps to starting an effective grassroots movement."
– Amer Sajed | Director, ACLU-PA and National Boards
"I attended the CAIR banquet for the very first time and am so grateful for the opportunity to attend. The women speakers were exceptionally motivating and inspiring. I appreciated meeting people from so many different backgrounds and felt that we had the opportunity to create global world peace. Thank you to all the organizers and the people that run this event to make it a little bit of heaven on earth for us all to get along better."
– Maryanne Haggerty | Exercise Physiologist
"Congratulations to CAIR Philadelphia! Your banquets have established a model of fun-filled, but meaningful evenings. This year's event was the best ever. Can't wait to see how you top it next year!"
– Michael Rashid
"CAIR-Philadelphia mastered the art of putting together a banquet that gets better every year. It was great to be with friends and civic leaders from across Pennsylvania and Delaware."
– Mohammad Aziz | Former President and Chair, Islamic Society of Greater Valley Forge (ISGVF)
"CAIR-Philadelphia has reached a status in the community where it has the ability to work with and help other Muslim organizations. Rising tide raises all boats; for this year Emgage was honored to be a small part of the event and bring the local congressional representatives to the CAIR-Philadelphia banquet. This allowed our community and politicians to understand the unity, strength and diversity of the Muslims and most importantly the benefits of organizations working together for the betterment of the Ummah."
– Abdul Mughees Chaudhri | Chairman, Emgage Pennsylvania
"CAIR is one such organization that stands for freedom of religion and protects civil rights of all Americans and Muslims in particular. CAIR-Philadelphia partners with the organizations in the vicinity to conduct many civic engagement events that benefit Muslims and they educate American Muslim communities about their rights. Many Muslims and organizations have benefited from its services and ISD is one such organization. Thank you for standing up for American Muslims."
-Mahamed Allimulla | President, Islamic Society of Delaware (ISD)
CAIR is America's largest Muslim civil liberties and advocacy organization. Its mission is to enhance understanding of Islam, protect civil rights, promote justice, and empower American Muslims.
– END –
CONTACT: CAIR-Philadelphia Executive Director Jacob Bender, 267-515-6711, jbender@cair.com