By Rebecca Guterman
Bucks County Courier Times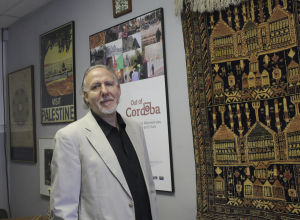 Although it might seem unusual for a Jew to lead a Muslim organization, it was a natural next step for Jacob Bender.
In October, he became executive director of the Council on American-Islamic Relations' Philadelphia chapter — and the first non-Muslim to head up any of the 30 chapters. The organization focuses on civil rights protection for Muslims and counteracting negative stereotypes about Islam through education and advocacy.
"The question a lot of people ask is: Did I receive opposition in the Muslim community about being a Jew working with their community? And the answer is no, across the board," he said.
But that doesn't mean it was without controversy.
"There has been some opposition to my working here from, let's say, extreme right wing, anti-Muslim elements, both in the Jewish community and not," he said.
Although CAIR does not focus on Israel and Palestine, some in the Jewish community do not view CAIR as a member of interfaith dialogue because of past actions regarding terrorist organizations.
However, Bender sees his Jewish faith as motivation for his work at the council.
"I'm very familiar with the history of anti-Semitism and of persecution of Jews throughout history, and I feel an obligation to make sure that other people do not experience that same hatred," he said. "If they do, I want to be part of protecting them, and I feel that's part of my Jewish identity."
As early as his time in college at UCLA, Bender was interested in interfaith relations. He majored in history of religions and was studying Jewish history even before that.
He worked on video, graphics and other projects for nonprofits such as the Baltimore Zoo, NASA, the National Park Service, Yad Vashem Holocaust Museum in Israel, and the Israel Ministry of Education.
After the Sept. 11, 2001, terrorist attacks, something changed.
Bender began seeing stereotypes against Islam become more commonplace and felt drawn to defend the Muslim community.
"Whenever something terrible happens in the Middle East, as it did all of last week, there's some public commentator who takes this as another opportunity to say, 'see, we told you, Muslims — they're bad people, they're violent people, look at what they're doing in Iraq, look at what they did to the poor three Israeli teenagers,' " he said. "And the next day, a Palestinian teenager is abducted and burned to death by Israeli extremists. Unfortunately, we are a violent species."
He then started working on a documentary, "Out of Cordoba," to spotlight the flipside of human nature: religious coexistence in medieval Spain, with a focus on Jewish thinker Maimonides and Muslim thinker Averroes.
"(The documentary) is about what the Spanish call convivencia — living together," Bender said. "In spite of the crusades and obviously other moments of great violence, there was a cultural and intellectual sharing and cross fertilization (among) Muslims, Jews and Christians which would put our own age to shame."
He came across the council in the course of promoting his film and screening it at Jewish and Muslim organizations. After more than 150 screenings, he decided it was time to find a job with a steady income, and the Philadelphia chapter had an opening.
Though the Muslim community has been welcoming, there is always a little bit of explaining to do, said Bender, who lives in New York City but stays in Philadelphia during the work week.
"It's clear that when I present myself to the public, I'm not in any way pretending I'm Muslim, so sometimes people are a little taken aback, but I try to explain," he said. "For instance, many white people (were involved in the) civil rights movement during the 1960s and 70s because they saw racism as one of the great moral challenges of that time."
But overall, council members see Bender's identity, in addition to his years of experience, as one of the chapter's strongest traits for interfaith dialogue.
"His hiring sent a message to all that Islam respects other religions," said council member and Middletown resident Nivine Rihawi. "He has been an asset because we do a lot of interfaith work and we do illustrate the similarities between all three religions (Christianity, Judaism and Islam)."
Osama Al-Qasem, of Northampton, was part of the search committee with Rihawi and is president of the chapter's executive committee. "(Bender) is most welcome in interfaith organizations … to explain that Islam is just like (Christianity and Judaism) — a religion of tolerance, peace and love," he said.