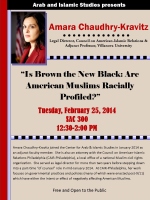 On Tuesday, February 25, Amara Chaudhry-Kravitz will be giving a presentation at Villanova University titled "Is Brown the New Black:  Are American Muslims Being Racially Profiled?"  This event is FREE and OPEN TO THE PUBLIC.  All are welcome, and specific event details are contained in the event flyer. Download Event Flyer (PDF)
On Wednesday, February 19, Amara will be speaking to West Chester University's Muslim Students' Association (MSA) with a presentation titled "Know Your Rights: From NYPD to NSA; The Post-9/11 Surveillance State". Amara will be speaking on the topic of law enforcement surveillance of American Muslims.  This event is FREE and all Philadelphia-area MSAs are invited to attend. Download Event Flyer (PDF)
In addition to her speaking engagements, Amara has also demonstrated that she is a "leader" in the emerging field of "Muslim civil rights law" through her most recent scholarly publications – both published as a result of the symposium titled Discrimination Against Muslim Americans in a Post-9/11 World in which Amara presented on February 15, 2013.  The symposium took place at Washington and Lee University School of Law in Lexington, Virginia, and was sponsored by the law school's Journal of Civil Rights and Social Justice.
The first article is titled "Is Brown the New Black?:  American Muslims, Inherent Propensity for Violence, and America's Racial History" and is largely the basis for Amara's February 6 presentation at Villanova University.  The article debates whether anti-Muslim profiling by law enforcement can fairly be articulated as a new form of "racial profiling."  This article is available through the Lexis and Westlaw legal research databses at 20 Wash. & Lee J. Civil Rts. & Soc. Just. 3 (December 2013) and is already generating some "buzz."  An excerpt of the article has been posted on the "Race, Racism, and the Law" website operated by faculty at the University of Dayton School of Law.
The second article discusses "anti-shariah" legislation, such as Pennsylvania's House Bill 2029 (which was opposed by CAIR-Philadelphia), which omit explicit references to "shariah" but which are ultimately predicated upon anti-Muslim sentiment. The article argues that these bills – which, as their proponents admit, are designed to politically marginalize American Muslims – violate the First Amendment of the United States constitution to the exact same extent as bills which explicitly reference "shariah law."  This article is titled "The New Facially Neutral 'Anti-Shariah' Bills:  A Constitutional Analysis" and is available through Lexis and Westlaw at 20 Wash. & Lee J. Civil Rts. & Soc. Just 25 (December 2013).