by Ryan Houldin, CAIR-Philadelphia Staff Attorney
The past few days have been a nightmare for those of us who believe in the fundamental values of this country: inclusivity, tolerance, and religious freedom. CAIR-Philadelphia, together with CAIR chapters around the country, has been working day and night to defend the American Muslim community against the actions of the new administration in Washington which, of course, follow from the most hateful and divisive presidential campaign rhetoric in living memory.
In response to President Trump's Executive Order to build a wall and ban immigrants from seven Muslim-majority countries, CAIR-Philadelphia organized a press conference with Philadelphia's preeminent legal advocacy organizations. CAIR-Philadelphia was joined by the ACLU of PA, Nationalities Service Center, HIAS Pennsylvania, and the Public Interest Law Center to send a clear and unequivocal message: we will stand with, and fight for, our immigrant brothers and sisters.
CAIR-Philadelphia co-sponsored a protest at the Philadelphia International Airport last Sunday afternoon, after news broke that refugees with valid visas and US residents with valid green cards were being detained and denied entry. The turnout was fantastic with more than 5,000 people in attendance, sending a strong message of love and solidarity (see below).

CAIR-Philadelphia will also be co-sponsoring two events this coming Saturday:
We are teaming up with Jewish Voice for Peace to Canvass Center City Philadelphia, asking business owners to place "Stop Profiling Muslims" signs in their storefront windows. For more information, visit: https://www.facebook.com/events/378822392451905
And we are also co-sponsoring Philadelphia Protest for Humanity. For more information, visit: https://www.facebook.com/events/1842128006072966/
Today, CAIR-Philadelphia took part in the ACLU's press conference (see photo below) to announce the filing of a lawsuit on behalf of the families turned away at the Philadelphia International Airport this past weekend. Mayor Jim Kenney and Councilwoman Helen Gym reassured the Philadelphia community of their strong commitment to protecting the constitution and the rights of all immigrants.
My remarks at the press conference included this declaration to our newly-installed President: "Whenever you spread hate, we'll spread love. Whenever you act in your own self-interest, we'll act in the interest of others. And whenever you lie, we'll tell the truth."
We would like to thank the ACLU, HIAS, NSC, and all the other attorneys who are working tirelessly to help reunite families with their loved ones.
CAIR-Philadelphia will continue its work of protecting the civil rights and liberties of Muslims in America, thereby protecting the rights of all. Check for updates via email, Facebook, and Twitter.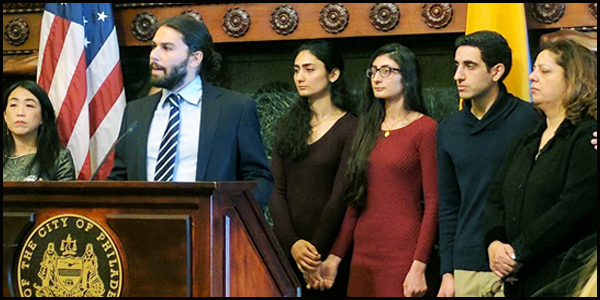 CAIR's Muslim Travel Advisory
In response to a number of inquiries from the community about traveling abroad, CAIR-Philadelphia advises the following:
If you are a citizen of the United States, you should not have any issues coming back into the country.
If you are a dual citizen, with a United States citizenship and citizenship from one of the banned countries, you should not have a problem coming back into the country.
If you have a green card from one of the countries listed in the executive order, there is a chance you may have trouble coming back into this country. While the secretary of the Department of Homeland Security has said that green card holders will be admissible, it's on a case-by-case basis, and the government will deny entry to those they deem pose a "threat" to national security. We recommend that you postpone international travel until there is more clarity about the implementation and legality of the executive order.
As always, if you have any questions, please call me at 267-515-6712.