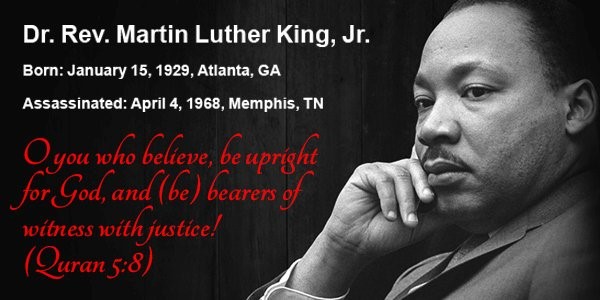 by Jacob Bender, CAIR-Philadelphia Executive Director
Today, April 4th, 2017, marks 49 years since the assassination of one of America's greatest faith leaders and civil rights advocates, Rev. Dr. Martin Luther King, Jr.
One year before his death, Dr. King delivered a historic speech at The Riverside Church of New York that forever binds the peace movement with the movement for civil rights and social justice. [Listen to the speech (YouTube) and read the full text of the speech.]
He asked why the US was spending billions of dollars on wars in Southeast Asia, when millions of Americans lived in deep poverty. Dr. King reminded the world on that day that any "nation that continues year after year to spend more money on military defense than on programs of social uplift is approaching spiritual death."
In this same speech, Dr. King called for a "True Revolution of Values" where loving compassion for all humanity, not mere profit motives, would drive work and daily deeds. Only then can the root causes of social injustice — the evil triplets of racism, extreme materialism, and militarism — be defeated.
Remembering Dr. King means making a commitment to bring peace and social justice to all of humankind. CAIR-Philadelphia urges you to participate in one or more of the following events and projects:
Remembering Dr. King: Rally for Racial Justice on the 49th Anniversary of MLK Assassination
Today, 4/4/27 from 5pm-7pm
Thomas Paine Plaza (1401 John F Kennedy Blvd, Philadelphia)

Unite, listen, and remember in honor of Dr. King's "Revolution of Values" alongside our allies: POWER Interfaith, MLK DARE Coalition, and Philly We Rise. At the rally, we will renew our commitment to racial justice, peace and human rights, while learning constructive ways that we can take action to better our human condition.

You can RSVP and learn more on the Facebook Event Page
Creative Call for a Revolution of Values
CAIR-Philadelphia echoes the national call for a "Revolution of Values" and calls upon our community's artists, creative organizers, and concerned citizens to sign up, breathing new life into the prophetic words of Dr. King by speaking truth to power.
Keep Current with the Movement <> #PhillyWeRise
CAIR-Philadelphia has joined a web of local social justice activists and organizations at Philly We Rise, a city-wide resource and action platform, committed to making Philadelphia a better place to live.

Sign up today and like their Facebook page.