by Jacob Bender, CAIR-Philadelphia Executive Director
"Civil resistance, in politics, is a coordinated strategy that relies on the use of nonviolent tactics by civil groups to challenge an unjust power, force, policy or regime." Wikipedia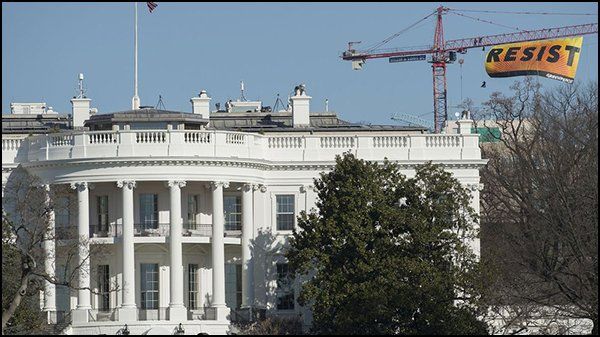 Greenpeace activists hang protest sign on crane near the White House. 01/25/2017
(Philadelphia, 02/07/2017) – In the days since Donald Trump became the 45th President of the United States of America on January 20, I have often felt I was living through a nightmare from which, any day now, I would awaken from and return to "normal" life. No such luck, as each day brought new outrages from the Trump Administration, new "alternative facts" with which to bully the opposition, particularly the press.
The whirlwind of activity has been nonstop, and friends and colleagues all speak of living through a truly remarkable time with few if any precedents, mixing anger, sadness, and the exhilaration of mass action.
Saturday, January 21. Hundreds of thousands of people marched through the streets of the nation's capital to protest the policies promised by the Trump Administration. The Women's March on Washington was a huge success, with over 2 million participating in many additional marches around the country. I had the pleasure of marching in Washington with Nihad Awad, CAIR National Executive Director. (Photo Below)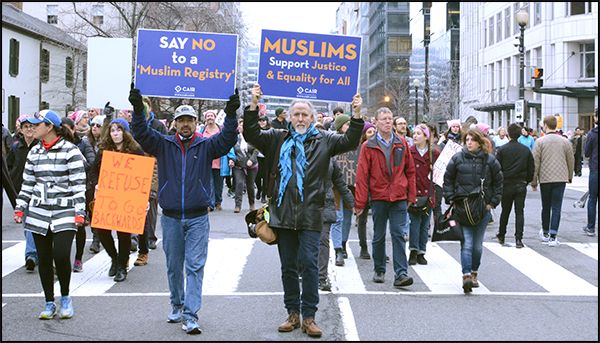 Simultaneous with the Women's March on Washington, dozens of similar marches and rallies were held in cities across the United States, including in Philadelphia, where Salima Suswell, CAIR Executive Committee Member (below, with Mayor Jim Kenney at the rally), addressed thousands of people near the Art Museum.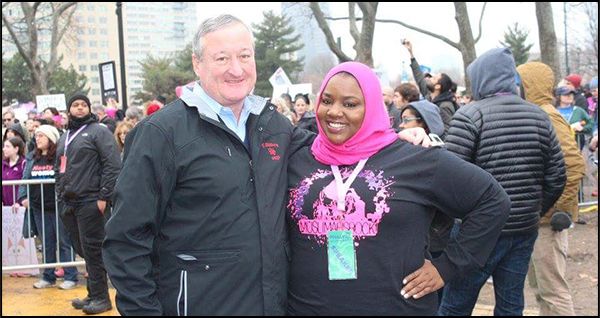 Monday, January 22. We are horrified to read about vicious online attacks against Linda Sarsour, one of the main organizers of the Women's March on Washington, and the keynoter at CAIR-Philadelphia's upcoming Annual Banquet on March 11th. In response, thousands showed their support of Linda on social media at #MarchWithLinda.
Thursday, January 25. Philadelphia City Council Member Helen Gym submitted a resolution that condemned Islamophobia and voiced support for the American Muslim community as it faces an increase of anti-Muslim attacks and over-zealous government surveillance. At a morning press conference, Ms. Gym and I spoke to the press, and later that day, I gave testimony in favor of the resolution at City Council Chambers in City Hall. (Photos Below)


Friday, January 27. Staff Attorney Ryan Houldin was interviewed by CBS-TV (video) for a story on the "Muslim ban", saying the recent executive actions "make us more of a target".
Sunday, January 29. In response to President's Trump executive order banning Muslims from seven countries from entering the US, CAIR-Philadelphia and other groups organized an emergency rally at Philadelphia International Airport that drew thousands of people to protest the clearly anti-Muslim ban. (Photo Below)

Monday, January 30. I was interviewed by Barbara Grant on 900AM-WURD (Talking Drumline) about Trump's Executive Orders, and how the Muslim community is responding to the crisis. Listen to the 30-minute interview.
Tuesday, January 31. CAIR-Philadelphia Staff Attorney Ryan Houldin spoke at a press conference organized by CAIR, with the participation of the ACLU-PA and the Public Interest Law Center in response to President Trump's recent executive orders about the border wall with Mexico and ban on immigration from Muslim-majority countries. (Photo Below)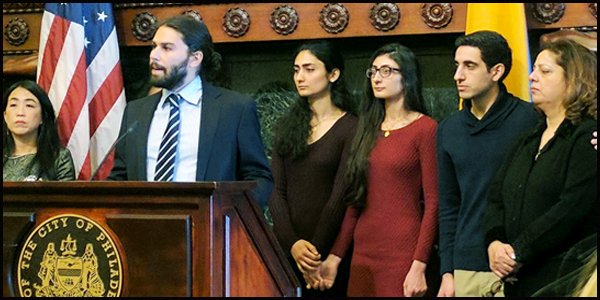 Friday, February 4. I spoke at Masjid Al-Hidaya before Jummah (read my speech) (Photo Below) Following my remarks, Mayor Jim Kenney spoke to the mosque, powerfully asserting that the City of Philadelphia will project its Muslim residents.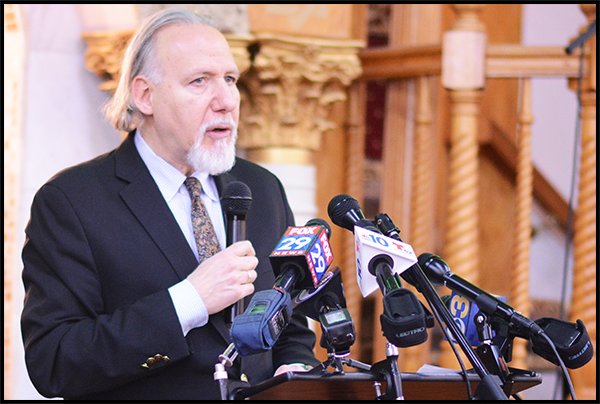 Saturday, February 4. A rally organized by the American Friends Service Committee and CAIR brings together hundreds of people to demand that Philadelphia remain a city of Sanctuary. (Photo Below)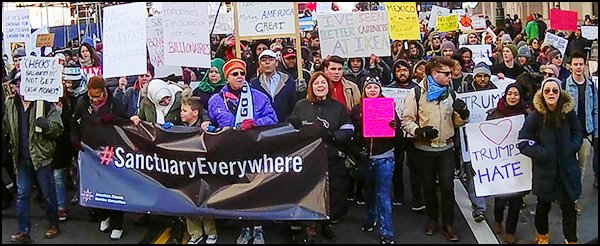 Saturday, February 4. This past weekend CAIR-Philadelphia teamed up with Jewish Voice for Peace (JVP) to canvas Center City businesses asking to hang posters supporting the Muslim, immigrant, and refugee communities. Over 60 businesses agreed and hung the posters in their windows as a show of solidarity. Thank you to everyone who is helping make Philadelphia a safe and welcoming space for all. (Photo Below)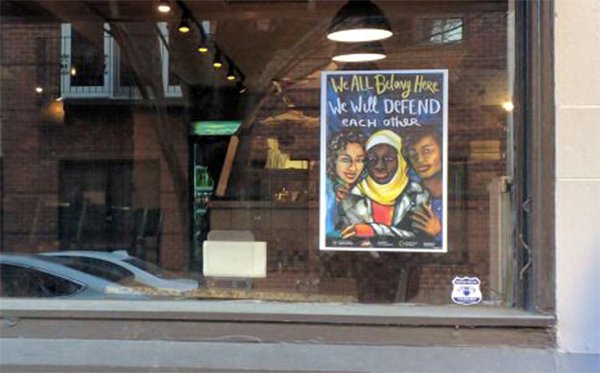 Tuesday, February 7. This is what resistance looks like! And this is what our resistance looks like! No matter the Islamophobic rhetoric gushing forth from the new administration, no matter the discriminatory "Muslim Travel Ban," no matter the already flawed government program now called "Combatting Islamic Extremism," the Muslim community and CAIR will continue to exercise its rights under the Constitution of the United Sates. Together with all communities committed to the struggle for justice and peace, the Muslim community will work against the attempt to eliminate all the progress in health coverage, the environment, and consumer project made in the last fifty years. This is why the theme of CAIR-Philadelphia's banquet this year is "Revelation and Resistance."

I look forward to seeing all of you in Springfield, PA, on Saturday, March 11th. Register Now!
Salaam,

Jacob Bender
Executive Director, CAIR-Philadelphia
For another view of the idea of resistance, read Charles Blow's op-ed column in The New York Times: America Elects a Bigot