By Jacob Bender, Executive Director, CAIR-Philadelphia and Timothy Welbeck, Esq., Staff Attorney
Over a week has passed since Robert Bowers barreled into Tree of Life Congregation Synagogue in Pittsburgh and opened fire on the congregants gathered together in prayer. In a few brief moments, eleven people lay dead in what was the deadliest anti-Semitic attack in our nation's history.
We write today with deep sadness as an American Jew and an African American, respectively, the Executive Director and Civil Rights Attorney of the Philadelphia chapter of the nation's largest Muslim civil rights organization. Both of us are quite familiar with the tragic history of our people and the protracted legacy of traumatic oppression exacted upon our respective communities. We also spend our days at CAIR-Philadelphia combating the persistent scourge of Islamophobia, particularly as it manifests with hate crimes against Muslims, which began spiking in 2015 and continue presently at a rate that exceeds recorded instances of Islamophobia in the aftermath of September 11th. In short, we have become well acquainted with America's torturous tussle to climb from the quagmire of racial animus, xenophobia, and bigotry.
The dreadful assault on the Tree of Life Synagogue marked a week marred by a perfect storm of hate: the largest assassination attempt in American history; a white supremacist murdering two African Americans in a grocery store parking lot in Kentucky after a failed attempted shooting in a nearby African American church; and culminating with the horrific shooting at Tree of Life. In many ways these are uniquely American tragedies that elucidate the country's sadistic embrace of hatred and the violence it often induces.
What has followed from last Saturday's murders in Pittsburgh is a painfully predictable process. We have heard the words "our thoughts and our prayers" and "our deepest condolences" ad infinitum from those best positioned to prevent or otherwise mitigate such tragedies. Our nation will continue its feigned theater of "doing something" about gun violence, only to find those issuing these "thoughts and prayers" will do nothing to rid us of this vicious scourge. Others have and will continue to astutely note that if the murderer were black or brown, we would swiftly have labeled him a terrorist and speak of him in pathological terms. In so doing, we will further illustrate the power of whiteness to insulate one and one's community from a larger discourse on violent pathology. The media has swiftly declared him a "lone wolf" and searched for any anecdotal information they can find to humanize him.
Mostly ignored in the abundance of national grieving for the Tree of Life massacre is the unifying link of white supremacy that ultimately connects it to other grisly acts of terror. The perpetrators in the aforesaid tragedies—the Tree of Life massacre, the murder of Maurice Stallard and Vickie Jones in a Kroger parking lot in Jeffersontown, Kentucky, and the attempted assassination of critics of the president—each expressly espoused white supremacist rhetoric and/or openly embraced those who do. We believe that the murder of eleven Jews in the Tree of Life Synagogue was not a Jewish tragedy, just as the murder of nine African Americans in the Mother Emanuel Church in Charleston, South Carolina in 2016 by another white supremacist was not a Black tragedy. They are both American tragedies for the epidemic of gun violence is a uniquely American issue, one which we have refused to adequately address. As the British columnist Daniel Hodges said more than two years ago, "Once we decided killing children was bearable [in the wake of Sandy Hook], our gun debate ended."
And so, we write in anger: anger at the murderer, his mind warped by the genocidal ideology of anti-Semitism; anger at the gun lobby and all who those who refuse to address the epidemic of gun violence in this country; and anger and bitter disappointment at the president, whose irresponsible rhetoric has encouraged and emboldened those who share his troubling worldview.
But anger is not where we wish to stay, for it clouds the mind and makes it ever so much harder to analyze our predicament and learn from history. And anger ultimately leads to hate, and hate, as Dr. King constantly reminded us, destroys the hater even as it destroys the hated.
So once again, with the graves of the victims still fresh, we plead for the collective courage to ban assault weapons and start addressing the wounds inflicted upon our beloved country by the current occupant of the White House.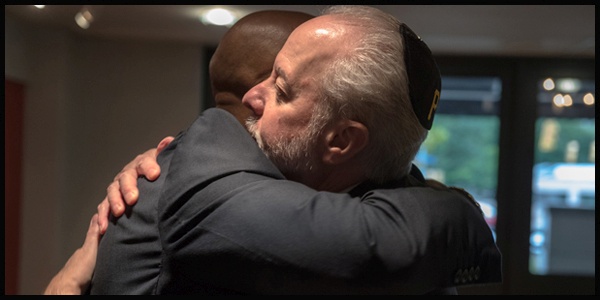 What to Read
New York Times: "Anguished by 'Spiral of Hate,' Charleston Pastor and Pittsburgh Rabbi Grieve as One"
New York Times: "U.S. Law Enforcement Failed to See the Threat of White Nationalism. Now They Don't Know How to Stop It."
New Yorker Magazine: "From Charleston to Pittsburgh, an Arc of Premeditated American Tragedy"
What to Watch