Meet CAIR-Philadelphia's interns for summer 2023! See below to learn what they are working on:
Aya: Muslim Capitol Day, research on state legislation crucial for our communities
Sumayyah: Muslim Youth Leadership Summit and Muslim Capitol Day.
Hager: Creating a database of schools, mosques, and the politicians who represent these districts.
George: Philadelphia School District Inclusion and advocacy for Muslim Students.
Rumi: Critical Conversations project on addressing gun violence.
Hibah: Coordinating events such as Young Professionals events, Youth Leadership Summit, and Muslim Capitol Day.
Photos and Bios: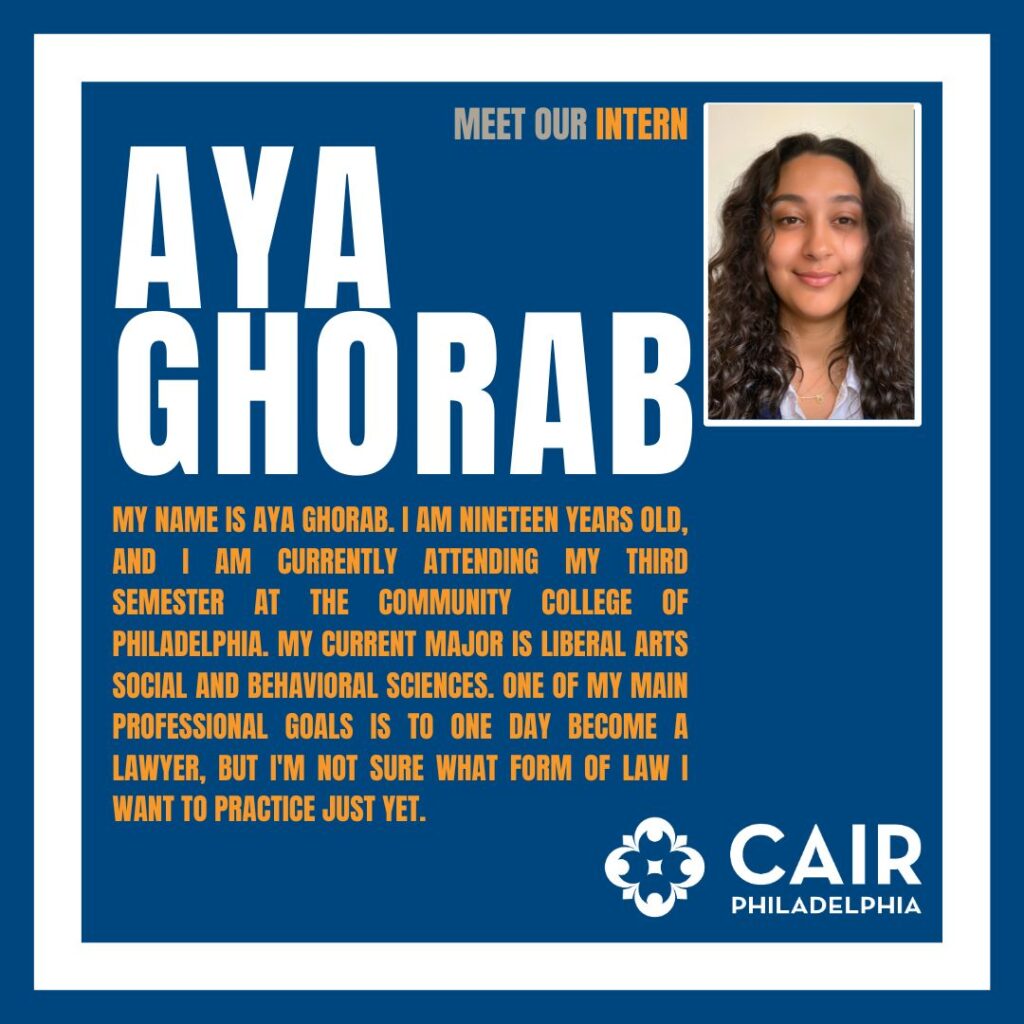 "My name is Aya Ghorab. I am nineteen years old, and I am currently attending my third semester at The Community College of Philadelphia. My current major is Liberal Arts social and behavioral sciences. One of my main professional goals is to one day become a lawyer, but I'm not sure what form of law I want to practice just yet."

– Aya Ghorab
"My name is Sumayyah Nabiyeva. I'm a 3rd year Architecture Design student at Tyler School of Art and Architecture, Temple University. I'm originally from Tashkent, Uzbekistan and love to travel back any chance I get to see the Silk Road cities! I am very passionate about public service, community engagement, and immersion in arts and culture. I am very happy to be a part of CAIR as we are focused on creating spaces where Muslims have a platform and foundation within our urban fabric to be supported and advocate for."

– Sumayyah Nabiyeva
"My name is Hager and I am a current student at Julia R. Masterman High School. I was born in Sanaa, Yemen and I lived there for some years. I enjoy reading, writing, and talking to new people. Some of my other interests include entrepreneurship, finance, management, community, and justice."

– Hager Alsekaf
George Lane is a junior at the Academy at Palumbo. In the future, he intends on going to an Ivy League college and receiving a degree in criminal Justice to further fulfill his goal of being a criminal justice attorney. while interning with CAIR, he will be working with the Muslim youth in which he is involved to gain a more in-depth awareness of Islam in the Philadelphia School District. Ultimately, George is working to combine his academic power with his strong passion for fighting for what's right among the beliefs in Islam.
"My name is Rumi, and I'm a 16-year-old currently in 11th grade at Carver E&S High School in Philadelphia. My interests lie in the fields of science and law. I find CAIR particularly appealing because it provides individuals with an opportunity to express themselves freely and contribute positively to the community. Being a part of CAIR would allow me to actively participate in various initiatives aimed at helping others, and I am eager to make a meaningful impact in any way possible through my involvement."

– Rumi Sheikh
"Hi, my name is Hibah Abdellatif and I'm a rising junior in high school. I attend Pennsbury High school in Morrisville! I just recently started with CAIR and look forward to the experience as well as learning more about advocacy. I do theater at my school and I am a huge advocate for performing arts. I do dance and love to play volleyball!"

– Hibah Abdellatif