Few rituals in Islam, if any, are as important as the ghusl, particularly when performed in preparation for the burial of a loved one. The Qur'an mandates the ritual purification of the body prior to the performance of prayer and other specified rituals. Accordingly, family members of the same gender as the deceased are traditionally expected to bathe and shroud the body for burial. In many ways, this practice offers solace to the grieving family who, in one of their final interactions with the deceased, ceremonially cleanses his/her body prior to laying him/her to rest. This past week, the bereaved family members of Stephon Alonzo Clark were robbed of that precious opportunity.
Clark, who converted to Islam several years ago, died in a hail of bullets on Sunday March 18th when two officers fired a total of 20 shots at him. As Dallas-based Imam Omar Suleiman, said last week, "Stephon Clark was massacred. His body was in such bad shape that we couldn't do the ritual washing (ghusl). The brothers did a substitute ritual (tayammum) and are horrified by the sight. We cannot allow this to keep happening." At Clark's funeral, Imam Suleiman further observed that Clark, whom Sacramento police shot at 20 times, "had almost as many bullets put into him as the years he's been on this earth." This is a grave injustice.
Clark's brutal death has sparked outrage across the nation, and spawned intense protests. Hundreds gathered in Sacramento this past Thursday for his funeral, where Reverend Al Sharpton delivered Clark's eulogy, and Imam Zaid Shakir, founder of Zaytuna College and Lighthouse, delivered the closing prayer.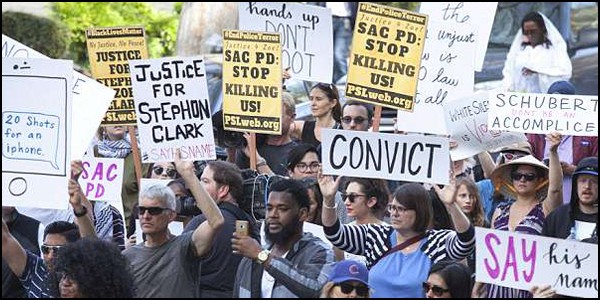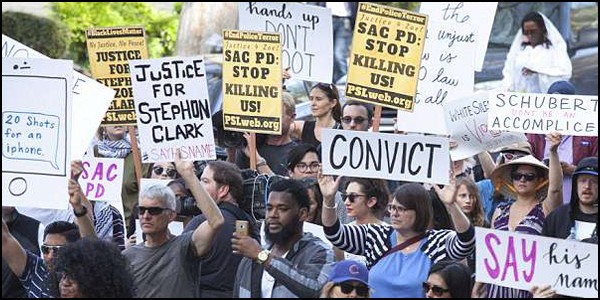 Clark, a 22 year-old father of two, encountered the officers responding to a 911 call reporting someone breaking car windows in the 7500 block of 29th street. Clark was in the backyard of his grandparents, with whom he lived at the time. Clark's grandmother, Sequita Thompson, told reporters from The Sacramento Bee, her grandson and guests routinely entered her home through the backyard due to their faulty doorbell and the fact that she and her husband have "poor mobility."
The two responding officers reportedly believed Stephon Clark held a gun when they opened fire. In actuality, he merely held his iPhone at the time. Nevertheless, each officer fired upon him 10 times, striking him a total of eight times (six times in the back), leaving him dead in their wake. The fatal encounter lasted roughly six seconds. As reported by Luke Darby for GQ, after the shooting, the officers waited six minutes before approaching Clark's body, then performed CPR on him after handcuffing him. The officers then muted their body cam microphones after backup arrived.
Clark's grandparents said they were home when the incident occurred, and never heard any commands from police officers for Clark to stop, show his hands, etc. Rather, Mrs. Thompson told reporters from The Sacramento Bee, "The only thing that I heard was pow, pow, pow, pow, and I got to the ground." She eventually learned of her grandson's death after peering out the window into her backyard, where she saw his lifeless body sprawled on the ground. She told The Sacramento Bee, "I opened that curtain and he was dead," she said, according to the Bee. "I started screaming."
Clark is at least the sixth unarmed person killed by police officers this year, and one of a total of 264 who have died at the hands of law enforcement in 2018. His brutal death is a harrowing representation of a larger trend. As I wrote for The Huffington Post in 2016, "the American criminal justice system harbors stark, systematic, racial discrimination, and the epidemic of police brutality is merely one component of it." With regard to police killings, black people are twice as likely as white people to be unarmed when killed during encounters with law enforcement, and black men are nine times more likely to be killed by police than white men. Other reports have found police officers use less force on suspects who appear white, regardless of the crime the suspect has allegedly committed.
From Sanford to Long Island, from Long Island to Ferguson, from Ferguson to Cleveland, from Cleveland to Chicago, our nation has received copious reminders in the past few years that its inability to crawl out of its racial quagmire has fatal consequences for many. While certainly it remains difficult to compare and accurately analyze data from different time periods and develop definitive conclusions or causal links, it goes without saying the United States' epidemic of police brutality has deep historical roots, because "the intersection of racial dynamics and the criminal justice system is one of longstanding duration." In other words, instances where police brutality occur often fall along racial lines due to our nation's tortuous history with racial stratification.
We here at CAIR-Philadelphia extend our deepest condolences to the family of Stephon Clark, and express our outrage in this grave injustice. We also join the chorus calling for an independent investigation into this matter, and are actively working towards ways we can stymie this epidemic.