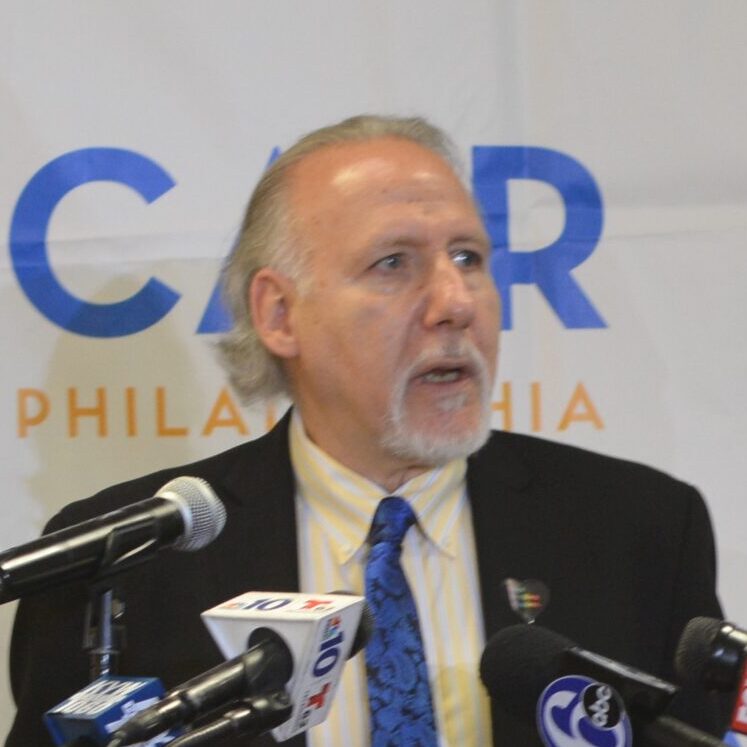 Creative Director, CAIR-Philadelphia
Jacob Bender brings to CAIR-PA decades of activism promoting mutual respect and understanding between Muslims, Christians, and Jews around the world, and on behalf of peace and justice movements in the U.S. He additionally has a long resume of professional accomplishments in the field of communications for both nonprofit and corporate clients.
Jacob has been extensively published about Muslim-West relations, as well as the Israel-Palestine Conflict, in The New York Times, The Los Angeles Times, The International Herald Tribune, The Jordan Times, The Gulf News, El Pais, and The Daily Star of Beirut.
Following the attacks of September 11, 2001, Jacob was one of the initiators of dialogue with the American Muslim community. He has spoken dozens of times at mosques and at large gatherings of Muslims in the United States, particularly at the conventions of ISNA, the Islamic Society of North America.
From 2006-2009, Jacob was a featured speaker at the annual interfaith conferences of the Doha Interfaith Center for Interfaith Dialogue in Qatar. In 2007, he spoke at a conference of the World Muslim Call Society in Cordoba, Spain, and in 2008, Jacob was invited to participate in the historic interfaith conference in Madrid initiated by King Abdallah of Saudi Arabia. In January of 2009, Jacob spoke before an audience of international Muslim scholars at Al-Azhar University in Cairo, where his speech condemning the Israeli attack on Gaza was widely covered in the Egyptian media. Jacob also spoke at the 2011 UN Alliance of Civilizations Forum in Doha and, most recently, at the Opening Ceremony of the King Abdullah Interreligious Center in Vienna, Austria.
Because of his work in the promoting interfaith understanding, Jacob was selected as a Finalist for the prestigious 2012 Goldziher Prize for Jewish-Muslim Relations, presented by Merrimack University, a Catholic college in Massachusetts. He has also been a long-time voice in the American Jewish community supporting the rights of the Palestinian People, and a just resolution of the Israel-Palestine Conflict.
Jacob is also a documentary filmmaker, and his most recent production is the award-winning film "Out of Cordoba" (www.outofcordoba.com). The explores the lives and influence of Ibn Rushd (Averroes) the Muslim, and Musa Ibn Maymun (Maimonides) the Jew, the two greatest thinkers to emerge from Al-Andalus. The film has been screened over 120 times around the world at film festivals, conferences, universities, MSA chapters, mosques, churches, and synagogues, including at United Nations Headquarters in New York, and at the German Foreign Ministry in Berlin. The film was funded by a unique combination of Muslim, Christian, and Jewish donors, included a major grant from the Alwaleed bin Talal Foundation of Saudi Arabia.
Jacob has a degree in Religious Studies from the University of California at Los Angeles, and studied film and television at New York University's Graduate School of Film.
As of August 2022, Jacob transitioned to his position as part-time creative director.