(WASHINGTON, D.C, 1/11/2022) – The Council on American-Islamic Relations (CAIR), the nation's largest Muslim civil rights and advocacy organization, today released a new Islamophobia report titled "Islamophobia in the Mainstream," listing 35 charitable institutions and foundations that funneled almost $106 million to 26 anti-Muslim groups between 2017-2019.
WATCH: CAIR Virtual News Conference on Facebook Announcing Release of the Report
CAIR also reported a slight decline in private grantmaking foundations funneling money to anti-Muslim groups since its last report, Hijacked by Hate.
Washington, D.C., based CAIR also relaunched Islamophobia.org to monitor and combat Islamophobia. CAIR will add new profiles of anti-Muslim organizations and individuals who perpetuate anti-Muslim tropes and spread Islamophobic bigotry. The site will also offer anti-prejudice tools, tips to be an advocate and all of CAIR's Islamophobia and civil rights reports.
CAIR's new "Islamophobia in the Mainstream" report shows that Islamophobic organizations remain active and continue to receive large sums of money through private family foundations and mainstream donor-advised funds that are ultimately used to spread misinformation and perpetuate stereotypes about Muslims and Islam.
The funders include household names such as Fidelity and Schwab and faith-based charities such as the Jewish Communal Fund and the National Christian Charitable Foundation. They also include private family foundations such as the Adelson Family Foundation which contributes millions of dollars to support anti-Muslim activity.
Anti-Muslim hate groups listed in the report include: The American Center for Law and Justice (ACLJ), Gatestone Institute, Center for Security Policy, Middle East Forum, Middle East Media Research Institute, David Horowitz Freedom Center, Clarion Project, and the Investigative Project on Terrorism, among many others.
The report also outlines the landscape of Islamophobia between 2019 – 2020 by detailing more than a dozen anti-mosque incidents and anti-Muslim activity in schools, American politics and social media.
In a statement, CAIR's National Research and Advocacy Coordinator Huzaifa Shahbaz said:
"It is no secret that the Islamophobia Network remains hyper-active and well-funded. Despite a slight decline in foundations that funneled money to anti-Muslim groups, millions of dollars still flow to organizations that spread misinformation and perpetuate dangerous stereotypes about Muslims and Islam. Today, more than ever, the philanthropic community must establish clear policies to prevent funds from going to hate groups and implement educational initiatives for staff and board members to help them understand the extent of anti-Muslim bigotry."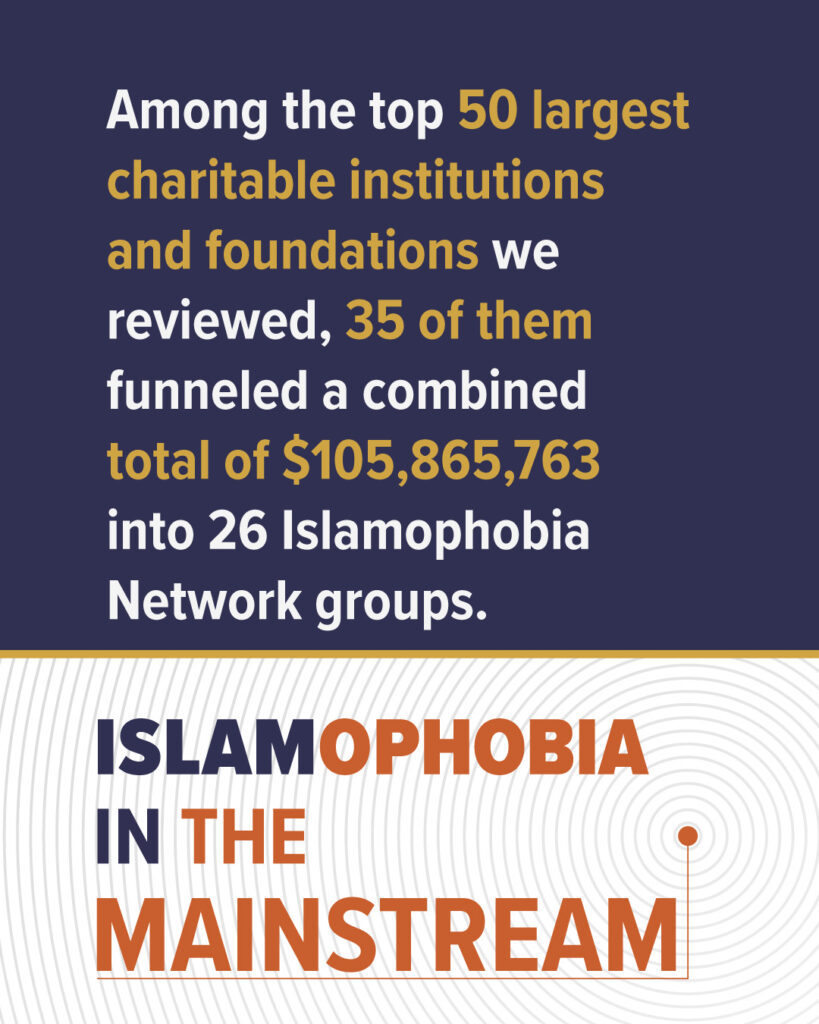 Key findings from the report include:
Among the top 50 largest charitable institutions and foundations reviewed, 35 funneled a combined total of $105,865,763 into 26 Islamophobia Network groups.
Christian Advocates Serving Evangelism Inc., Fidelity Charitable Gift Fund, Schwab Charitable Fund, Marcus Foundation, the Adelson Family Foundation, and the Jewish Communal Fund were among the top funders of the U.S. Islamophobia Network between 2017-2019 (from the 50 largest charitable institutions and foundations reviewed).
The American Center for Law and Justice (ACLJ) received a combined total of over $60 million from the Christian Advocates Serving Evangelism Inc between 2017- 2019. The law firm has a history of supporting anti-Muslim policies like the Muslim Ban. In 2017 the ACLJ filed a supporting court brief in defense of the Muslim Ban. In 2010, the ACLJ filed a lawsuit to prevent the construction of the Park51 Center, objecting to its two-block proximity to the site of the World Trade Center.
CAIR school bullying reports from select states demonstrate that students continue to face physical and verbal abuse for being Muslim and do not feel comfortable expressing their Muslim identity and engaging in classroom discussions about Muslims and Islam.
CAIR identified 16 anti-mosque incidents between 2019-2020, including incidents of damage, destruction, and vandalism (DDV), intimidation, and harassment.
Between 2019-2020, CAIR identified 40 instances in which institutional leaders shared or posted anti-Muslim content online. CAIR's report defined institutional leaders as individuals who hold a position of influence or power within our trusted institutions — for example, a school board member or a police chief.
Seven individuals with a history of Islamophobia were either appointed or nominated to serve in the Trump administration.
CAIR's report also included the following recommendations:
Charitable institutions should implement clear anti-hate policies and procedures to ensure funds are not granted to hate groups.
Interfaith communities and religious institutions should design and implement faith-based programs dedicated to marginalizing hate speech and anti-Muslim bigotry in local communities.
Philanthropic institutions should familiarize staff and stakeholders with the major actors and influencers in the Islamophobia Network.
Organizations should investigate their grantmaking procedures to learn if they are intentionally or unintentionally funneling money to Islamophobia network groups.
Philanthropic and religious institutions should hold educational initiatives for staff and board members to understand the scope of anti-Muslim bigotry and what constitutes Islamophobia.
Methodology: Data on the Islamophobia Network's financial information were acquired through a thorough review of thousands of pages of publicly available tax filings, in addition to searchable databases, namely GuideStar and Foundation Directory Online.
CAIR noted that it received more than 6,000 complaints involving discrimination, harassment, bullying, physical assaults, and other incidents nationwide.
SEE: 2021 Civil Rights Report: Resilience in the Face of Hate
CAIR is America's largest Muslim civil liberties and advocacy organization. Its mission is to enhance understanding of Islam, protect civil rights, promote justice, and empower American Muslims.
La misión de CAIR es proteger las libertades civiles, mejorar la comprensión del Islam, promover la justicia, y empoderar a los musulmanes en los Estados Unidos.
– END –
NATIONAL CONTACT: CAIR National Deputy Director Edward Ahmed Mitchell, 404-285-9530, e-Mitchell@cair.com; CAIR Government Affairs Director Robert McCaw, 202-742-6448, rmccaw@cair.com; CAIR National Communications Director Ibrahim Hooper, 202-744-7726, ihooper@cair.com; CAIR National Communications Coordinator Ismail Allison, 202-770-6280, iallison@cair.com.
PHILADELPHIA CONTACT: CAIR-Philadelphia Executive Director Jacob Bender, 917-660-3805 (mobile), jbender@cair.com; CAIR-Philadelphia Education and Outreach Director Ahmet Selim Tekelioglu, PhD; 617-401-5397 (mobile), atekelioglu@cair.com; CAIR-Philadelphia Civil Rights Attorney Timothy N. Welbeck, Esq., 267-398-5640 (mobile), twelbeck@cair.com.