MCD participants lobbied on bills related to criminal justice, hate crimes, voting rights, and immigrants' rights on the agenda of the State Legislature
(PHILADELPHIA, PA, 10/26/2022) – On Tuesday, Oct. 25, Pennsylvania's Muslim community, along with the Pennsylvania chapter of the Council on American-Islamic Relations (CAIR-Pennsylvania) and Emgage Pennsylvania, participated in the fifth annual Muslim Capitol Day (MCD) at the State Capitol Building in Harrisburg.
Nearly 100 MCD participants visited the offices of their elected state senators and representatives. During these meetings, the participants advocated for the needs of American Muslims residing in the Commonwealth of Pennsylvania and lobbied in support of bills that address criminal justice, hate crimes, voting rights, and immigrants' rights that are on the agenda of the State Legislature. Joined by New Medina Learning Institute in Philadelphia, Al-Huda School in Camp Hill, and Iqra Institute in Norristown, community leaders visited more than 20 legislative offices and held one-on-one meetings.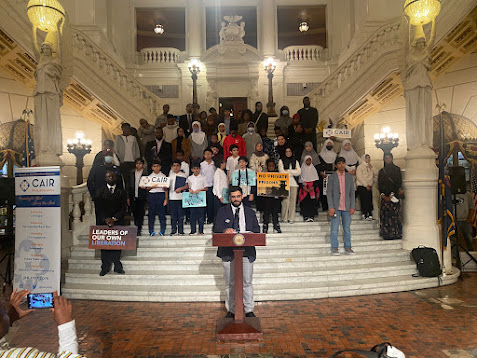 State Representative Steven Malagari and Stephanie Sun, Executive Director of Pennsylvania Governor Wolf's Commission on Asian Pacific Islander Affairs, addressed the community members during lunch and encouraged voting ahead of November 8elections.
The high point of this day of legislative advocacy was a press conference and rally on the steps of the Capitol Rotunda, where speakers included State Representative Joanna McClinton, House Minority Leader, and State Representative Joseph Hohenstein, both of whom applauded the students joining Muslim Capitol Day.
Student leaders George Lane, Jannah Muhammad, Safiyyat Muhammad, Haroon Shah and Ali Massoudi addressed the lunch and press conference, noting their support for the Pennsylvania Muslim American Awareness and Appreciation Month and other bills on the MCD agenda.
CAIR-Philadelphia Executive Director Dr. Ahmet Tekelioglu said: "The wonderful participation in MCD and the confident voices of our youth leaders echoing in the State Capitol gives our community hope for our future. Our community is changing the model of civic engagement from photo opps to organizing from the bottom-up and MCD 2022 was a great first step in this direction."
MCD was supported by diverse set of Muslim community organizations including Harrisburg, Khair Community Center, Muslim Youth Center of Philadelphia, Masjidullah, Harrisburg Masjid, Islamic Center of Pennsylvania, and Islamic Cultural Center of Willow Grove. We are grateful also to Governor Wolf's Commissioners Samia Malik and Nabila Taha, as well as to Ahmed Tom Hasani, Upper Moreland Township School Board Member, and Coumba Faye from New Sanctuary Movement, for joining us.
The goals of Muslim Capitol Day are:
To raise the awareness of elected officials about Islamophobia stemming from certain politicians and media outlets.
To encourage and increase the participation of American Muslims in the democratic political process.
To work together with other groups and communities in building of a more equitable society, regardless of ethnicity, religion, gender, or racial background.
Muslim Capitol Day's 2022 Legislative Agenda included:
Seeking support for a resolution recognizing Pennsylvania Muslim American Awareness and Appreciation Month
SUPPORT Senate Bill 63: Provisions Against Hate-Based Intimidation
SUPPORT Senate Bill 710: Community Impact Statements and Education in Hate Crimes
SUPPORT Senate Bill 711: Educating Police Officer on Hate-based Intimidation
SUPPORT House Bill 279: Drivers Licenses for All Pennsylvanians- Drive PA Forward
SUPPORT House Bill 1576: Tuition Equity in Pennsylvania
SUPPORT House Bill 1951: Understanding Intergenerational Poverty
OPPOSE House Bill 1587: Re-introducing Mandatory Minimums
OPPOSE House Bill 2163: Out of County Poll Watchers
---
CAIR's mission is to protect civil rights, enhance understanding of Islam, promote justice, and empower American Muslims.
La misión de CAIR es proteger las libertades civiles, mejorar la comprensión del Islam, promover la justicia, y empoderar a los musulmanes en los Estados Unidos.
– END –
CONTACT: CAIR-Philadelphia Executive Director Ahmet Selim Tekelioglu (atekelioglu@cair.com; 617-401-5397) and EMGAGE-Pennsylvania Executive Director Salima Suswell (ssuswell@emgageusa.org; 215-760-0558)