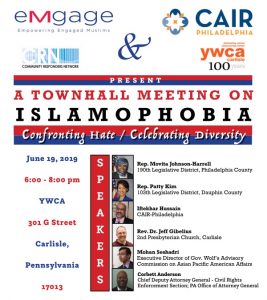 (PHILADELPHIA, PA, 6/17/19) – The Philadelphia chapter of the Council on American-Islamic Relations (CAIR-Philadelphia), the nation's largest Muslim civil rights and advocacy organization, and its interfaith partners, will hold a Town Hall meeting on Islamophobia near the US Army War College in Carlisle to draw attention to the College's invitation — then "postponement" — of a public lecture on the so-called "Clash of Civilizations" theory between the West and the Islamic world by a well-known anti-Muslim activist.
The Town Hall Meeting will include local politicians and religious leaders and provide an opportunity for the audience to talk about the controversy surrounding the events at the US Army War College, as well as the experience of Islamophobia in their own lives.
The event is free and open to the public.
WHAT: Town Hall Meeting on Islamophobia: Confronting Hate, Celebrating Diversity
WHEN: Wednesday June 19, 2019, 6:00 pm- 8:00 pm EST
WHERE: YWCA Carlisle, 301 G St, Carlisle, PA 17013
PARTNERS: CAIR-Philadelphia, Emgage Pennsylvania, YWCA Carlisle, Community Responders Network
SPEAKERS: Rep. Movita Johnson-Harrell, 190th Legislative District, Philadelphia County; Rep. Patty Kim, 103th Legislative District, Dauphin County; Iftekhar Hussain, CAIR-Philadelphia; Rev. Dr. Jeff Gibelius, 2nd Presbyterian Church, Carlisle; Mohan Seshadri, Executive Director of Gov. Wolf's Advisory Commission on Asian Pacific American Affairs.
For background on the US Army War College controversy, see the following links:
In response to the coalition's campaign against his lecture, Ibrahim restated his bigoted claim that "Islamic terrorism and 'extremism' are intrinsic to Islam, and have been from its first contact with Western civilization in the seventh century."
CAIR is America's largest Muslim civil liberties and advocacy organization. Its mission is to enhance understanding of Islam, protect civil rights, promote justice, and empower American Muslims.
La misión de CAIR es proteger las libertades civiles, mejorar la comprensión del Islam, promover la justicia, y empoderar a los musulmanes en los Estados Unidos.
– END –
CONTACT: CAIR-Philadelphia Executive Director Jacob Bender, 267-515-6710 (office), jbender@cair.com; CAIR-Philadelphia Outreach and Education Director Ahmet Tekelioglu, 617-401-5397 (mobile); atekelioglu@cair.com​