T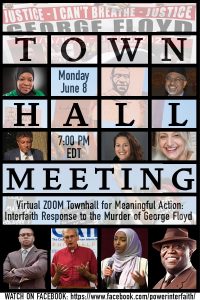 onight, Monday, June 8, at 7:00 pm, marking two weeks after the murder of George Floyd, we will come together in a virtual town hall to listen to activists on the front lines of criminal justice, police accountability, and anti-racism work. Interfaith leaders will share their perspectives and will build community in the face of the difficult task that awaits us all: to take meaningful action against anti-Black racism.
State-wide politicians and media are invited to this forum to listen to the collective voices of over 400 people who signed the open letter titled "Interfaith Response to the Murder of George Floyd" that our staff helped frame and organize together with other interfaith activists.
Program will be livestreamed on
POWER's Facebook Page
Topic: Virtual Townhall for Meaningful Action | Interfaith Response to the Murder of George Floyd
Time: Jun 8, 2020 07:00 PM Eastern Time (US and Canada)
Speakers: Rev. Nicolas O'Rourke (Working Families Party), Tammy Thompson (Circles Greater Pittsburgh), Tim Stevens (Activist, the Black Political Empowerment Project), Iftekhar Hussain (Amana Foundation), Rabbi Elyse Wechterman (Reconstructionist Rabbinical Association), Rev. Nick Taliaferro (West Philadelphia Seventh-day Adventist Church), Pastor David Tatgenhorst (St. Luke United Methodist Church in Bryn Mawr), Timothy Welbeck (Attorney, Temple University and CAIR-Philadelphia), Hanan Seid (spoken word artist).