Here's a recap of CAIR-Philadelphia's banquet, Upholding Our Constitution, Embracing Our Faith that was held on March 16th at Springfield Country Club in Springfield, PA:
The 90-minute cocktail reception gave attendees the opportunity to socialize, network and to take pictures with the speakers.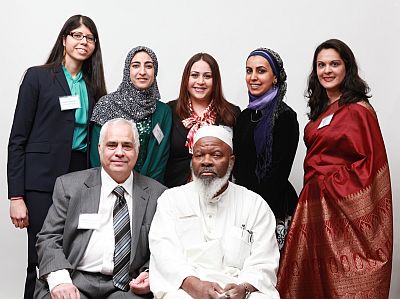 CAIR-Philadelphia Staff, Executive Committee Members,
Imam Siraj Wahhaj and Zarqa Nawaz in reception hall.
The program commenced with Qur'an recitation by Hafiz Dr. Akhnuwkh Jones

Followed by opening remarks from Michael A. Rashid, President and CEO of AmeriHealth Mercy Family of Companies (AMFC).
CAIR-Philadelphia Staff and an Executive Committee member discussed ongoing work and some yearly accomplishments, including the school bullying campaign, work challenging and opposing Pennsylvania's Anti-Muslim legislation, CAIR-Philadelphia's documentary which aired on Philadelphia Community Access Channel, a Department of Defense case which ended in victory, other advocacy and CAIR-Philadelphia's importance and relevance in the community.
Imam Siraj Wahhaj took the stage, giving the audience a motivational speech focusing on the generosity of Prophet Muhammad's (PBUH) companions.
The award ceremony began with honoring Aadil Malik for the Youth Excellence Award while recognizing service to his school as Student Body President and in challenging negative stereotypes of Muslims through his blog, Truth From a Teen.
CAIR-Philadelphia President Sally Selim and Aadil Malik            
The next award, Community Service, was given to Khalil bin Brown a community worker and founder of the Islamic Heritage Foundation (IHF), an organization that promotes educational and leadership development for youth.
Khalil's daughter, Khalil bin Brown and CAIR-Philadelphia President Sally Selim
Imam Abdul-Aleem received the Lifetime Achievement Award.  He has been involved with ongoing projects since 1968, including the development of the five-volume concordance to the Holy Qur'an.  Imam Adul-Aleem served as resident Imam of Masjidullah of Philadelphia from 1982 to 2001.
The keynote address was given by Zarqa Nawaz, independent filmmaker and creator of the top-rated Canadian sitcom, Little Mosque on the Prairie. She encouraged more community members to get involved with media, filmmaking and journalism with the aim of disseminating positive stories about American Muslims.
Comedian and filmmaker Baba Ali then entertained the audience with humorous jokes focusing on community issues.
VIEW a slideshow of all photos
•  •  •