Dear Friends and Supporters of CAIR-Philadelphia,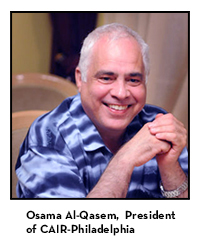 As-Salamu-Alaikum. As this Sacred Month comes to a close, CAIR-Philadelphia and I wish you and your family a Ramadan Kareem. I pray that all your prayers and wishes will be accepted by Allah (SWT).
CAIR-Philadelphia was honored to be included in an exhibition at the Philadelphia International Airport on the history of civil rights in Philadelphia. The exhibition, in Terminal A, includes a photograph illustrating CAIR's fight against Islamophobia. We were represented at the recent VIP opening ceremony for the exhibition by our Executive Director Jacob Bender and EC Member Katera Moore. In his remarks at the opening ceremony at the airport, Philadelphia Mayor Michael Nutter extensively praised the contributions of CAIR to the ongoing struggle to protect the civil rights of all the city's religious and ethnic communities.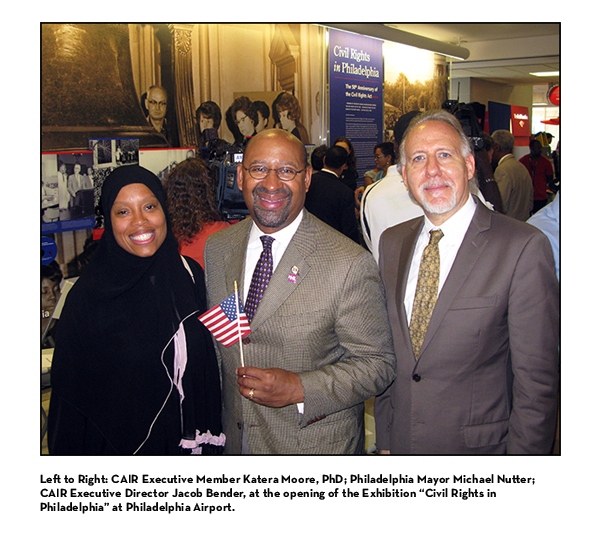 Ramadan is a time of personal and community reflection, prayer, study, and charity. We at CAIR-Philly have done our best to incorporate the spirit of Ramadan into our actions this past month. Challenging the Islamophobic network, we reached out to our local media to, in the words of our Mission Statement, "enhance the understanding of Islam." This strategy produced two stories in The Bucks County Courier Times: the first an article about what Ramadan means to Muslims, in which my family and I were interviewed; and second, a profile of Jacob Bender, CAIR-Philly's Executive Director, accompanied by a sidebar article on CAIR. The Philadelphia Inquirer also published a letter-to-the-editor by Jacob about the significance of Ramadan.
To reinforce our message to our community at large that Islam is a religion of peace, tolerance and compassion, North Penn Mosque, Islamic Society of Chester County, and Islamic Society of Greater Valley Forge, contributed funds to CAIR Philadelphia's drive with Masjidullah to feed the homeless and needy in Philadelphia. (See photos of the food drive). This food drive was a component of the Second Annual City Hall Iftar Dinner, held July 15th, and hosted by Councilmember Curtis Jones and Mayor Michael Nutter. In his remarks, Mayor Nutter specifically recognized the Muslim contribution to Philadelphia, both culturally and economically.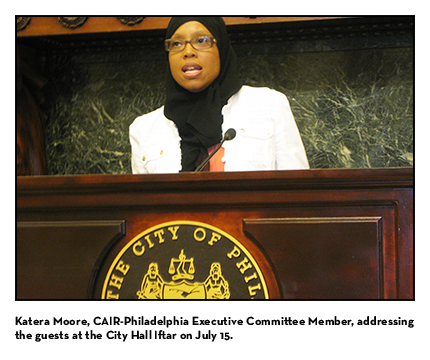 All these actions undertaken by CAIR illustrate our goals in dispelling the negative misinformation that exists against Islam. Alhamdulillah, we are making positive steps. We recently succeeded in helping a client bring a disciplinary action against a community college professor who made outrageous comments about Islam in a science class, one victory in our larger battle against Islamophobia.
However, there is still a lot of work that needs to be done. Please read the article written by Dean Obeidallah in The Daily Beast, which illustrates the current state of Islamophobia in our area by profiling the opposition to the building of a local mosque. It is precisely to combat this kind of anti-Muslim prejudice that CAIR exists.
But be aware, without your help, we could not continue with this work, and that is why I am turning to you once again as Ramadan draws to a close. I know full well that your generosity is beseeched by many worthy causes at this time of year, from masajid building campaigns to any number of humanitarian crises around the world. Yet CAIR-Philadelphia is a truly unique organization, employing a multi-dimensional strategy that provides free legal services to the Muslim community, while engaging the media and the public with campaigns that bring the true message of the Prophet (pbuh) to our region. And CAIR-Philadelphia keeps speaking out on the crucial issues of our day, raising our voices to demand justice and peace for those suffering oppression and occupation. In addition to the interview with CBS-TV (see photo below), Jacob was also interviewed at the Rally for Gaza by CBS-Radio, NBC, ABC, and NPR.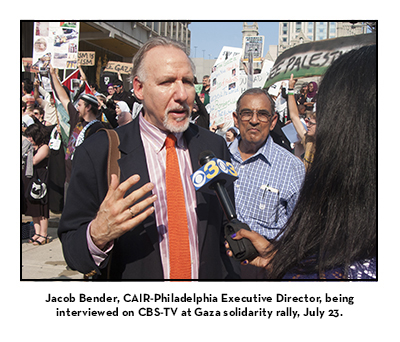 If you have not already done so, please donate your zakat and tax-deductible funds to CAIR, either on a monthly basis through automatic bank deductions, or periodically.
To donate, please click here. We must still raise at least $70,000 to sustain our work on behalf of the Muslim American community of the Delaware Valley. Can we please count on you?

To learn more about CAIR, and our numerous accomplishments in 2013, download our Annual Report.
Wa-alaikum-as-salam,
Osama al-Qasem
President
CAIR-Philadelphia