by CAIR-Philadelphia Advisory Board Member
On Sunday, August 20th at Italian Lake, Harrisburg, the Community Responders Network, a grassroots coalition committed to confronting and preventing incidents of bias in Central Pennsylvania, and the Harrisburg Mayor's Interfaith Advisory Council, organized a unity rally we called "Speak up for Unity, No Hate Here!" The purpose of the event was to affirm equality, non-violence, cross-cultural acceptance, and interfaith cooperation. I was one of the organizers of the rally (photo below) which was attended by about 400 people, and I was interviewed on Penn Live, ABC27, and CBS21, promoting a message of love and peace, but also the necessity of speaking out forcefully against injustice. THIS IS NOT THE TIME TO BE SILENT!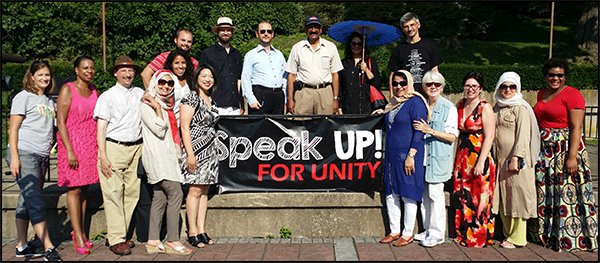 I was sitting next to my friend Jennifer Ross, President of the Jewish Federation of Greater Harrisburg, after she gave remarks when suddenly a man got up from the audience, walked straight toward us, and said, clearly addressing both of us in a loud voice, "Why do you hate Jesus?" Jennifer replied, "We don't hate Jesus." At this point, Ann Van Dyke of CRN, who was sitting next to us, got up and said to that man, "You can't do this here." He backed up and went back to his seat.
I was shocked that someone would say such a hateful thing during such a peaceful community event. As a Muslim, I was offended by his words since Islamic tradition clearly loves and respects Jesus, (Hazrat Eesa, PBUH) believing him to be a righteous prophet of God. In Quran, Jesus (PBUH) is mentioned by name 25 times, confirming his prophecy, miracles, and righteousness. I wonder if the man knew this, and if he would say the same after being educated about Islam? To add to my shock, we came to know that the man who confronted us is member of the local Harrisburg School Board. How can an elected official express such prejudice publicly? How can you expect Jewish, Muslim, and other marginalized students to be treated equally when a School Board member expresses such prejudice against Jews and Muslims?
The President of the School Board apologized to both Jennifer and myself, expressed distress over the incident, and assured us she would have a forthright conversation with the member who confronted us, and assured us that he would not confront us again. But shouldn't we be having these conversations already to avoid such incidents? Ignorance and intolerance lead to fear and hatred, and to incidents like Charlottesville, VA. This is the challenge before all of us at this precarious time in the history of American democracy.