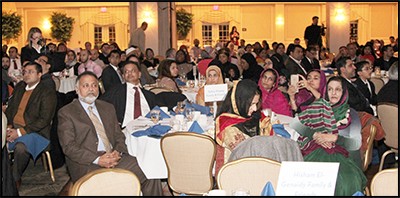 Nearly 700 supporters and friends of CAIR-Philadelphia gathered in the elegant ballroom of the Springfield Country Club last Saturday evening, March 7th, for the 9th Annual Banquet of our CAIR chapter.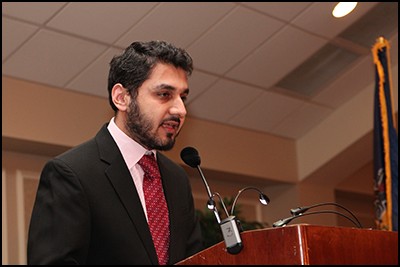 A great time was had by all. The program began with a beautiful Qur'an recitation by Dr. Imtiaz Chauhdry (above). Next came a stirring dramatic reading by CAIR staff and friends, accompanied by video projections and music, which illuminated the history of Muslim Philadelphia, as well as explaining the work and resources that CAIR-Philadelphia provides to Delaware Valley Muslims and the general community.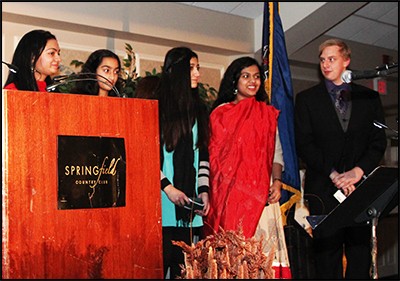 Next, the winners of our student essay contest (above) were announced and given their prizes. Over 60 students from Islamic and public schools around the Delaware Valley submitted essays to CAIR-Philadelphia on such topics as: The most difficult and rewarding parts of being a Muslim in the US; The best way to confront Islamophobia; The best characteristics of a true Muslim and things one can do to be a better Muslim.
Our keynote speaker, Imam Suhaib Webb, inspired all those present with his charismatic and humorous melding of traditional Islam and popular culture.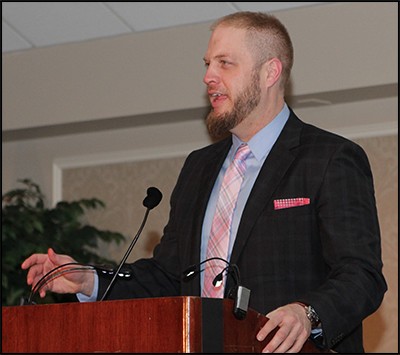 Finally, the Al-Bustan Takht Ensemble closed out the momentous evening with a beautiful program of traditional Middle Eastern music.
The good news is that the banquet raised over $170,000 for CAIR-Philadelphia! This is a great beginning for 2015 and puts us on track for another stellar year delivering much needed programs to the Muslim community in the Delaware Valley region.
The $170,000 we raised at the banquet, however, is only a beginning. Our goal for the year remains $250,000, providing for a budget that ensures the expansion of our programs in legal services, expanding the knowledge of Islam, engaging the media, empowering American Muslims, and building durable interfaith coalitions.
So, for those who did not have the good fortune to be at the banquet to hear Imam Webb, and even for those who were there, please consider clicking the DONATE button below. The future of the Muslim community is under your finger.
Finally, CAIR-Philadelphia would like to thank our sponsors, vendors who displayed their wares at the banquet, and advertisers who bought ad space in our 2014 Annual Report (PDF).
See additional photos from the banquet in our Flickr album.